I want the governor to do what is best for the Wisconsin economy, and I think this casino was best for the Wisconsin economy (including the impoverished Menominee). But even if it wasn't, Jim Doyle didn't do it. Stop blaming Jim Doyle for everything. These are Walker's decisions now, and he needs to own them. Read more...
Editors' Pick
There's a dining establishment in Milwaukee at which you probably have never eaten. It has a kitchen which regularly serves breakfast, lunch and dinner. The chef happily accommodates special requests, dietary needs and a variety of budgets. And he and his staff regularly serve fare that wouldn't be out of place in many of the city's best restaurants.
See more stories in Dining …
Milwaukee Area Event Calendar
More Featured Articles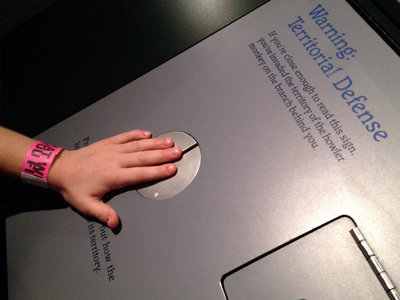 The Milwaukee Public Museum and Greater Milwaukee Foundation teamed up this weekend to present the first of 12 "Gifts to the Community," a program established by the Foundation to provide the public with unique experiences that showcase the people, places and opportunities that make greater Milwaukee special. More than 26,000 people visited MPM during the all-access, free weekend, making January 24 and 25, easily the busiest two days in the Museum's 130-year history.
See more stories in Arts & Entertainment …
Maybe it's just because I love visiting schools, but I always tell prospective parents to go to a school that interests them as a potential option for their children. Sure, read Great Schools' ratings, talk to other parents, Google the school, but if you're going to do one thing only: go to the school. Not sure which school or schools to check out? Then the first step is to visit the MPS All-School Enrollment Fair on Saturday, Jan. 31 at Milwaukee High School of the Arts.
See more stories in Kids & Family …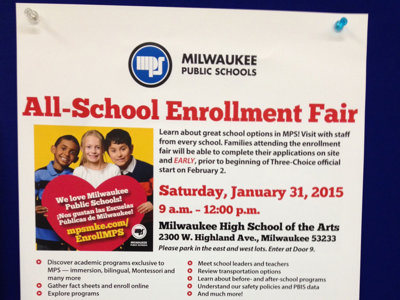 The joint statement issued Friday (January 23) by 12 of my Common Council colleagues regarding the comments made by Alderman Joe Dudzik (on a radio program last Thursday -- January 22) was on the mark and I agree with it wholeheartedly.
See more stories in Milwaukee Buzz …
From Our Partners
As the FBI continues to investigate a pair of bomb threats toward planes over the weekend, a man on the plane explained the situation to WISN 12 News.
See More Stories From wisn.com …
Over the past few years, I have realized that almost every bride planning her wedding has a clear idea of what she is hoping for her (+ her fiancé's) big day. However, she doesn't always know how to make that dream a reality. My goal is to take each bride's vision for her wedding and not just make it a reality, but make it even better and more memorable. In order to accomplish this, I follow a simple framework.
See More Stories From wedinmilwaukee.com …
The UW System could face a budget cut resulting in $300 million in lost revenue - although the number is still uncertain - as well as sweeping changes that might imperil the engrained traditions of shared governance and tenure. In addition, there are moves to make the UW a "public authority" - more autonomous from [...] The post UW Could Face $300 Million Revenue Loss, Changes to Tenure, Shared Governance appeared first on Media Milwaukee.
See More Stories From mediamilwaukee.com …
As Milwaukee Public Schools works to improve athletic opportunities for students, six of the district's high school boys basketball teams will take to a big stage later this month. "The City Review" is set for Friday, Jan. 30, at the University of Wisconsin-Milwaukee Panther Arena downtown at 400 W. Kilbourn Ave. The three marquee match-ups [...]
See More Stories From schoolmattersmke.com …
Coming Soon On OnMilwaukee.com…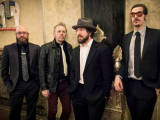 The Delta Routine
Jing's