This past summer, Fink's on Humboldt and Water, hired Filthy Freehand's Sarah Linkus to paint a sign on its long north exterior wall that read, "Couples are boring and everyone knows," in all caps. Today, that sign reads differently ... again. Read more...
Editors' Pick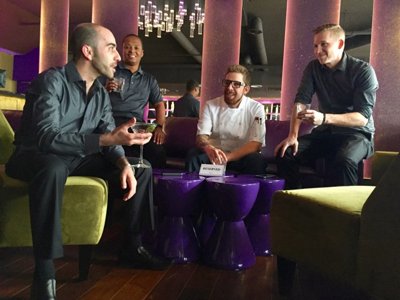 As first reported by OnMilwaukee.com, Dogg Haus owner will open Plum, a cocktail lounge at 780 N. Jefferson St., Thursday. We got inside for a first look.
See more stories in Bars & Clubs …
Milwaukee Area Event Calendar
More Featured Articles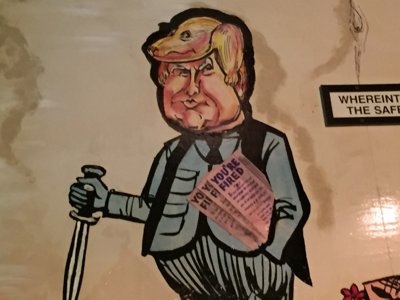 Donald Trump is a big piece of the modern day political puzzle. But, did you know that The Donald also is a big piece of a sliding mural puzzle in Downtown Milwaukee?
See more stories in Bars & Clubs …
MKE Oktoberfest takes place Oct. 1-4 and features live music, food - including a Friday night fish fry and a German breakfast on Sunday - along with a market, performances and beer, beer and more beer.
See more stories in Bars & Clubs …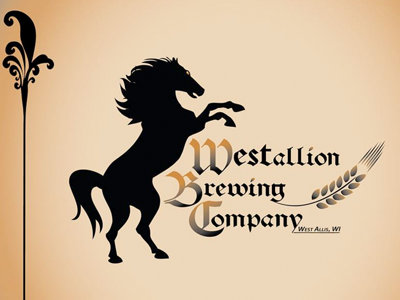 Last month, OnMilwaukee broke the story about a new brewing company coming to West Allis called Westallion Brewing Company. Every day, the owners Erik and Kim Dorfner get closer to opening the business, and have started a GoFundMe to make the dream a reality.
See more stories in Bars & Clubs …
Sponsored Content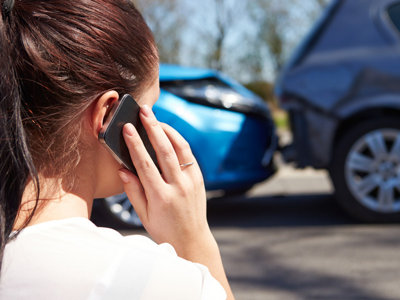 It's that time of year -- rushing to and from school, trying to be on time for dinner, music lessons, football practice and soccer games. Many of us have had minor fender benders and think nothing of it, but there are certain things you really should and should not do if you are involved in a car accident.
From Our Partners
Belgian-Brazilian AB InBev have announced an agreement in principle with SABMiller to take over the brewer at 44 pounds ($67.63) a share to create the world's biggest beer giant.
See More Stories From WISN 12 …
Students, protesters, Hillary supporters and non-students came together and voiced their opinions about Hillary Clinton in a colorful scene around the University of Wisconsin-Milwaukee campus. Matthew Campbell reports. The post Scenes from the Crowd: Hillary Clinton at UW-Milwaukee appeared first on Media Milwaukee.
See More Stories From Media Milwaukee …
The new Kesslers Diamonds store in Downtown Milwaukee opens Friday, Oct. 2, at 450 E. Mason St.  It's the first non-suburban store for the company, which operates five other diamond centers in Wisconsin, and also will open its first out-of-state store in metropolitan Grand Rapids, Mich., in November. The Downtown store occupies 2,200 square feet [...]
See More Stories From Wed In Milwaukee …
Milwaukee Public Schools is considering a "knowledge exchange" partnership between a charter school and one of the district's traditional public high schools. MPS has...
See More Stories From SchoolMattersMKE …
Coming Soon On OnMilwaukee.com…
7 plates of food porn
Best service/waitstaff
Van Buren's Whiskey Bar
Best cafe