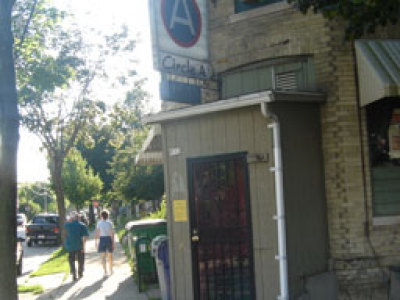 "Anarchy Bar" unleashes more music than mayhem
Circle-A Café, also known as "The Anarchy Bar," sounds like a locus of chaos and rebellion, but actually, the Riverwest watering hole, 932 E. Chambers St., has a very solid scene.
Every Tuesday night, for instance, is the "Salvage Jook Juke Box Challenge" where patrons compete for drinks by identifying the song names of vintage 45s. "It's our low-impact night of the week," says owner Warwick Seay.
An avid music fan and former radio DJ for KALX in Berkeley, Calif., Seay books DJs and live musical acts for most nights of the week. He takes a shift at the turntable every Thursday night under the name "Warlock the JookBot" and spins an eclectic mix of hillbilly, Cajun, punk, metal, singer-songwriter and more.
Although he admits he only loosely adheres to themes -- which is expected of a bar with an encircled "A" on its sign -- Fridays are usually "Rockin-A Friday;" Saturdays are "PsychePhonic" and Sundays are "RootSundays."
"We're really about music more than anything," says Seay, whose corner pub is adorned with framed album covers and show posters, and frequented by many local musicians.
Seay, a native of Virginia, was in a band a few years ago called The Moles. "Basically I got drunk one night and they let me play with them," he says modestly.
On weekends, Circle-A features live bands in an early spot, from 8 to 10 p.m., followed by DJs until closing time. This unique arrangement works well for the bar's clientele, allowing seasoned rockers to retire early and sprightly hipsters to check out other shows and clubs.
"A lot of people want to see a band and have drinks but not be out until 3 or 4 a.m. Plus, we're not competing with larger shows around town, and there's less impact on our neighbors," says Seay, who lives above the bar.
Circle-A is just a few blocks from where Art Bar owner Don Krause was shot and wounded on the bar's patio a few weeks ago. Did this tragic event affect Seay?
"Sure. It was very close to home, literally and figuratively, and it has motivated a heightened sense of awareness. But it's not really a big shocker. After all, this isn't Elm Grove," he says.
And patio violence did not stop Seay from continuing plans for his own beer garden. He and architects are working to create an upgraded patio space and hope to have it functioning by the end of the summer.
"With my standard of inefficiency it should be ready by the first frost," jokes Seay.
Signature drinks at the Circle-A include the Mojito, made with mint from the garden behind the bar, and a few Brazilian and Peruvian drinks inspired by Seay's trips to South America, but the "Long Day" is Anarchy Bar's trademark refreshment. The strong spirit is a mix of Evan Williams' 90-proof bourbon and cherry Coke, and sometimes, is served by a barkeep with a pit bull by his or her side.
"My dog, Hasilnut (named for musician Hasil Adkins), has become sort of a mascot," says Seay. "But we usually keep her behind the bar."
So does anarchy really have anything to do with the tavern, aside from the name and the image on the sign?
"We like to let people draw their own conclusions," says Seay.
Circle-A Café is open Tuesday-Thursday from 7 p.m. to close; Friday-Sunday from 5 p.m. to close. Happy Hour, called "Ecstatic Hour," is the first three hours of operation every day. For more information, call (414) 562-5927.
Moonshine Sway plays Friday, July 22 from 8 to 10 p.m. followed by DJs Hillbilly & Harmony. Floor Model plays Saturday, July 23 from 8 to 10 p.m., followed by DJ Chuck LeFuk.
Facebook Comments
Disclaimer: Please note that Facebook comments are posted through Facebook and cannot be approved, edited or declined by OnMilwaukee.com. The opinions expressed in Facebook comments do not necessarily reflect those of OnMilwaukee.com or its staff.