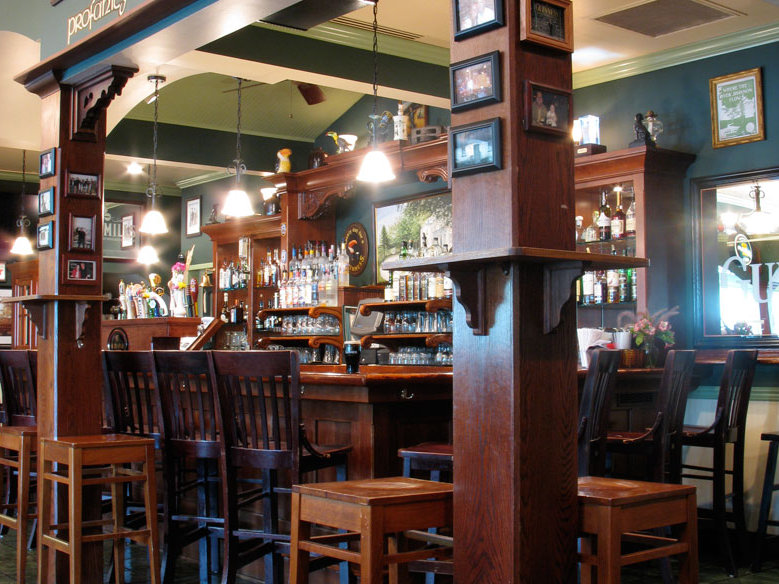 Irish pub guide
Note: The contents of this guide were checked for accuracy when this article was updated on March 13, 2013 at 5:17 a.m. We continually update the thousands of articles on OnMilwaukee.com, but it's possible some details, specials and offers may have changed. As always, we recommend you call first if you have specific questions for the businesses mentioned in the guide.
St. Patrick's Day falls on a Sunday this year, but Milwaukee's Irish pubs aren't letting that get in the way of their revelry. Many places have simply adapted, offering all-day celebrations instead of all-night ones, or serving up brunch as well as dinner.
After 800 years of English conquest, famine and political turmoil, having to go to work Monday morning a little hungover doesn't faze an Irishman.
AJ O'Brady's
N88 W16495 Main St., (262) 250-1095
ajobradys.com
AJ O'Brady's is the place to be in downtown Menomonee Falls. With a spacious bar and plenty of tables, it's just as much a restaurant as a pub, and the food is great. They've also got a killer Happy Hour deal, breakfast on Saturday and Sunday, and a lovely view of The Falls themselves.
The Black Rose Irish Pub
2856 N. Oakland Ave., (414) 763-6526
theblackroseirishpub.com
Sharing space with SoLo Pizza, this spot offers enticing happy hour specials and a menu that features Reuben rolls, Irish stew and the usual suspects. There are sports on the flat screen TVs and a friendly, welcoming vibe.
Brocach Irish Pub & Restaurant
1850 N. Water St., (414) 431-9009
brocach.com
Brocach means "Badger den" in Gaelic; the pub began in Madison and made its way to Milwaukee in late 2007. The two-story pub and restaurant feels authentic, with an array of framed beer art and romantic paintings that lend a quirky, pub-y feel and soft red cushions make seated guests want to stay a while. There are two full bars – upstairs and downstairs – with a fireplace in the lower level. A full menu is offered daily, as well as a late-night menu and weekend brunch.
Bub's Irish Pub
N116 W16218 Main St., Germantown, (262) 255-1840
bubsirishpub.com
Ireland comes to the heart of the Northwest Side thanks to the dad of one of the Trinity Irish Dancers and his 15,000-square-foot pub. Food and drinks are served daily.
Burke's Irish Castle
5328 W. Bluemound Road, (414) 453-6088
burkesirishcastle.com
This stadium-area pub used to be Milwaukee institution Derry Hegarty's but was sold to Sean Burke in August of 2012. Don't worry, though - they still run the shuttle to the Brewers games. And they've still got plenty of Irish pride. They also offer great pub fare, brunch and fish fries.
Caffrey's Pub
717 N. 16th St., (414) 933-9047
caffreyspub.com
This Marquette upperclassmen hide-out straddles the line between college bar and Irish pub in the space formerly occupied by the Ardmore Bar, where The Replacements rocked Marquette back in the day. Caffrey's boasts the largest heated outdoor patio on the Marquette campus.
Champions
2417 N. Bartlett Ave., (414) 332-2440
championspub.com
Tucked away just off North Avenue, Champions serves up a proper pint in a cozy neighborhood tavern. Formerly located on Murray Avenue, the third-generation family-run bar is now more than 50 years old.
County Clare
1234 N. Astor St., (414) 272-5273
countyclare-inn.com
A pub, a restaurant and an inn. They serve up great food, wonderful beer and Irish music. Root soup, wonderful meat loaf, smoked salmon and, of course, corned beef are all favorites on the menu. They even do brunch! Stop in for a bite and a pint!
Finn McGuire's
5171 S. 108th St., Hales Corners, (414) 427-8900
finnmcguires.com
New to the southwest suburbs, Finn McGuire's brings the tradition of the Irish "local" to Hales Corners. The Irish pub and grill has a steady schedule of cover-free live music and a diverse menu of pub grub and old world standbys.
Flannery's
425 E. Wells St., (414) 278-8586
flannerysmilwaukee.com
OK, so it's a bit more than an Irish pub and restaurant. But, it has an Irish name and it's where you see "everyone you know."
Halliday's Irish Pub
1729 N. Farwell Ave., (414) 278-9290
It's not the fanciest of bars, but it's one the few Irish pubs in Milwaukee that looks a lot like something you'd actually see in Ireland: a corner tap with a lot of character. It also has a great outdoor patio and friendly staff.
The Harp Irish Pub
113 E. Juneau Ave., (414) 289-0700
theharpirishpub.com
Located in the heart of the Water Street bar district, The Harp's riverfront patio is a Milwaukee must-see and the pub grub doesn't hurt, either.
House of Guinness
354 W. Main St., Waukesha, (262) 446-0181
houseofguinness.com
In the heart of downtown Waukesha, House of Guinness has 15 beers on tap. Like any good Irish pub, there's live music most weekends.
The Irish Pub
124 N. Water St., (414) 225-9400
theirishpub.us
This is authentic Irish in the heart of the Historic Third Ward. This friendly pub offers two stories of Irish drink, food (including Jameson whiskey wings), games and live music.

Irish Rec Room
1023 N. Old World 3rd St., (414) 223-3496
irishrecroom.com
This Third Street bar opens its Irish arms to the downtown crowd with a mix of belly-warming entrees and a line of beers to make any craft brew lover blush. Come for the food and drink and stay for the games and other recreation, including the indoor rock-climbing wall.
Judge's Irish Pub
1431 E. North Ave., (414) 224-0605
An Irish corner bar, this is a place to get a cheap brew in the midst of a lively, young crowd. While the social vibe settles in after dusk, there's a great selection of Irish beers on tap at all hours. Visit Judges while you can – it's slated to close on April 6, 2013. New owners hope to reopen soon after with a fresh name and feel - but plan to keep it Irish.
McBob's Pub & Grill
4919 W. North Ave., (414) 871-5050
mcbobs.com
McBob's is best for cold beer and pub food on the northwest side. In addition to all the expected pub options, McBob's serves food seven days a week. Visit for breakfast every day of the week beginning at 8 a.m. and sample a McGinnity, Campbell Scramble or McRoberts Plaid.
McGillycuddy's, 1135 N. Water St., (414) 278-8888
mcgillycuddysmilwaukee.com
McGillycuddy's is more Water Street than Irish, but it's still a good time. They have both Guinness, Harp, Bass and Smithwick's on tap, as well as several Irish bottled beers. It's open every day of the year, but it's a little bit more open – like most of the places in this guide – on March 17. There's also a menu and the wings are especially notable.
Mo's Irish Pub
142 W. Wisconsin Ave., (414) 272-0721
10842 W. Bluemound Rd., Wauwatosa, (414) 774-9782
mosirishpub.com
With two locations – one in the heart of Downtown Milwaukee, the other in Tosa - Mo's offers a truly Irish combination of good food, good draught and lively socializing. Many aspects of Mo's were selected in, and imported from, Dublin to ensure the décor accurately portrays an original Irish pub. And, listen for the Gaelic dialect you'll hear from some members of the staff whose Celtic roots provide an added dimension of authenticity.
Murphy's Irish Pub
1613 W. Wells St., (414) 344-0116
murphysirishpub.net
Murphy's is all Marquette. Sure, it's a Irish bar, too, but it sticks to its ranking by Playboy.com as one of the best college bars in the country as much as it toasts its Irish roots.
O'Brien's Pub
4928 W. Vliet St., (414) 453-6200
facebook.com
O'Brien's boasts two bars, ample table seating and a space for playing music. The pub fare is cheap and satisfying, the beer is cold, and the staff is friendly. The regulars swear by the mozzarella sticks.
O'Donoghue's
13225 Watertown Plank Rd., Elm Grove, (262) 641-2730
odonoghuesirishpub.com
This pub in the heart of Elm Grove hosts set dancing on Wednesdays and live music sessions on Sunday afternoons. There's also a menu of appetizers, soups, sandwiches and Friday fish fry.
O'Lydia's
338 S. 1st St., (414) 271-7546
olydias.com
Formerly Slim McGinn's, O'Lydia's opened in 2011 and features an assortment of Wisconsin micro-brews and 16 beers on tap, plus all the classic pub fare, dinner specials and even brunch. O'Lydia's also boasts a 60-person party room, open air patio and enclosed patio bar.
Packy's Irish Pub
4068 S. Howell Ave., (414) 483-4546
facebook.com/PackysIrishPub
This airport-area Irish pub features live music and serves a full Irish breakfast from noon until 3 p.m. on Sundays.
Paddy's Pub
2339 N. Murray Ave., (414) 223-3496
paddyspub.net
The charming couple that owns Paddy's treats everyone like a close friend, with a warm smile and cold pint. A dimly lit interior (with mounds of M&Ms and Chex Mix on the tables!) is augmented by a great little courtyard (weather permitting, of course).
Taylor & Dunn's Public House
10365 N. Cedarburg Rd. (Highway 57), Mequon, (262) 242-8030
tayloranddunns.com
This suburban Irish pub boasts "good drink, good food and good cheer." We hear the corner beef sandwich is among the best you'll find in the state.
Trinity Three Irish Pubs
125 E. Juneau Ave., (414) 278-7033
trinitythreeirishpubs.com
Trinity Three Irish Pubs features three distinct pubs (Duffy's, Foy's and Gallagher's), all with different colors and feels. The food is as Irish as you'll find in Milwaukee: The menu begins by listing a pint of Guinness in the appetizers section, and moves on to Irish stew, shepherd's pie and corned beef on rye, among much more.
Facebook Comments
Disclaimer: Please note that Facebook comments are posted through Facebook and cannot be approved, edited or declined by OnMilwaukee.com. The opinions expressed in Facebook comments do not necessarily reflect those of OnMilwaukee.com or its staff.