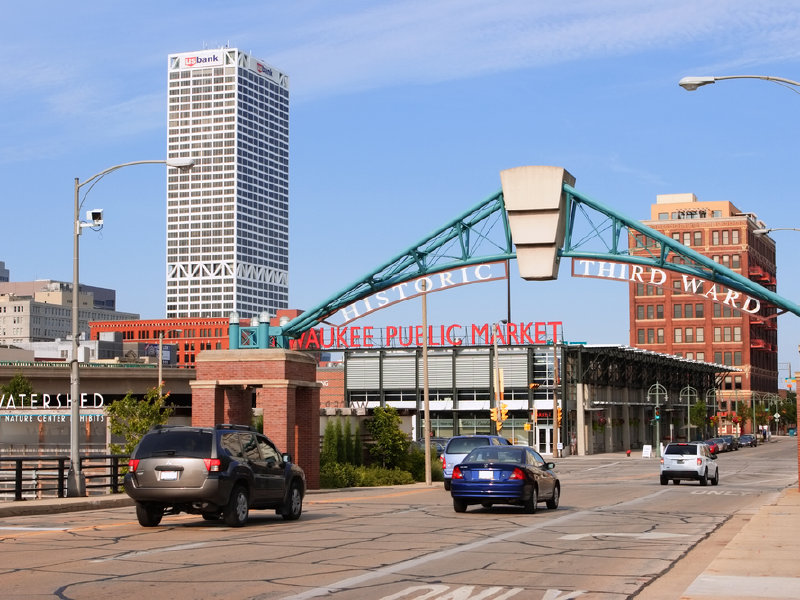 Third Ward bar guide
Note: The contents of this guide were checked for accuracy when this article was updated on Aug. 16, 2013 at 5:28 p.m. We continually update the thousands of articles on OnMilwaukee.com, but it's possible some details, specials and offers may have changed. As always, we recommend you call first if you have specific questions for the businesses mentioned in the guide.
The Third Ward is a cultural gem here in Milwaukee. The shopping is to die for, the dining is great and it's one of the most historic districts in the city. Also, it's a great place to get liquored up.
Whether you prefer upscale wine joints, homey neighborhood pubs, or you get bored just drinking and want to play some table tennis, the Third War has the perfect bar for you.
Cafe Benelux
346 N. Broadway, (414) 501-2500
cafebenelux.com
Cafe Benelux gets rave reviews as a dining experience, but this homey tribute to the Belgium-Netherlands-Luxembourg region also holds its own as a watering hole. Not only do they have a great bier selection, but their wine list and craft cocktails are equally impressive. They even have sake!
Club Charlie's
320 E. Menomonee St., (414) 763-8548
clubcharlies.com
Club Charlie's is the Third Ward's Neighborhood Bar, with a friendly staff and a warm atmosphere. They're still serving their famous $6 Lunch, Monday through Friday. They also offer a full lunch and dinner menu, fish frys, trivia night on Tuesdays and Pajama Party Brunch on Sundays.
Cuvee
177 N. Broadway, (414) 225-9800
cuveemke.com
Perfect for a romantic evening or a night out on the town with the girls, Cuvee is the best bar for bubbly in these parts. Some say it's hard to find, but others swear it's worth the search (psst: it's on the second floor). Customers love the premium drinks and upscale desserts.
Hinterland Erie Street Gastropub
222 E. Erie St., (414) 727-9300
hinterlandbeer.com
Hinterland is where quality meets casual. Their specialty is beer, of course, but they serve dinner daily upstairs, with a special Family Meal Wednesday evenings featuring a seasonal feast that ranges from $30 to $50 per person. They also have a daily Happy Hour from 5 to 7 p.m.
The Irish Pub
124 N Water St., (414) 225-9400
theirishpub.us
The name says it all. There's no pretension here, and everyone's family within the Cream City brick walls. It's been named among CNN Travel's Best Sports Bars in the U.S., but it can't be pigeonholed as just a great place to watch the game. They also offer a full menu and have a separate dining room.
Milwaukee Ale House
233 N. Water St.,(414) 226-2336
ale-house.com
Milwaukee Ale House, an all-malt brewery and restaurant, is located in the heart of the Historic Third Ward on the Riverwalk. Six fresh ales are brewed on the premises, and lunch and dinner are served in the turn-of-the-century beer hall atmosphere. Their new expanded Happy Hour from 3 to 6 p.m. includes drink and appetizer deals.
Milwaukee Sail Loft
649 E. Erie St., (414) 223-0100
milwaukeesailloft.com
The Sail Loft's beer list is expansive and their wine selection is ample, featuring both domestic and international brands. Their already-affordable prices are improved by weekly specials like Thursdays' half-price bottle of wine deal. They also have a daily Happy Hour with cheap libations and $6 appetizers.
Oak
220 E. Buffalo St.
Milwaukee, WI 53202
oakmilwaukee.com
This upscale lounge brings a big-city feel to the Third Ward. The drinks are on the pricier side, but if you go on Thursday you can get "The Hook-Up" - ladies drink free, live music, dancing and great drink deals like $2 Jameson shots. Drop in on Wednesdays for Bachata and Salsa lessons, and try your moves out on the dance floor after getting some liquid confidence in the form of $2 Bacardi bombs.
Riverfront Pizzeria Bar and Grill
509 E. Erie St., (414) 227-1800
facebook.com/riverfrontpizzeriamilw
This trendy pizza joint is open Tuesday through Sunday and has outdoor seating, affordable prices and a full bar selection.
Rustico Pizzeria
223 N. Water St., (414) 220-9933
rusticopizzeria.com
Pizza is just the beginning at Rustico. Their weekly deals on drinks include a daily Happy Hour, half-price bottles of wine on Tuesdays and a guest bartender on Wednesday, when all tips are donated to charity. Plus, their TV's are always tuned in to the game.
SPiN Bar
233 E. Chicago St.,
milwaukee.spingalactic.com
If bowling's not your thing but you're still looking for that indoor-sport experience, SPiN has just what you need: specifically, 12 table-tennis courts on cushioned Olympic flooring. Court rates are $16 per hour before 6 p.m. and $24 after. Their bar and restaurant also serves lunch and dinner daily.
Splash Studio
184 N. Broadway, (414) 882-7621
splashmilwaukee.com
Ever feel inspired when you drink? Splash Studio has you covered. Drop into Splash, pick up a paintbrush and a drink and let the creative juices flow. Friday and Saturday night sessions are offered, or you could stop into the bar and paint on a mini-canvas. Lacking inspiration? The lounge is packed with art books.
Swig
509 E. Erie St. (414) 431-7944
swigmilwaukee.com
Swig offers a small-plate dining experience like no other - plus over 20 martinis, wine, champagne and award-winning dessert options.
Thief Wine Shop & Bar
Milwaukee Public Market
400 N. Water St., (414) 277-7707
thiefwine.com
This wine nook is a calm island amidst the bustle of the busy Milwaukee Public Market. Sit at the bar or at a table and tune out. Their prices are great, with glasses ranging from $5.50 to $14.50 - and for not much more, you can get a whole caraffe. They also offer great weekly deals.
Vino 100
219 E. Erie St., (414) 277-8466
vino100milwaukee.com
This wine boutique boasts domestic and international brands sold for retail prices. For a small corkage fee you can enjoy them in their intimate tasting room with a few friends (or alone, if that's how you like to drink). Join the Wine Club for exclusive benefits like wine tasting nights, or take advantage of their weekly wine classes.
Water Buffalo
249 N. Water St., (414) 431-1133
waterbuffalomilwaukee.com
What's better than drinking on the river? Even if you're inside, Water Buffalo's floor-to-ceiling windows afford you a priceless view as you get tipsy. The menu is delicious, and the contemporary decor gives off a casual but elegant vibe.
The Wicked Hop
345 N. Broadway, (414) 223-0345
thewickedhop.com
The Wicked Hop offers dozens of wines, a handful of beers on tap and a full bar. It's an intimate, cozy place for just after work with floor-to-ceiling windows that look out on Broadway and its fashion boutiques. Their Bloody Marys are where they really shine, but don't miss Throwback Thursday featuring classic cocktails or the DJ on Friday nights.
Facebook Comments
Disclaimer: Please note that Facebook comments are posted through Facebook and cannot be approved, edited or declined by OnMilwaukee.com. The opinions expressed in Facebook comments do not necessarily reflect those of OnMilwaukee.com or its staff.