Community Pie was founded four years ago by Amy Peterson and Jessie Tobin, residents of the Martin Drive neighborhood. The group utilizes the facilities at the Urban Ecology Center, 4515 W. Lisbon Ave., twice a year to bake fruit pies to serve at a Wednesday at the Shell in Washington Park concert in the summer and at Winter Fest in late January. The slices of pie are free. Read more...
Top Story In Festivals Guide
Just when you think you might be "festival-ed out," there's one event that's so unique it's worth squeezing in: the Wisconsin Highland Games & Celtic Fling at the Waukesha County Expo Center.
See More Stories In Festival Guide …
Milwaukee Area Event Calendar
More Featured Articles
If you work at a non-profit, you are, no doubt, watching the #IceBucketChallenge with great interest. You may be wondering how you can make a similar initiative work for your organization. You can't.
See More Stories In Milwaukee Buzz …
I participated in the ALS Ice Bucket Challenge this week, and it went out over Facebook and Twitter, but I'm fortunate to have larger platform here at OnMilwaukee.com to explain why.
See More Stories In Milwaukee Buzz …
From Our Partners
I was skeptical: I've made my own oil once ended up throwing most of it away. Whatever they've done with this formula, Sir Hare has figured it out. More On Sir Hare First off it's an oil, and oils aren't for everyone. It takes longer to shave as you need to clean your blade more often. To clean the blade out you will need to tap on a hard surface. You're looking at an extra 5-10 minutes depending on how long it's been between shaves. It works best for me with 1-2 days growth (the bottle says 1-3 days, but...
See More Stories From sharpologist.com …
Taking something of a page from the book of the district's successful public Montessori schools, all MPS schools this year will use a staggered start to help introduce primary-aged children to their schools. In the past, the Montessori schools -- whose K3, K4 and K5 kids share classrooms -- welcomed K5 students on the first [...]
See More Stories From schoolmattersmke.com …
You may already think of Molly Cool's as your destination for delicious seafood on the river (we know we do!). The restaurant is also a gorgeous venue for all things wedding - from wedding receptions, rehearsal dinners, after wedding brunches, and more!
See More Stories From wedinmilwaukee.com …
Coming Soon On OnMilwaukee.com…
Onesto in the Third Ward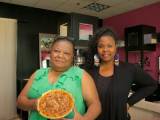 Memah's Kitchen
Stargazing at Yerkes
Dinner Lab Milwaukee