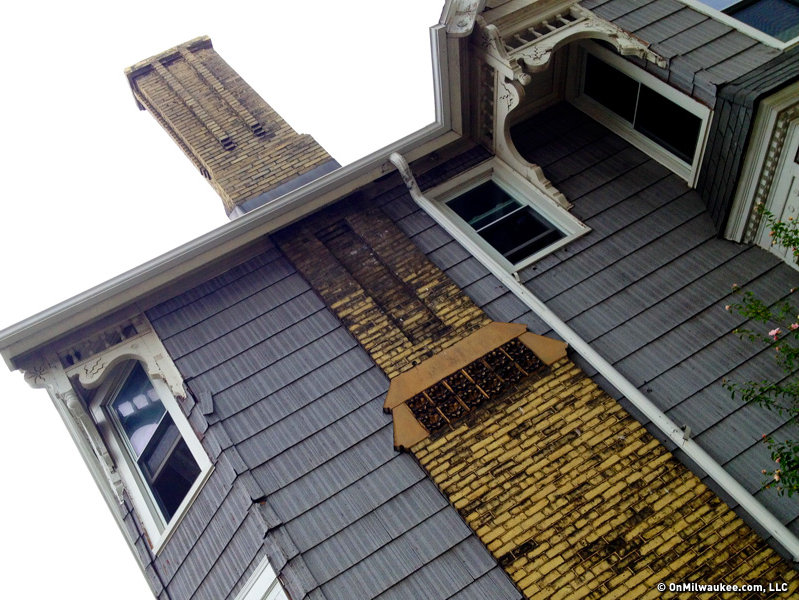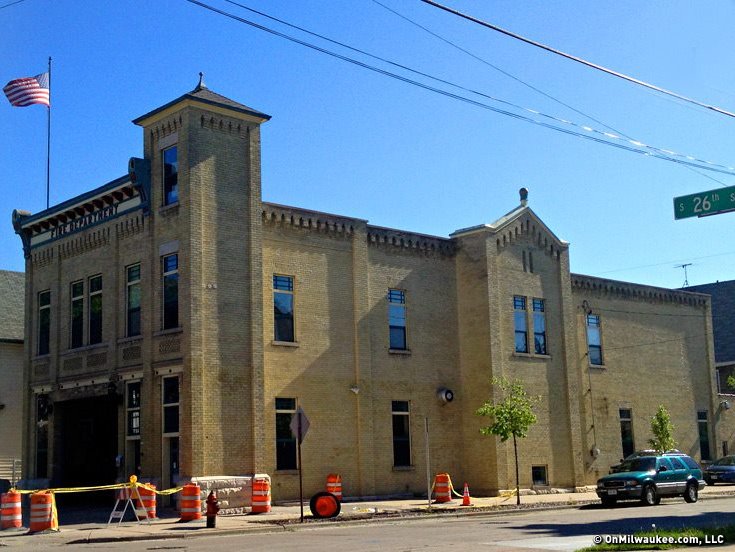 Picking up on Clarke Square
Yesterday morning I was unexpectedly, though not unwillingly, recruited to join a trash pickup team in the Clarke Square neighborhood on the near South Side. Our team's goal was to clear away litter on South 22 and 23 Streets, from Scott to Pierce.
There weren't many people out on the streets on a Sunday morning in the neighborhood, but those that were greeted us with good mornings and a few thank yous.
Though I spent most of my first decade in Milwaukee just a bit east of here, there was a lot in the neighborhood – which runs from Pierce south to Greenfield, Chavez west to Layton Boulevard – I hadn't seen before.
Among them was the one-square block park itself, which has a great playset and wading pool and appeared to be more litter-free than the surrounding streets.
Facing the park is the Lao Family Center, a Hmong community center in a building that I plan to research a bit. The squat, two-story neo-Classical brick structure looks like an old school or other public building.
It's amazing how many lovely old Victorians are tucked into this neighborhood, too, which sits in the shadow of the stunning homes on Layton Boulevard to the west. There are lots of turrets and and ornamental brick and woodwork to be seen.
Just north of National Avenue on South 23 Street I followed stretches of stone curbs that met cobblestone streets slowly being uncovered by erosion of the blacktop laid over them. They offer an alluring peek into what the streets looked like here a century ago.
Finally, I'd be remiss if I didn't mention the gorgeous cream city brick fire station at 26th and Scott, home to Engine 26 and MED 3. Based on my glancing knowledge of firehouse architecture in Milwaukee, I'd venture to guess it is the work of Sebastian Brand.
Talkbacks
emills81 | Sept. 10, 2013 at 2:48 p.m. (report)
Thanks for the link Bobby, both articles are really interesting.
Bobby Tanzilo | Sept. 10, 2013 at 11:25 a.m. (report)
Thanks emills81. Here's a link you might be interested in... http://onmilwaukee.com/visitors/articles/wrightburnham.html
emills81 | Sept. 9, 2013 at 4:45 p.m. (report)
Dont forget about the Frank Lloyd Wright houses over there.
Facebook Comments
Disclaimer: Please note that Facebook comments are posted through Facebook and cannot be approved, edited or declined by OnMilwaukee.com. The opinions expressed in Facebook comments do not necessarily reflect those of OnMilwaukee.com or its staff.