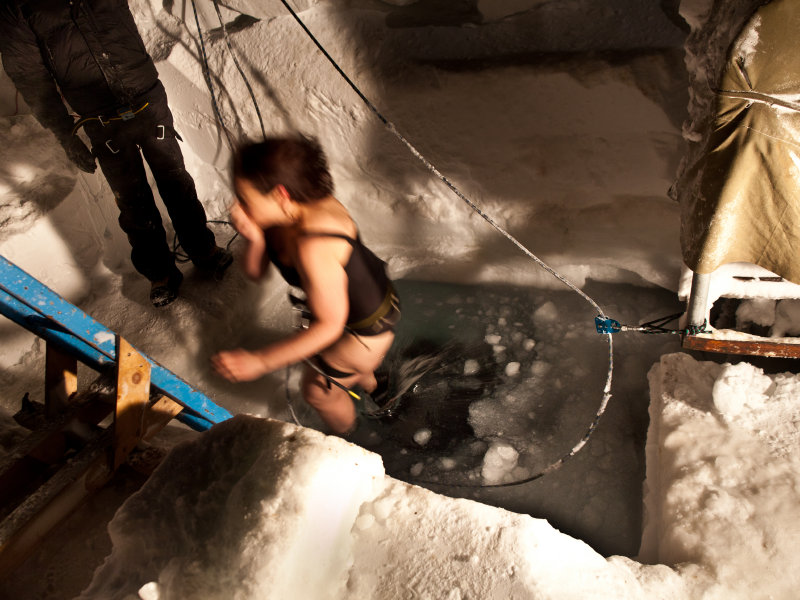 Milwaukee Talks: writer and world traveler Gemma Tarlach
Gemma Tarlach has led a fascinating life.
She worked in Munich as a chambermaid, went to culinary school in New York, got a Master's in journalism from Madison and worked, traveled and / or lived in Las Vegas, Moscow, Kazakhstan, Uzbekistan, Syria, Norway, New Zealand and Antarctica. During the winter.
And that's just the tip of the iceberg. (Er, pun intended.) Tarlach has also published a book, worked as a pop culture writer and music critic and today is the associate editor for Discover Magazine, published by Kalmbach Publishing Co. in Waukesha.
Shall we keep going? OK ...
She is also the caregiver of three rescued animals, homeowner and cancer survivor, who never technically graduated high school. (And remember, she still earned a Master's degree from Madison.)
But despite all of Tarlach's accomplishments, one of the most fascinating aspects of her life is that even though she was born in New Jersey and lived, worked and traveled all over the world, she picked Milwaukee to call home.
"Milwaukee is a happy medium of many things, big enough to be interesting, small enough to be manageable. And I love Wisconsin winters. I really do," she says.
In this latest installment of Milwaukee Talks, Tarlach shares the details of her adventuresome life.
OnMilwaukee.com: Where were you born and what else about your early years would you like to share?
Gemma Tarlach: I was born in New Jersey but, as for year, let's just say I'm a lot younger than Jon Bon Jovi but a lot older than Snooki.
I definitely inherited my wanderlust from my grandfather – my mom's dad. As a teenager, he lied about his age to get into the Merchant Marine and see the world. Pretty much every summer he threw us into the car and drove in a new direction until we hit water. Sometimes it was the Jersey Shore or Long Island, other times it was California, Florida or Nova Scotia.
OMC: Where did you go to college?
GT: I went to Columbia, initially with plans to become an architect. I switched majors in junior year, however, studying comparative politics because I thought it would make it easier to land a travel-friendly job and, truth be told, because a required architecture studio class conflicted with practice time for the archery team.
OMC: Archery team?
GT: Yes, I was a member all four years of college.
OMC: What did you do after college?
GT: I worked in Munich for a while as a chambermaid at a hotel and spent my money traveling on the weekends and days off. But eventually I worked for the State Department, which had me learn Russian and sent me to Moscow for two years as a consular officer. I spent my money and free time traveling – do you see a pattern? – including to several places I feel so fortunate to have seen, such as Kazakhstan, Uzbekistan and Syria.
OMC: What was Syria like?
GT: Syria was one of the most beautiful and architecturally fascinating places I've visited, but even then, nearly 20 years ago, everywhere I went I saw signs of the regime's oppression of its citizens, its weirdly fostered cult of personality for Hafez al-Assad, who was still in power, and a deep unhappiness among the regular people, the shopkeepers, the bus drivers. Watching that country go up in flames over the past couple years has been heartbreaking.
OMC: So what did you do after Moscow?
GT: After Moscow, I was going to be sent to Belgrade, somewhere I did not want to go. So I quit and got my Master's in journalism from UW-Madison on a fellowship. Writing has always been a part of my life, so I thought I'd try it professionally.
My focus was on science journalism, which I chose largely because I liked sharks and volcanoes and dinosaurs and stuff, but I was hired at the Journal Sentinel soon after as entertainment reporter; I'd like to think because I'm entertaining. That was my introduction to Milwaukee, and the start of a bit of a love affair with the city.
Eventually I was promoted to pop music critic at the paper, but, to be honest, I was burnt out, both from trying to summon enthusiasm for a lot of music that was not "to my heart," as a French chef friend of mine would say, and from dealing with readers who took my reviews a little too seriously.
Every now and then I'll still run into someone who recognizes my name and wants to argue with me about some Matchbox Twenty review I wrote in 1998. Let it go, people. Just. Let. It. Go.
OMC: So, you quit the paper and then what?
GT: So I did what any normal person would do and sold my house, moved to New York and went to culinary school. No, really, it made sense. I like process, and that's what baking and pastry, the focus of my study, was all about.
I needed a break from full-time journalism, though I continued to freelance, and wanted a job that would make it easy to travel and not just visit but live in exotic places. So I worked in Vegas, at 9,000 feet above sea level on the Continental Divide in Colorado, in a remote corner of New Zealand's South Island and, for 20 months, at McMurdo Station in Antarctica.
Each one was special, but Antarctica and New Zealand affected me deeply, especially the ice. I actually get a bit emotional talking about the ice a lot of the time. I'll leave it at that because I don't want to ruin my mascara.
OMC: You lived in Antarctica? What did you do there?
GT: I started in Antarctica as a baker during the summer season but loved it so much that I applied to stay through winter. The station population plummets from 1,000 to 1,200 in summer to about 150 in winter, so they only need one baker and she had already been hired. But I convinced them to let me stay as a cook through winter, so my first stint was 14 months. I fell in love with winter there and went back for a second six-month stint as a cook. People who've heard the stories keep telling me to write a book. Page 1 of 2 (view all on one page)
Next >>
Talkbacks
Idle1 | Dec. 22, 2013 at 4:27 p.m. (report)
Someone please notify Dos Equis Beer that their new "world's most interesting man" is a woman!
popegreg | Dec. 20, 2013 at 1:13 a.m. (report)
Great to see that Gemma is back in Milwaukee! She did some great work for the Jurnal-Sentinel back in the late 90's, early 00's. Welcoms back!
High_Life_Man | Dec. 19, 2013 at 1:23 p.m. (report)
It's the University of Wisconsin or the University of Wisconsin - Madison, not "Madison." This will help people who aren't from Wisconsin understand from what university she received her degree.
Facebook Comments
Disclaimer: Please note that Facebook comments are posted through Facebook and cannot be approved, edited or declined by OnMilwaukee.com. The opinions expressed in Facebook comments do not necessarily reflect those of OnMilwaukee.com or its staff.