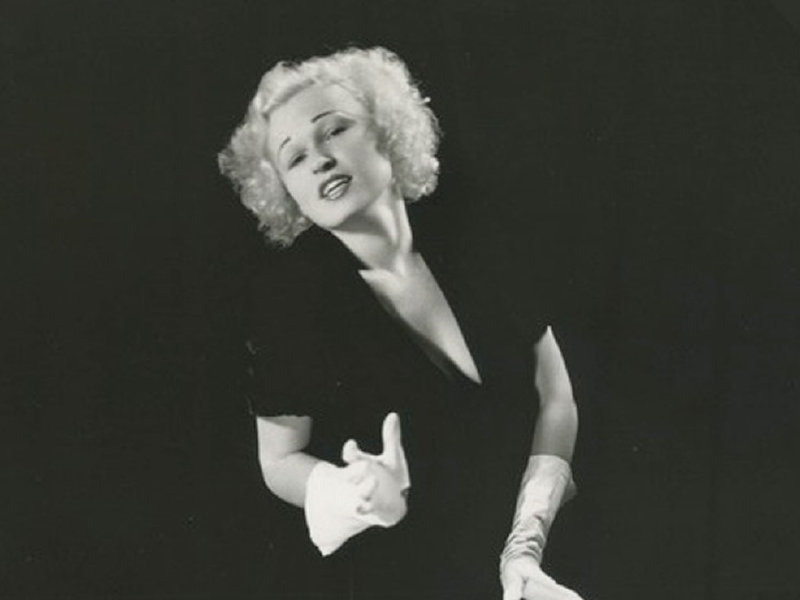 A shimmy for the ages: how a burlesque dance rankled Milwaukee
Though so tame by current standards that Miley Cyrus wouldn't be caught dead doing it, a shimmy dance performed on a downtown stage 86 years ago was considered "shocking, suggestive, immoral, indecent and highly improper" by the cop that arrested Mary Karras for doing it.
When a judge disagreed and dismissed the charges, outraged Mayor Daniel Hoan warned Milwaukeeans to "resign themselves to nakedness and debauchery in public places."
We've got that aplenty, all right, but the one-day trial of the 20-year-old Karras in 1927 is now just a quaint, dusty footnote in the legal and cultural history of Milwaukee, although some of the questions raised at it still resonate – and titillate – today.
According to Mayor Hoan, citizen complaints about shocking goings-on at the city's two best-known burlesque palaces impelled him to dispatch police to the Gayety Theater on 3rd Street and West Wisconsin Avenue, and the Empress Theater on nearby West Water Street (now North Plankinton Avenue) on the night of Feb. 24.
Arrested after their performances were Karras, on the Gayety bill as "RedHeaded Mitzi," and, at the Empress, Catherine Wasauskas,aka "Hinda Wausau." Also taken into custody were their stage costumes, which in Mitzi's case consisted of "a red breastband, a flaming red loincloth and a few tassels, and a red shawl," all apparently worn over a white leotard or oversized bloomers.
For the March 11 trial of Ms. Karras the courtroom of District Judge A.J. Hedding bulged with "church women, society women, actresses, police, attorneys, pastors and representatives of a dozen agencies on various sides of the theater reform question," reported The Sentinel. Hinda Wausau, whose separate trial was scheduled for a week later, was also there.
Unfortunately for the prosecution, so was defense attorney William B. Rubin, ardent champion of labor unions and left wing causes, foe of censorship, passionate and glib like his friend Clarence Darrow – and, as noted by The Sentinel upon his death in 1959, "an impish critic, a needler at all times [who] let the air out of many a stuffed shirt in his day."
("The biggest thing in my life is that I have loved my fellow man," proclaimed Rubin at a 1954 testimonial dinner tendered him. "I could see virtue in every client – and the bigger the fee the greater the virtue.")
Atty. Rubin called 22 witnesses who had been in the Gayety audience for Red-Headed Mitzi's three-minute performance. Among them were Deputy State Fire Marshal Conrad Asmuth; Civil Court Clerk E.J. Hertwig; Cy Rice, reporter for The Milwaukee Journal, several married couples and women.
None of them found anything objectionable about it. "She had tights on all the time, anyhow," groused one male witness.
The sole witness called by Assistant City Attorney Andrew Brunhardt was the policewoman who'd arrested Karras/Mitzi. Helen Lemmon testified that her brazen costume and her shimmy dance constituted immorality of the highest order and a threat to the "best interests of the community," especially its impressionable and vulnerable youth.
The first thing Atty. Rubin did on cross-examination was call for Mrs. Lemmon to demonstrate the "wiggles and squeals" that had offended her so. The intrepid policewoman stood up to give it a shot, but Judge Hedding told her to forget it unless her imitation of Mitzi's gyrations was spot-on. So Mrs. Lemmon described what she'd seen instead:
"She strutted back and forth and wiggled in a suggestive manner. She shook the lower part of her body and made little squealing noises. She unloosed (sic) certain parts of her scanty costume to suggest that she was going to let it drop to the floor."
Did Mrs. Lemmon believe that "the body of a woman was the most beautiful thing in the world as glorified by artists and sculptors?" asked Rubin. "When exhibited in the proper surroundings," she said.
"Do you consider the Bible immoral, remembering that it contains stories like the one about Lot and his daughter?"
"No, because I think the Bible is a book that teaches morals," answered Mrs. Lemmon.
"Your own skirts are shorter than you wore them 10 or 20 years ago, aren't they?" asked Rubin.
Mrs. Lemmon acknowledged that was so, though she was always careful not to expose her knees.
"She was asked if she thought there is anything immoral about the relations of married people," reported The Sentinel, "and replied that the stage is no place for it to be suggested. 'Oh, so sex without the canopy of a minister or a marriage license is immoral,' observed the attorney."
When she said she was "too busy" to attend many shows and that her standards concerning what was proper were "principally based upon opinions formed in the past," Rubin tsked, "You're a little bit behind the times, Mrs. Lemmon."
He was even more cutting in his summation: "It is about time the living living escape the persecution of the living dead."
Judge Hedding agreed, though he couched it differently.
"I must be guided solely by the evidence in the case, not by my personal views," he said. "If I decided that the defendant was guilty, I would be doing so on the testimony of one witness, whereas 22 witnesses have stated that they saw nothing offensive about the dance. Upon the facts I must find the young lady not guilty."
"Applause and cheers greeted the decision," reported The Journal, "and many spectators rushed forward to congratulate the youthful defendant, a quiet, mild looking girl, simply dressed, and devoid of any materials from the makeup box."
At 10:45 that night, a much different looking Mary Karras danced on stage at the Gayety and triumphantly sang, "My name is Mitzi Brown, I'm the hottest girl in town!" After her three minutes were up, she took off for a new engagement in Cincinnati.
When he stopped hyperventilating about Hedding's verdict, Mayor Hoan remembered that each July he had the sole power to grant or deny every city theater's application for a license renewal.
"…Burlesque theaters will commit such offenses of indecency at their own peril," he warned. "I want them to take this as a final notice that any acts which suggest indecency of the type that is unprintable and of which they have full knowledge are likely to have considerable influence on my actions in determining whether a renewal of a license will be granted."
The message came through loud and clear. At Hinda Wausau's trial on April 9, the only witnesses were Policewoman Emma Meyer, who said the defendant's dance was an affront to decency, and Empress Theater co-owner Henry Goldenberg, who said he'd warned Wausau beforehand to tone it down.
Judge Hedding pronounced her guilty and fined her $50.
Those inclined to take this as proof there is no justice will be happy to know that while Red-Headed Mitzi danced off into oblivion, Hinda Wausau went on to fame as one of burlesque's all-time greats and the inventor of the pole dance.
Facebook Comments
Disclaimer: Please note that Facebook comments are posted through Facebook and cannot be approved, edited or declined by OnMilwaukee.com. The opinions expressed in Facebook comments do not necessarily reflect those of OnMilwaukee.com or its staff.