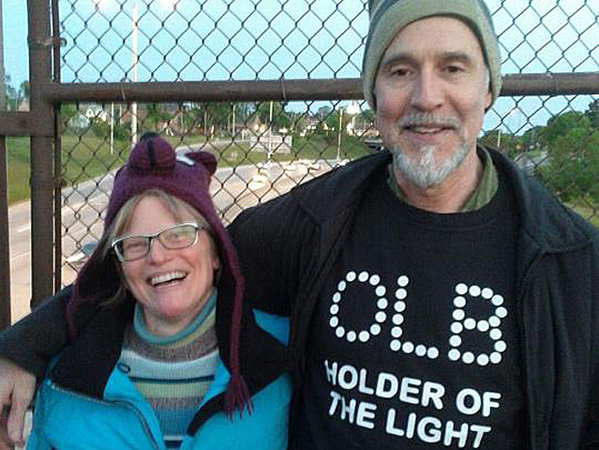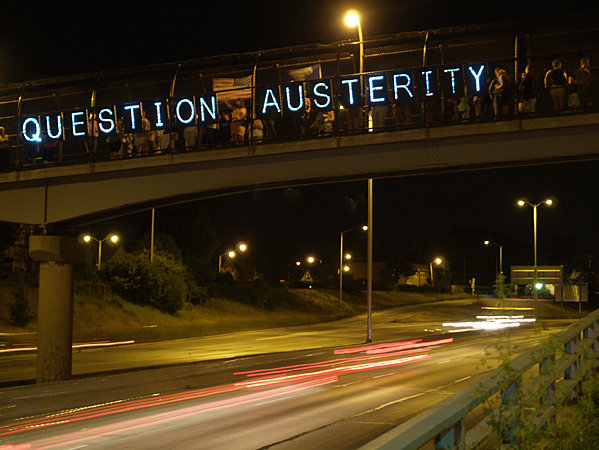 Overpass Light Brigade mixes social media, "physical commitment of real people"
(page 2)




MPS teacher Alissa Gonyea participated in the OLB about 10 times. As a "holder of the light" (what the brigaders sometimes call themselves), Gonyea enjoyed hearing people honk their car horns to "this is what democracy looks like," one of the chants of the Wisconsin Uprising.

"Whether in the freezing cold, rain or windy weather I stood proud, smiled and waved to the cars below. Our audience was travelers and we provided the service of delivering a clear message. Someone voted because they read our message," she says.

Gonyea says she also brought her 15-year-old, Connor, with her on the overpasses so he could experience "true democracy."

"I see each action more like a '60s 'happening.' For the (political) left, they look at us and say 'grit your teeth and do your duty' and the (political) right just thinks we're all paid activists from a union. None of this is correct. I don't think a movement can last without joy and pleasure to it. That's our ethos," says Hall.

Even after the recall election, Hall says the "sociality of it is getting more and more joyful." There are tailgating parties near the bridges with food, at the last "happening" someone ordered pizza delivered to the bridge and other groups have formed their own bridge brigades, like OLB-Dane County.

In efforts to "open-source" the light brigade, Hall has given other groups instructions on how to create the signs and build the necessary social networks around the actions. The recently formed OLB-Fox Valley has a blue fist made out of lights.

The results of the recall election have been "depressing and disappointing" to Hall and other OLB members but, because this is about building a movement more than making endorsements and achieving partisan objectives, Hall says the group persists.

After the election, Hall sent an email to the OLB's listserv members asking if anyone wanted to be taken off this list. He had been working on what he hoped would be a victory message, but on June 6 he found himself working on letters for a new sign all day.

"The overwhelming response from the listserv to 'OLB 2.0' was that 'it's important to keep going.' Over 50 people came out around the new message," says Hall.

That message was "We Shall Overcome," which is the title of a key protest song during the Civil Rights era of the 1950s and '60s.

"This has been about network building and creating a people's bandwidth, where they can get their messages out as a fusion of virtual community and physical commitment of real people," says Hall.

Watch video of the Overpass Light Brigade's latest happening as part of the "Boycott Palermo's" campaign set to "Know Your Rights" by The Clash:

<< Back

Page 2 of 2 (view all on one page)


Facebook Comments
Disclaimer: Please note that Facebook comments are posted through Facebook and cannot be approved, edited or declined by OnMilwaukee.com. The opinions expressed in Facebook comments do not necessarily reflect those of OnMilwaukee.com or its staff.