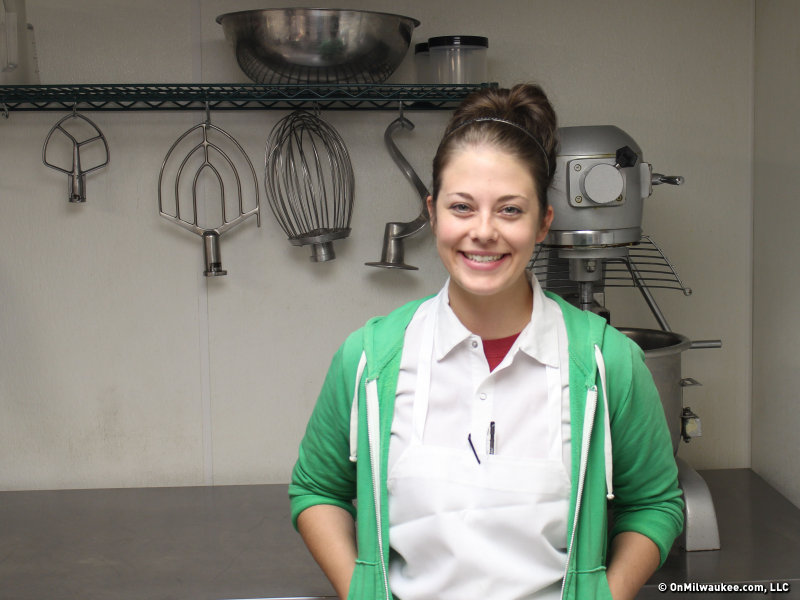 Sous me: A chat with SURG's Jaceleen Latin-Monagle
Jaceleen Latin-Monagle didn't come to work in the restaurant industry in what some might call the "usual" fashion.
After growing up in Bay View, she studied art history at the University of Minnesota. Despite loving the content she studied, she didn't really see herself working in a profession that related directly to her degree.
"It was a lot of being in the right place at the right time," she tells me. "I taught myself how to do wedding cakes, and was making them out of my mother's kitchen. I was making her crazy. I was feeling crazy."
By day, Latin-Monagle worked as an event planner for the spa at The Pfister Hotel. By night, she spent her time baking and thinking about the career she wanted for herself.
At the time, her cousin Aaron Bickham was a chef at Charro in Milwaukee. He offered her a pastry cook position in the restaurant, which she took. When they hired current pastry chef Kurt Fogle, Latin-Monagle was absorbed into the pastry team.
"He encouraged me to quit my job at The Pfister and devote myself full-time to the work I was doing at SURG," she says.
That was nearly three years ago, and Latin-Monagle hasn't looked back. She's now a sous chef working under Fogle, creating desserts for four restaurants.
I sat down with her to find out more about her background and her experiences working in the restaurant industry.
OnMilwaukee.com: What were the special challenges you faced without a background including culinary school?
Jaceleen Latin-Monagle: At first the challenges were not knowing basic things like anglaise, ganache, pastry cream. So, that was all I did for months, every single day. Not coming to it with a background in food science, it was tricky. I had to do a lot of research, ask a lot of questions.
He is a big food science guy, and he was also surprisingly patient. I was terrified of him when I first started. But, now when we get stages from pastry school, I feel better about how I came around to it.
Tempering chocolate is a great example. The students learn how to do it one way in class, but that's not how we do it at the restaurant. It's a big learning curve.
OMC: What, ultimately, made you choose food as your career?
JLM: I grew up in a big foodie household. We were always baking. My mom loved it. My grandmothers loved it. I come from a big Italian family, so everyone cooked. I grew up eating big Italian dinners. And we were lucky kids to have grown up around beautiful cakes and desserts.
Two of my mom's nephews were chefs, so we got into eating at really nice restaurants. And when I started showing an interest, everyone was really encouraging.
Christmas cookies were a huge thing with my mom. We did it every year, without fail. It was on the calendar. We all got our own sheet of waxed paper, our own bowl of icing. She was specific about how we decorated. She made us have a plan: is it a boy or a girl? We would go a little AWOL every now and again. We'd chop the heads off of the gingerbread men.
My grandmother was the one who taught me the importance of cooking clean. She'd never let us move on to the next step before we cleaned up. And that I remember really clearly.
OMC: You came to the profession with very little experience. So, what do you wish you had known when you took your first position?
JLM: A lot. I didn't really know anything about working in a restaurant, since my only prior dessert experience was making cakes and being on the catering end of things. I thought that's the direction I would head, but I absolutely would not head in that direction anymore.
But, at this point, I think I have the best job in the city.
OMC: From your point of view, what's the most important role that you play?
JLM: Keeping Kurt Fogle from going crazy. (laughs)
I do all the pastry production for four restaurants, so I have to be organized. I have to pay attention to my orders, and I have to communicate with the chefs about the urgency of what they're asking me for. We don't want to run out of desserts.
OMC: What's the most challenging part of your job?
JLM: I think the most challenging part is when there's a lack of communication between our department and the restaurants.
Sometimes information isn't given to us. We might be running low on something, but no one tells us, and then we run out. There are a lot of last-minute requests. Sometimes they don't understand that what they're asking for is a two day process. It doesn't just happen.
OMC: What's the best part?
JLM: I don't know, I really love my job. I get to work with Kurt Fogle. He knows so much and is so passionate. It's really contagious. I get to listen to good music and bake all day, for eight hours. It's fantastic.
OMC: What have you learned most about yourself while working in the kitchen?
JLM: I think my ability to work under pressure is much greater than I thought it was. Just powering through a day and getting done what needs to be done. For instance, Downtown Dining (Week) was really out of control. I put in 14 hours of overtime, and I think I worked for two weeks straight. I was just exhausted. But, if I didn't get up in the morning and get in here at 7 a.m. and crank out desserts, it would have been a big problem.
OMC: But you lived to tell about it?
JLM: I did. It was great when it was over. And I slept for two days I feel like.
OMC: Of the chefs you've worked for, from whom did you learn the most? Why?
JLM: Definitely Kurt Fogle.
When I first started, I definitely learned a lot from Aaron Bickham, but he doesn't have a pastry background. He bought me the "Dessert FourPlay" book by Iuzzini. I was reading and I had no idea what anything was. No idea what agar was. But, now, thanks to Kurt I can make sense of all that. It makes sense, and I can do it.
I feel like I've had a huge education that most people would pay a lot of money to get. Kurt had to start at square one with me. And now I could write my own dessert menus.
OMC: Tell us something we don't know about Kurt.
JLM: He's a very sentimental person. He truly is. He has a soft spot for desserts from childhood and things that he remembers. And so much of what we do comes from that.
He's also a huge baby when he's sick. He complains a lot, but I will also say he works really hard. He just needs a lot of sympathy.
OMC: How would you describe your style or philosophy about food?
JLM: I like simple flavors done really well. And I've been thinking about this a lot more as I'm trying to determine who I am as a pastry chef, separate from Kurt.
I like familiar things, like a layer cake, that's just done at a really high level. Things where people would say "This is the best cake I've ever eaten"… and yet it's familiar, comfortable
OMC: What's your favorite dessert to make for the restaurants?
JLM: I love making entremets, layered mousse cakes. They have all of the components that make a really good dessert – colors, textures, flavors – are all in a really neat package. And you can have a lot of fun with them.
OMC: Do you have a flavor combo you really like?
JLM: Probably the dulce de leche one that we did for one of Distil's Destination Dinners. Almond, chocolate, caramel and it was good.
OMC: Are there any upcoming trends in the industry you're excited about?
JLM: I still occasionally cater weddings … and I hate the cake pop deal. But, I was excited about the whoopie pie trend with weddings. The wedding trends are really where I pay attention.
OMC: What about cupcakes?
JLM: Oh, I love cupcakes. I know other people are starting to hate them. But I love them. I like baking them. They're cute. Kurt hates the word cute. But, they really are. You can do tons of flavors, variations. It's a compact dessert in which you can capture lots of flavors.
OMC: Where do you envision yourself five, 10 years from now?
JLM: It's a tricky thing. I really have no idea. I'm still really deciding where I fit in. I don't see myself doing anything that's a lot different from what I do now. I definitely want to stay working in restaurants because I think it's challenging; it pushes me to be creative on a daily level. The path I'm on right now is really deciding "what does a Jaceleen dessert look like?"
OMC: What's it like being a woman in the industry?
JLM: You know, people don't have filters at all. But, I was never openly girly. I tended to hang around with more boys than girls. I'm also sarcastic and snarky, so I can appreciate the fact that, with guys, you can make fun of one another to their faces. I can handle dirty jokes.
I did have to start doing push-ups because it was annoying to have everyone asking me to lift, carry, and move things. It's what I tell the women culinary students: No one is going to do it for you, so you need to learn how to do it yourself.
I do think that pastry is a bit safer. And in this group, especially, there are many males. But, they're good people, and they're not crazy. So, if I was somewhere else, it might be a different story.
OMC: What's your impression of the Milwaukee food scene?
JLM: What's most exciting is that people are starting to push the envelope and be more creative – especially with pastries. I think it's really collaborative… people throw ideas past us, and we talk to one another. We ask for opinions and share recipes. And that's nice, and it's really only going to help everyone when we work towards the greater goal of putting Milwaukee on the map for food.
OMC: How far away are we?
JLM: I don't know. That's tricky. I'm not sure I'm totally up on all the hot restaurants. But, you do hear more and more that Milwaukee chefs are being nominated for James Beard Awards. People are getting more attention. So, I really don't think we're all that far away.
Facebook Comments
Disclaimer: Please note that Facebook comments are posted through Facebook and cannot be approved, edited or declined by OnMilwaukee.com. The opinions expressed in Facebook comments do not necessarily reflect those of OnMilwaukee.com or its staff.