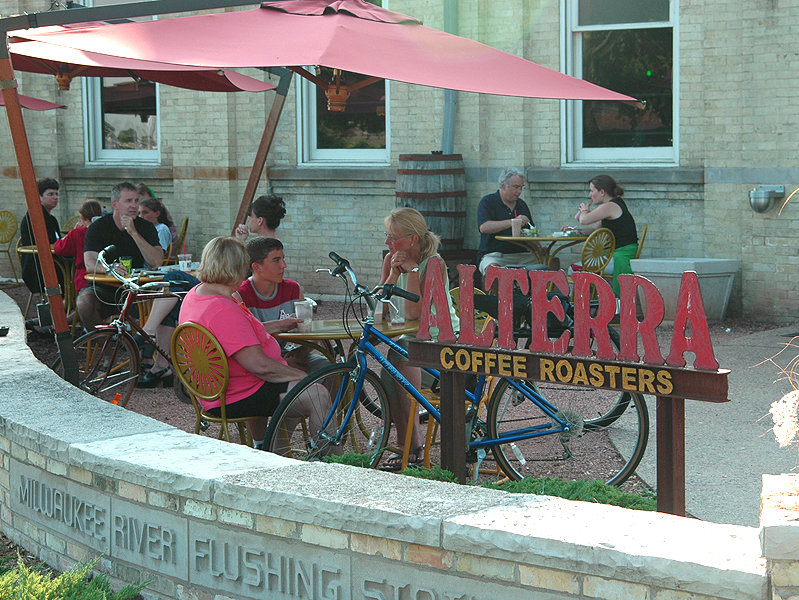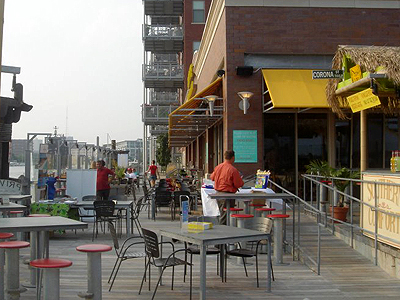 Outdoor dining guide
Note: The contents of this guide were checked for accuracy when this article was updated on May 30, 2009 at 3:56 p.m. We continually update the thousands of articles on OnMilwaukee.com, but it's possible some details, specials and offers may have changed. As always, we recommend you call first if you have specific questions for the businesses mentioned in the guide.
After a long, seemingly endless harsh winter, there is just about nothing we Milwaukeeans crave more than a little warm, fresh air. The outdoor dining and drinking scene in this city has exploded in the past few years, and most patios are packed on a nice sunny afternoon.
Looking for a little dining al fresco? Here are literally 100 lovely places to do so. Happy summer, Milwaukee.
AJ Bombers
1247 N. Water St., (414) 221-9999
ajbombers.com
With outdoor seating on Knapp Street, it's a great spot to dine on some of the city's best burgers ("Food Wars" approved, no less!) while watching the Park East neighborhood develop. Two giant chairs are also featured for your enjoyment.
Alterra at the Lake
1701 N. Lincoln Memorial Dr., (414) 223-4551
alterracoffee.com
Myriad environmentally friendly features complement the cafe, both indoors and out. A wetland garden captures and filters parking lot runoff, and rain from the roof trickles into barrels and irrigates plants on the grounds. This location serves hot and cold sandwiches, salads and more, making it a great lunch spot, especially when the weather cooperates and you can sit outside.
Ann's Italian Restaurant
5969 S. 108th Place, Hales Corners, (414) 425-5040
annsitalian.com
Shade for the hot days, heaters for the cool ones. Ann's offers tasty Italian cuisine at fair prices and the balcony is a great spot to catch a meal.
Anvil Pub & Grille
N70 W6340 Bridge Road, Cedarburg, (262) 376-2163
anvilpubandgrille.com
Nestled in the Cedar Creek Settlement's restored 19th century blacksmith's shop, the charmingly authentic Anvil Pub & Grille is a Cedarburg favorite for casual dining in a rustic atmosphere. The Anvil serves lunch and dinner daily and specializes in freshly baked Forge sandwiches made in the stone hearth oven. As a summertime treat, the creekside patio offers seasonal dining overlooking the Cedar Creek waterfall.
Apollo Cafe
1310 E. Brady St., (414) 272-2233
apollocafe.com
A quick and cost-effective Apollo Cafe lunch or dinner is sure to please even the pickiest gyro lover in the Brew City. After stuffing your face with Greek delights, it's a short walk to the Brady Street footbridge for a stroll on the lakefront to help you shed those new Greek pounds.
Bacchus
925 E. Wells St., (414) 765-1166
bacchusmke.com
Inside the Cudahy Tower, Bacchus brings fine dining into a stylish space. Outdoor patio dining and private dining rooms make dining here an experience for lunch, dinner or special occasions.
Balzac
1716 N. Arlington Dr., (414) 755-0099
balzacwinebar.com
Adding to the flavor on the corner of Arlington and Brady, the Hi-Hat Group opened the wine bar Balzac. They offer an untouchable list of rotating wines as well as small plates and appetizers late into the evening. Their outdoor seating is located in the backyard courtyard shared with Apollo Cafe.
Bar Louie
1114 N. Water St., (414) 847-1330
5750 Bayshore Dr., Glendale (414) 831-2700
restaurants-america.com/barlouie
Water Street is a hotspot during a Milwaukee summer and Bar Louie is smack dab in the center of it all with an inviting patio seating over 100 when the weather's warm (and a fire pit for when it's not as warm as we wish it were.)
Barnacle Bud's
1955 S. Hilbert St., (414) 481-9974
barnacle-buds.com
Next to Skipper Bud's down on the KK (Kinnickinnic) River der hey is Barnacle Bud's. A favorite stop for boaters, burger and beer lovers, Bud's is perfect for an afternoon lunch or after-work beer. As seen in the film, "The Lady in the Box."
Beans and Barley
1901 E. North Ave., (414) 278-7878
beansandbarley.com
An East Side institution and one of Milwaukee's vegetarian hot spots, Beans & Barley features some of the city's best soups and sandwiches. The attached grocery store features gifts, magazines, vitamins, produce, sweets and organic, vegetarian and ethnic foods.
Beer Belly's
512 W. Layton Ave., (414) 481-5520
The home of the Belly Burger! A wide range of choices also makes Beer Belly's fish fry one of the best in town. There's also great tenderloin and baby back ribs.
Bel Air Cantina
1935 North Water St., (414) 226-2245
belaircantina.com
Upscale Mexican cuisine on Milwaukee's lower East Side. Stop in for Taco Tuesday where all tacos are $2, or unwind after work during happy hour from 3 to 7 p.m.
Botanas
816 S. 5th St., (414) 672-3755
botanasrestaurant.com
Seafood, particularly shrimp and fish items, are the specialty at this Mexican restaurant. The food isn't too spicy, and the guacamole is great.
Bremen Cafe
901 E. Clarke St., (414) 431-1932
bremencafe.com
Bremen Cafe, located at the corner of Bremen and Clarke in Riverwest, draws customers from all over the city. Coffee, conversation and free high speed Internet can all be found at Bremen, along with live music from local and touring acts. Work by local artists is on an ever-changing display to add to the local aesthetic.
Brocach
1850 N. Water St., (414) 431-9009
brocach.com
This Irish pub and restaurant offers an authentic-feeling experience and during the warm months, a second-floor terrace with stunning views of the river below.
Buca di Beppo
1233 N. Van Buren St., (414) 224-8672
bucadibeppo.com
Buca offers southern Italian food with huge portions served family-style.
Buck Bradley's
1019 N. Old World 3rd St., (414) 224-8500
buckbradleys.com
A favorite before and after Bradley Center events, Buck Bradley's features the city's longest bar, great casual dining, gourmet entrees, deli sandwiches and daily specials.
Burke's Lakeside
37238 Valley Road, Summit, (262) 567-5242
burkeslakeside.com
Burke's Lakeside's outdoor seating is well worth the drive. The wraparound patio easily helps the restaurant live up to its name with spectacular views of Silver Lake. Enjoy the atmosphere of the great outdoors day or night.
Butler Inn
742 N. Glacier Road, Pewaukee, (262) 691-0840
butlerinnofpewaukee.com
A screened patio, tropical bar and two gazebos give patrons at Butler Inn options for their outdoor dining experience. Tender Black Angus steaks, homemade soups and salads are some of the restaurant's specialties, not to mention the friendly staff and excellent service.
Café 1505
1505 W. Mequon Road, Mequon, (262) 241-7076
cafe1505.com
Specializing in soups, salads, vegetarian fare and sandwiches, as well as weekly specials, Café 1505 serves up excellent brunch all day Saturday and Sunday. There's also a full carryout menu and an espresso bar.
Cafe at the Plaza
1007 N. Cass St., (414) 272-2494
A truly unique, art deco dining experience, the Cafe at the Plaza is a favorite of Downtown and East Side dwellers. The Plaza Scrambler and other breakfast items are all made fresh to order, and are available all day long. You will love the quaintness of the building and the lovely outdoor patio.
Café Benelux
346 N. Broadway, (414) 223-4100
cafebenelux.com
New for 2011, Benelux put in fantastic rooftop seating that will, without a doubt, be a popular summer spot for years to come. With over 30 beers on tap and a menu that covers breakfast through dinner, Benelux is a welcome addition to the Historic Third Ward.
Cafe Centraal
2306 S Kinnickinnic Ave., (414) 755-0378
cafecentraal.com
The Lowlands Group's Bay View addition, Cafe Centraal's large garage door opens off the back of the building into a courtyard-like dining area. The restaurant serves a full menu all day long.
Café Hollander
2608 N. Downer Ave., (414) 963-6366
7677 W. State St., Wauwatosa, (414) 475-6771
cafehollander.com
Both cafes feature an eclectic menu and large, crafty beer selection perfect for Milwaukee's East- or West-sider. The Downer Avenue location's patio is quaint and overlooks the bustling roadway, while Tosa's equivalent features a picturesque look over the Menomonee River. Page 1 of 4 (view all on one page)
Next >>
Facebook Comments
Disclaimer: Please note that Facebook comments are posted through Facebook and cannot be approved, edited or declined by OnMilwaukee.com. The opinions expressed in Facebook comments do not necessarily reflect those of OnMilwaukee.com or its staff.