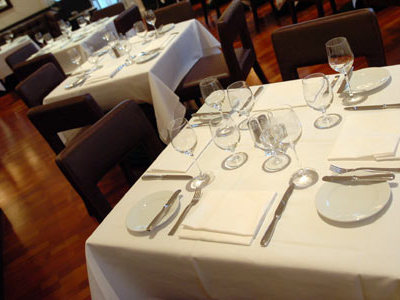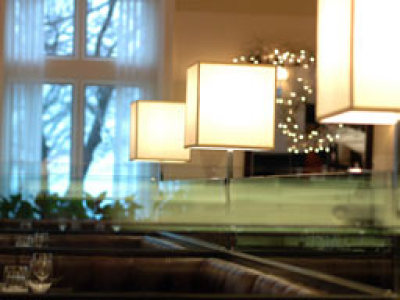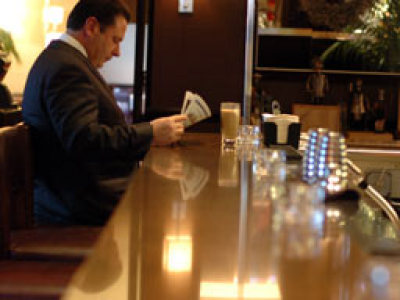 Bartolotta's Bacchus is something special
Bacchus, the Roman adaptation of the classic Greek god of wine, Dionysus, represents not only the intoxicating properties of varietals, but also their social and beneficial influences. Bacchus was a peacemaker, a lover of serenity, a lawful god. It is fitting then that the Bartolotta restaurant Bacchus, 925 E. Wells St., boasts an impressive wine list and a professional, yet beautifully calm environment for which to pair those wines with impressive food.
Two visits two Bacchus brought us two very different experiences. Diners are able to sample selections in the bar area, a decidedly more casual and boisterous environment, or in the painstakingly formal dining area, which bears little if any resemblance to Milwaukee's much loved former romantic restaurant, the Boulevard Inn.
The formal dining area shines with lovely mirrors, leather chairs and banquettes, and while our server pointed out that the close proximity of tables leaves little room for intimacy, the layout and the glass wall that displays the hundreds of bottles of Bacchus' wine selection are most impressive.
Dining in the bar area left us with some server issues; on a busy Thursday evening, we waited for initial service, and then watched our appetizers sit at the bar for more than five minutes before, upon our request, someone finally brought them to our table. But once delivered, the food was very good. The presence of intermingled cuisines and culinary techniques is prevalent here, one of the aspects that truly makes Bacchus something special.
Bacchus tuna tartare ($13) came with complements of wasabi tobiko caviar and fried crisp wontons. We loved the buttery texture of the tuna and the caviar, but preferred to sample both without the wontons, which while delicious, we felt overpowered the delicacy of the tuna. Roast beef carpaccio ($11) arrived with fried onions, baby arugula, and a mustard-mayo combination that was truly delicious. Crispy Gulf shrimp ($13) was served "feuille de brick," wrapped in a crepe-thin French pastry, and drizzled with agrodulce, an Italian version of sweet and sour sauce.
Service issues at Bacchus continued on our second visit, this time in the formal dining area, where we were the first table to arrive on a weekday evening. Timing for servers is often more difficult when a restaurant is slow, and we seemed to fall prey to this issue on our visit; we found ourselves sitting too long with empty plates and having to seek out help for water, bread, and cracked pepper for our soup. Perhaps I carried too high of expectations because service at Bartolotta's sister restaurants, Lake Park Bistro and Ristorante Bartolotta, is impeccable, but nonetheless, I have come to expect that quality of care in Milwaukee's better restaurants.
A scallop appetizer ($15) was a delightful combination of flavors and textures featuring a mache salad (a light, buttery lettuce with baby oval shaped leaves), roasted roma tomatoes, and a truffled parmesan risotto cake that was heavenly. The seasonal soup of porcini mushroom served atop a single lobster ravioli was rich, creamy, and utterly divine. Red wine braised beef shortribs ($26) were the best rendition we have tried in town and arrived picture perfect with a potato and celery root puree and fresh horseradish garnish. The sautéed Atlantic salmon ($24) was also excellent in a light Dijon and herb crumb crust, appearing over a bed of sautéed rapini, and with a creamy potato puree surrounded by rich red wine sauce in a faultless presentation.
Bacchus follows the French practice of offering cheese for sampling after entrées, but we had little room to sample the five lovely cheeses they offer, which are brought in on a rotating basis, and would be reason enough for a stop after work for a glass of wine and a sampling of both local and regional cheeses. Après cheese, desserts at Bacchus are godly as well, true to form for a restaurant named after one who valued quality and richness; envision fresh crème brulee, molten chocolate hazelnut cakes, and other delicacies that make for a heavenly end to dinner at one of Milwaukee's better restaurants.
Facebook Comments
Disclaimer: Please note that Facebook comments are posted through Facebook and cannot be approved, edited or declined by OnMilwaukee.com. The opinions expressed in Facebook comments do not necessarily reflect those of OnMilwaukee.com or its staff.