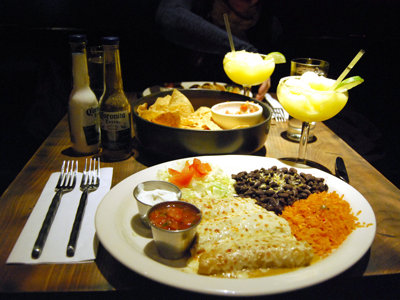 Brookfield dining guide
Note: The contents of this guide were checked for accuracy when this article was updated on May 16, 2010 at 9:02 a.m. We continually update the thousands of articles on OnMilwaukee.com, but it's possible some details, specials and offers may have changed. As always, we recommend you call first if you have specific questions for the businesses mentioned in the guide.
The Brookfield dining scene seems to be growing exponentially by the year, offering a broader range of options for area diners.
From seafood grills to steak and chops stops, restaurants are quickly filling up the Capitol Drive and Bluemound Road corridor.
Here is an updated account of what the western suburb is bringing to the dining table. While this list doesn't cover every last eatery, it includes the newcomers as well as several perennial favorites.
Bonefish Grill
18355 W. Bluemound Rd., (262) 797-0166
bonefishgrill.com
A chain under the OSI Restaurant Group, this seafood spot is known for being both "upscale casual" and family-friendly.
Boulder Junction
12550 W. Burleigh Rd., (262) 790-0726
boulderjunctiongrill.com
A Western roadhouse-themed grill, Boulder Junction offers down-home American fare, such as burgers, steaks, ribs and seafood.
Bravo! Cucina Italiana
95 N. Moorland Rd. (262) 785-0858
bravoitalian.com
This location of the "Italian kitchen" is located at Brookfield Square. It's open for lunch and dinner and although it specializes in pasta and pizza, you'll also find grilled steak and lamb chops rounding out the large-portioned menu.
Cafe Manna
3815 N. Brookfield Rd., (262) 790-2340
cafemanna.com
Café Manna is a 100 percent vegetarian and organic restaurant, one of the city's only. The menu pulls from many regions of the world and includes Asian, Middle Eastern and American comfort foods.
Carrabba's Italian Grill
18365 W. Bluemound Rd., (262) 797-2548
carrabbas.com
This chain restaurant serves traditional and casual Italian cuisine but distinguishes itself with its wood-fired grill for seafood and meats and homemade sauces.
Charro
17800 W. Bluemound Rd., (262) 782-7853
charrorestaurante.com
A compilation of Cuban, Mexican and Spanish flavors, Charro combines reasonably priced and well-delivered Latin cuisine with bold, striking décor.
Claim Jumper
15 S. Moorland Rd., (262) 782-9800
claimjumper.com
Designed in an arts and crafts style, this Brookfield restaurant and saloon has an open kitchen showcasing its contemporary American fare, such as baby back ribs, pasta, burgers and specialty salads.
Five Guys Burgers and Fries
95 N. Moorland Rd., (262) 786-2580
fiveguys.com
The name pretty much says it all. Five Guys serves burgers made to order with a long list of toppings and fresh ingredients. The national chain prides itself on using only fresh, never frozen ground beef, idaho potatoes and peanut oil.
Fleming's Prime Steakhouse & Wine Bar
15655 W. Bluemound Rd., (262) 782-9463
flemingssteakhouse.com
Part of the OSI group, which also runs Bonefish Grill and Carrabba's Italian Grill, Fleming's, is a contemporary take on the classic steakhouse, with steaks, seafood, poultry and 100 wines by the glass.
Fujiyama
17395D W. Bluemound Rd., (262) 796-1977
fujiyama100.com
A sister restaurant to its original Highway 100 location in West Allis, Fujiyama does sushi and hibachi with authenticity and distinction. All the gorgeously crafted cuisine is prepared by skilled chefs in an open kitchen.
Haute Taco
18905 W. Capitol Dr., (262) 781-1110
hautetaco.com
Called "the ultimate taqueria," Haute Taco is a modern take on authentic Mexican fare mixed in with an extensive tequila selection.
Hooters
17105 W. Bluemound Rd., (262) 784-1826
hooters.com
Hot wings and ... well, you know what esle Hooters offers. "Delightfully tacky yet unrefined," indeed.
Jake's Restaurant
21445 W. Capitol Dr., (262) 781-7995
Jake's feels like a traditional supper club where meat lovers will find items like prime rib, juicy steaks and haystack onion rings.
Joey's Seafood & Grill
12455 W. Capitol Dr., (262) 790-9500
joeysseafood.com
Seafood comes in many forms here, from crab cakes and calamari, to coconut shrimp salad and jambalaya, to fish and chips, fish tacos and lobster. The extensive menu goes on and on to please any fish lover.

Loaf & Jug
18895 W. Capitol Dr., (262) 781-1789
The restaurant has been around for more than 25 years and recently relocated to the Brookfield Town Center from 17700 W. Capitol Dr. Customers order sandwiches deli style, selecting their won bread, meats, cheese and toppings.
Louise's
275 Regency Ct., (262) 784-4275
louiseswisconsin.com
The trattoria's menu boasts creative wood-fired pizzas, classic Italian pasta creations, seafood specialties and plenty of warm foccacia bread in a comfortable, family-friendly setting.
Mama Mia
18880 W. Bluemound Rd., (262) 789-0277
mamamiabrookfield.com
"A Milwaukee tradition since 1954," Mama Mia is probably best known for its decadent garlic bread, but has also made a name for itself thanks to its classic thin crust pizza, lasagna and spaghetti.
Maxwell's
1005 S. Moorland Rd., (262) 784-9770
Maxwell's Restaurant offers breakfast, lunch, and dinner amid antique toys and treasures. You'll find several selections from the grill, as well as pasta entrees, signature salads and sandwiches.
Mitchell's Fish Market
275 N. Moorland Rd., (262) 789-2426
mitchellsfishmarket.com
This upscale, chain eatery flies fresh fish in daily resulting in an ever-changing menu that highlights chef specialties.
Mr. B's -- A Bartolotta Steakhouse
18380 W. Capitol Dr., (262) 790-7005
mrbssteakhouse.com
In the tradition of New York- and Chicago-style steakhouses, Mr. B's uses a wood-burning stove to offer steaks, chops, seafood and Italian classics.
North Star Bistro
19115 W. Capitol Ave., (262) 754-1515
northstarbistro.com
North Star does American cuisine that delves deliciously into specialty pizzas, seafood salads and burgers.
Panos Char House
20290 W. Bluemound Rd., (262) 782-8670
panoscharhouse.com
This restaurant and sports bar is known for its char-broiled steaks and Greek specialties, such as kebobs, spanakopita and braised lamb.
Pistol Pete's Brookfield
16755 W. Lisbon Ave., (262) 790-9701
If you're looking for a casual and fun place to grab a beer and enjoy a pizza and some chicken wings, this might be your spot. Entrees include Italian specialties like veal piccata and spedini.
Stir Crazy
15795 W. Bluemound Rd.
stircrazy.com
This Asian-fusion stir-fry chain opened fall 2008 and offers fare from China, Thailand, Vietnam and Japan.
The Melting Pot
19850 W. Bluemound Rd., (262) 782-6358
meltingpot.com
This appropriately named restaurant specialized in all things fondue, from the cheese to the chocolate and everything in between.
Venice Club
1905 N. Calhoun Rd., (262) 786-8323
This Italian-American restaurant has been serving fresh pasta, seafood, baby back ribs and pizza since 1947 and has large banquet rooms for special events.
Wasabi Sushi & Lounge
15455 W. Bluemound Rd., (262) 780-0011
wasabisakelounge.com
Specializing in small-plate sushi as well as full-sized entrees, this restaurant offers gourmet Japanese dining in a posh environment.
Yokoso
20101 W. Bluemound Rd., (262) 782-8880
yokosorestaurant.com
The menu here is predominantly sushi-based with some rare features, such as seasonal fish and an oyster bar.
Talkbacks
Crew_Dat | June 15, 2013 at 1:51 p.m. (report)
Good points by both of you - I can't figure out why food is so limited in Waukesha, considering the amount of disposable income waiting to spent. Cafe Mana is very good - reservations recommended, since it's small. To stay away from chains, just go slightly east into Tosa.
connoisseur | May 17, 2010 at 3:34 p.m. (report)
Since you don't like chains (I agree) you should definately try Cafe Manna on Brookfield Road just south of Capital Drive. Don't let the fact that they are vegetrarian scare you. Their food is fabulous.
Stinky | May 17, 2010 at 2:23 p.m. (report)
Thanks for doing this! Too bad a good number of these places are chains. I try to go local as much as possible, but the choices are definitely limited out here.
Facebook Comments
Disclaimer: Please note that Facebook comments are posted through Facebook and cannot be approved, edited or declined by OnMilwaukee.com. The opinions expressed in Facebook comments do not necessarily reflect those of OnMilwaukee.com or its staff.