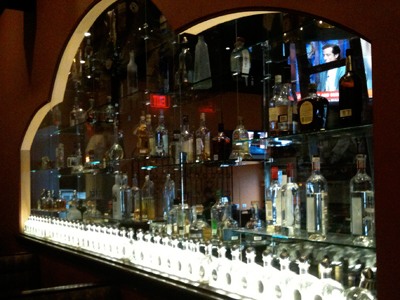 Habaneros transforms Tosa strip mall into Mexican plaza
You could be forgiven for driving right past Habaneros Mexican Kitchen, 869 N. Mayfair Rd., in Wauwatosa.
From the outside, the restaurant looks unassuming, almost anonymous. But pass it at your own risk.
Step inside and to the right there's a bar that leads off onto a patio. To the left is the dining room, which recreates an arcaded Mexican plaza complete with bright colors and pretty talvera tiles from Puebla, Mexico.
The restaurant is part of the Perfecto Restaurant Group that also includes another Habaneros location in Brown Deer, two Mi Cocina eateries in Brookfield and New Berlin and Laredos Embassy of Mexican Food in Rosemont, Ill.
Thanks to places Habaneros, Hector's, La Fuente on Bluemound and El Fogoncito, Tosa is something of a little hot-spot for Mexican cuisine these days.
The illustrated 10-page menu has a chain-y feel to it, but the service is friendly and attentive and the food is delicious.
Especially popular at Habanero's are the "Tequila Gallery," a multi-tiered showcase of tequilas that can be seen from both the dining room and the bar, and the roving guacamole cart.

Say the word and your server will send over the cart and another server will create your guacamole in an authentic molcajet while you watch. We found that the right server will also enlist your kids to help create the guac, making the experience even more fun for everyone.
Thanks to that, when we ordered the guac with roasted nopales (cactus) – $8.99 – the kids, who helped make it, happily noshed on it, despite the presence of all sorts of ingredients that would usually lead them to turn up their noses and push away the plate.
You can also keep the molcajet for an additional fee.
On previous visits we'd enjoyed seafood dishes like the Callos de hacha y camarones ($16.99) – grilled shrimp and scallops with cheese and chile de arbol sauce with rice, greens and queso fresco – and Langosta al ajo ($13.99), a lobster quesadilla with mushrooms and poblanos, with a side of rice and tomatillo sauce.
Friends have raved about the fajitas ($13.99-$17.99), too, which are big enough to share among two adults.
This time, I opted to try one of the chimichangas, which are something of a signature dish at Habanero's. I selected the el mar ($12.99), which was large and packed with grilled shrimp, scallops and lobster and grilled veggies and came with generous sides of refried beans and cheese, greens with sour cream and rice.
Though deep fried, the chimichanga wasn't greasy and the meal tested my usually robust appetite. As is the case with the fajitas, two adults could make a meal of the plate, especially if you've already waved over the guac cart.
Habanero's also has a wide range of specials. For example, we visited most recently on a Tuesday, when we were offered two for one margaritas (also available on Sundays and Mondays). At the end of the meal, when the check came, we also learned that kids dine free on Tuesdays; a nice surprise, indeed.
Mondays are also popular for the $6 martinis special and Saturdays offer $10 off margarita pitchers.
The vast menu includes all the usual suspects, from tacos and burritos to quesadillas and combo platters and salads and more. A lower-price, smaller-portion lunch menu is also available Monday-Saturday, from 11 a.m. until 3 p.m.
Despite its location on busy Mayfair Road, the patio, located on the less-traveled side street is remarkably peaceful.
Habanero's is open Monday-Saturday, 11 a.m.-10 p.m., Sunday, from noon until 9. Parking, as you might expect at a strip mall location, is ample.
Our visits to Habanero's always remind us that it's dangerous to judge a book by its cover and a restaurant by its facade.
Facebook Comments
Disclaimer: Please note that Facebook comments are posted through Facebook and cannot be approved, edited or declined by OnMilwaukee.com. The opinions expressed in Facebook comments do not necessarily reflect those of OnMilwaukee.com or its staff.