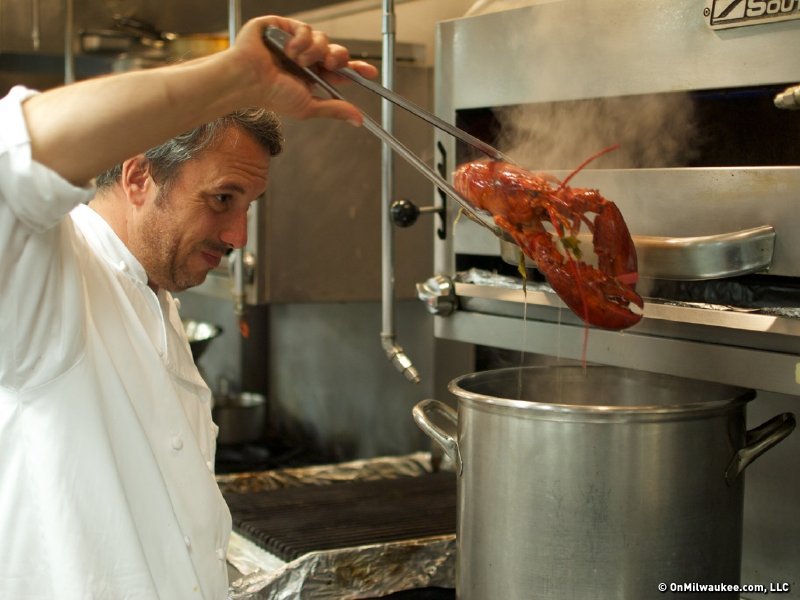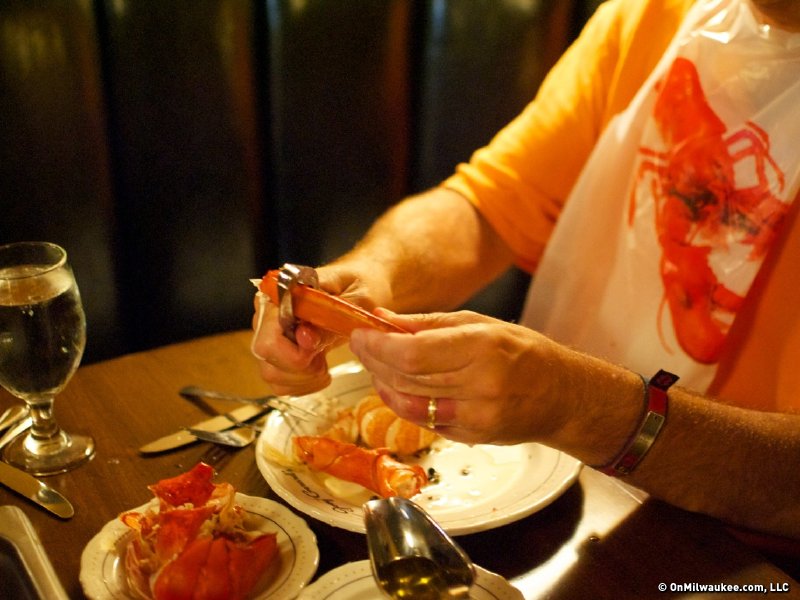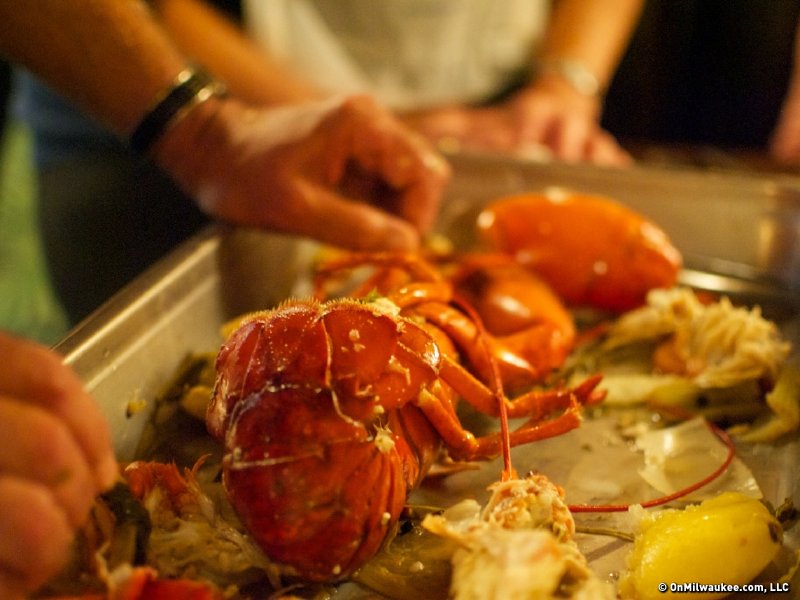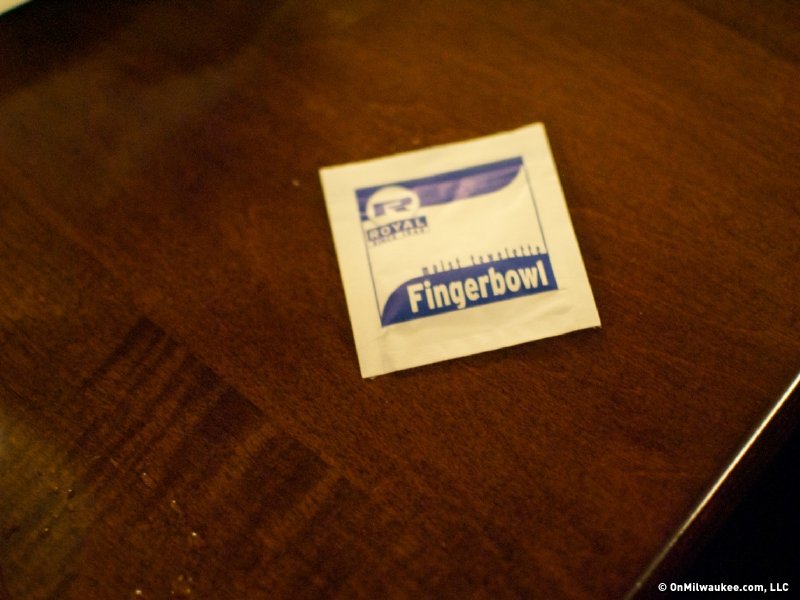 LobsterFest sparks a "lobster lesson"
It had been years since I ate lobster and so when I was offered a "lobster lesson," I tied on a plastic bib faster than you can say "marine crustacean."
Three members of Mequon-Thiensville Sunrise Rotary gave me the complete lobster low-down – from the boiling water to the wet naps – at Joey Gerard's, 11120 Cedarburg Rd.
The group is a chapter of Rotary International, which is the largest volunteer non-profit in the world with 1.2 million members. The organization's motto is "service above self" and for years its primary goal was to eradicate polio. Today, the group works to provide clean water worldwide.
Over 16 years, the Mequon-Theinsville Rotary has raised hundreds of thousands of dollars for its mission through LobsterFest.
This year, the feast and festivities take place on Saturday, Sept. 21 from 5:30 to 8:30 p.m. at Shully's, 146 Green Bay Rd.
The cost is $75 and attendees get a lobster dinner and entertainment. Last year, the event raised $40,000. The group has raised more than $350,000 overall.
My lobster lesson began with Joey Gerard's executive chef, Andrew Ruiz, inviting us into the kitchen where we met our lobsters still wiggling around in a metal tray.
I admit I was conflicted by this, even though I am not a vegetarian and have made peace with the food chain years ago. However, I still felt compelled to ask Ruiz if the lobster was going to scream when it was submerged in the boiling water.
"No," he says. "I've cooked hundreds of lobsters and have never heard one make a peep."
Sure enough, the lobster remained silent after being submerged in the boiling broth, which was a very aromatic mix of lemons and spices.
Ruiz, who has been working for Bartolotta restaurants for 11 years, recommends boiling lobsters for nine minutes. He then lets them cool down naturally (without refrigeration) and when people order them steams the lobster for three minutes. Finally, he cracks the tail, claws and knuckles before putting it on the plate.
Joey Gerard's serves lobster every Friday night. The cost is $33.95 and includes a whole lobster, red potatoes and corn on the cob.
"It's a hell of a deal. Lobster is not cheap," says Ruiz.
So how do you guarantee a good lobster? Ruiz says buying one alive is most important. Once in a great while, he says, one might have mushy meat in the tail, but that's rare.
Has he ever gotten pinched by a lobster? Once again, the answer is no.
"The rubber bands around the claws come in handy," he says.
Ruiz goes on to say that the bands are actually around the claws so the lobsters can't snap at each other, but he did come close to a lobster-related injury years ago while in Las Vegas helping out at the Bartolotta Ristorante Di Mare located in the Wynn Hotel.
"We got some 3 1/2-pound, spiney lobsters – humungous. They're called 'spiney lobsters' because they have spines all over them and these were so alive, slapping their tails as hard as they could, trying to hurt us," says Ruiz. "But they didn't."
Ruiz says that the lobsters served in restaurants are both male and female. Sometimes a female will have eggs in her tail which are left in because they are considered a delicacy.
Ruiz recommends pairing lobster with a white wine or a tap beer.
"When you're eating lobster, you're really digging in with your hands, so a cold beer is really nice," he says.
Moments later, I was at a table with Rotarians Tom Aranow, Connie Pukaite (the former mayor of Mequon) and Terry Schacht and we were, indeed, digging in with our hands.
Lobster eating is not a first-date food. It's messy, challenging and primal, but it's also fun, down-to-earth and extremely interactive. It's ironic that such a "fancy food" is so messy.
On a related note, according to David Foster Wallace in the essay "Consider the Lobster," published by Gourmet Magazine, up until the 1800s lobster was not the delicacy it is today, but rather eaten only by poor people and fed to prisoners.
Aranow, who described himself as a longtime Rotarian with a background in lobster technique (he lived on the East Coast), took the lead in demonstrating the proper way to crack a lobster.
"Grab the body, twist the tail off," says Aranow, forcefully handling the lobster which resulted in loud, cracking sounds.
He then broke off the legs and the claws before finally busting open the body. Lobster cracking is done by hand as well as with a cracking tool, similar to a nutcracker. There's also a pick to dig out the meat from the tubular parts.
Aranow points out that there is a lot of meat most people overlook, particularly in the legs. One can run their teeth over the skinny, shelled legs and suck out the meat. (Most people probably wouldn't want a video of themselves doing this posted to YouTube, but it's pretty funny to watch others do it.)
Lobster is subtle in taste compared to clams or mussels. It's also thicker and richer. Some of the meat is soft, some is a little more rubbery, and dipping the lobster pieces in butter and / or drizzling with lemon juice add a lot to the flavor.
During the meal, I definitely learned a lot about the lobster – and I learned a lot about the Rotarians – such as that the organization is co-ed. When Pukaite joined in the '80s, she became the first female Rotarian in Ozaukee County. There are many more today.
While wiping our hands with wet wipes – which are ubiquitous at a lobster meal – Pukaite reiterated the Rotarian's mission.
"So many people think this LobsterFest is a big lobster feed, and it is, but for us, it's less about the lobster and more about the money we raise for our international mission," she says.
Facebook Comments
Disclaimer: Please note that Facebook comments are posted through Facebook and cannot be approved, edited or declined by OnMilwaukee.com. The opinions expressed in Facebook comments do not necessarily reflect those of OnMilwaukee.com or its staff.