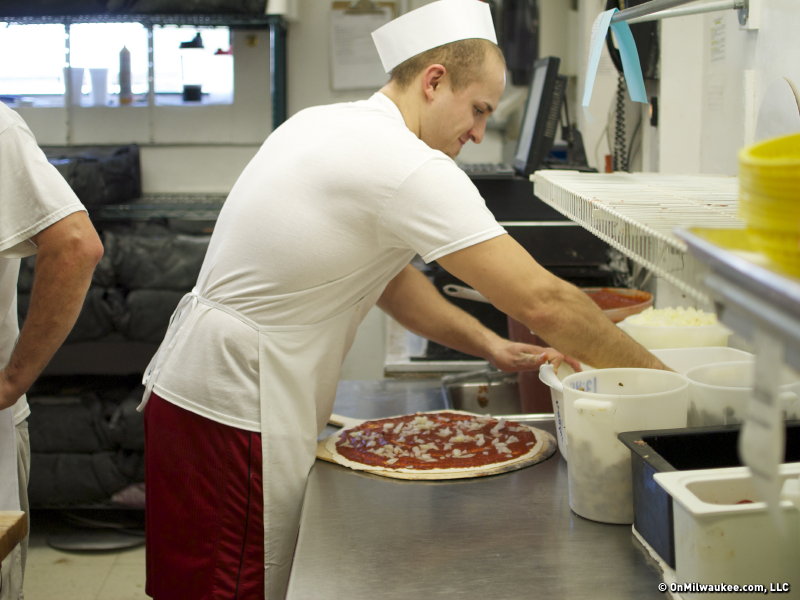 Ned's Pizza shares recipe for success
For the seventh straight year, October is Dining Month on OnMilwaukee.com, presented by the restaurants of Potawatomi. All month, we're stuffed with restaurant reviews, delectable features, chef profiles and unique articles on everything food, as well as the winners of our "Best of Dining 2013."
Bob Mayer and Don Strack became friends in third grade while attending St. Monica's school in Whitefish Bay. Little did they know at the time they would later become business partners for 50 years.
The two pals started out with a Whitefish Bay-based business called Chicken Delight, but in 1969, they changed directions and opened a Ned's Pizza franchise at 3246 S. 27th St.
"The first 20 years were a lot of work, but it paid off," says Strack.
Mayer and Strack, now 75, still work at the restaurant, but have handed over day-to-day operations to Mayer's daughter, Leanne Grano.
The father and daughter bought the building last month from Leon Schneider of Leon's Frozen Custard after leasing the space for 44 years. (Coincidentally, Strack says many of their customers commonly go to Leon's after their pizza dinner for dessert.)
"I have been around here my whole life," says Grano, who graduated from Nicolet High School and the University of Dayton. "But I have been here full time for the past seven years."
Grano, who worked for 10 years in advertising prior to coming back to the family business, says she will eventually run the entire operation herself.
"Someday, when they finally feel like retiring – probably when they are 90 or so – I will take over," she says, laughing. "When they talked about slowing down, I knew I wanted the business to stay in the family and so I decided to come back and work. I find it very fulfilling."
Grano says little has changed at Ned's since it opened more than four decades ago.
The pizza recipes are the ones created by the original owner, Ned Hewitt, who opened the first Ned's in the late '50s on the North Side. The family opened another five locations, and eventually franchised them after Hewitt became ill.
Today, the 27th Street Ned's is the only remaining location.
Many of the staff members are the same, too. A collection of staff photos on the website show a still-employed Brenda in 1982; Judy in 1979 and Rollie in 1975.
"We are fairly unique in that numerous members of our staff have been with us for so long," says Grano.
Ned's employs 40-45 people on a regular basis.
"We have been lucky and have some great employees here. And we pay them to stay here; we reimburse them for their good service. This has worked out well for us," says Strack.
Ned's pizzas, which were reviewed by OnMilwaukee.com blogger Rick Rodriguez last year, has a thin crust and basic topping offerings.
"We stay pretty classic. The craziest pizza we've added is the margherita pizza – nothing like the mac 'n' cheese pizza," says Grano. "But we have a really good product. We don't cheapen it or cut corners."
Ned's dining room is cozy – able to accommodate about 60 people total. Many of Ned's orders, however, are for take-out or larger orders for parties or corporate events.
"We had a recent order for an 150-person event," says Grano. "It always amazes me how such a little place can do such big business."
This summer, Ned's also delivered 39 large, vegetarian pizzas to Miller Park for Paul McCartney and his staff the night of his performance on July 16.
"People asked us if he signed the bill. No, we didn't get anywhere near him, but it was still pretty exciting," says Grano.
Ned's pizzas can be picked-up fully cooked or take-and-bake style. "Take-out has grown the most of all since I've been here," says Grano.
Ned's also has a thriving delivery service and they do not have set boundaries for their delivery zone. They will take large orders from just about anywhere in metro Milwaukee.
For individual pizzas or smaller orders, they usually deliver to National Avenue to the north, the lake to the east, Rawson to the south and 80th Street to the west.
"We keep it in the gray. We want to accommodate as many people as we can. We're a small business, so we have the luxury to make these decisions," says Grano.
Strack says even after 44 years in the pizza business he not only loves eating Ned's pizza, but he – as well as Grano – regularly eat at other local pizza restaurants, as well.
"We really like pizza," adds Strack.
Facebook Comments
Disclaimer: Please note that Facebook comments are posted through Facebook and cannot be approved, edited or declined by OnMilwaukee.com. The opinions expressed in Facebook comments do not necessarily reflect those of OnMilwaukee.com or its staff.