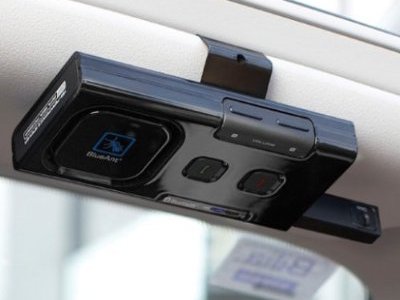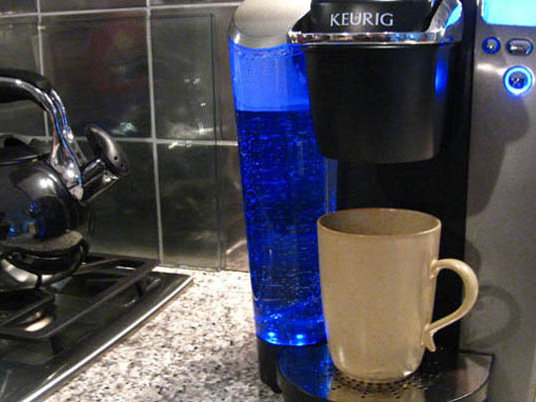 OnMilwaukee.com Recommends: Nov. 12, 2009
This week, the OnMilwaukee.com editorial staff is hip on a device that will let you talk and drive safer, replacing some old bath fixtures, a tasty brunch, a revealing looking into the life of a polarizing figure and much more.
These are a few of our favorite things this week:
BlueAnt Wireless Supertooth Light Bluetooth speakerphone -- I've already blogged about my confidence in talking on the phone and driving at the same time. However, I know the time is coming when Wisconsin, like so many other states, will make it illegal, so I got proactive and bought the BlueAnt Light Bluetooth speakerphone. For about $35, it's pretty good. The small device attaches to your sun visor, pairs with your cell phone very quickly, and just works. It only has two buttons (plus volume controls), but that's all you need, since it already knows how to use your phone's voice dialing feature. Call quality is very clear, and people on the other end of the conversation say it doesn't sound like a speakerphone. If your car doesn't have a built-in Bluetooth system, this is a decent, safe and easy alternative. Cheap and high-quality, it's worth picking up online, even if you, like me, don't think you need it. --Andy Tarnoff
Buying a cheap, new shower head -- I read somewhere recently that shower heads are some of the most ripe places for bacteria development. And, honestly, how often do you clean that encrusted crap off your shower head? So, instead of bleach cleaning, I just bought a new, $15 Water Pik model at Home Depot. It installed in a few minutes and with five flow options it's a new, clean and healthy option. --Jeff Sherman
The Contender at Honeypie -- I'm not gonna lie; I love brunch, and I take it seriously. And, because I prefer to go all-out when brunching -- I'm talking no fewer than three beverages (usually coffee, juice or water and a Bloody Mary) and a hearty meal, possibly with extra sides -- I eat it rather infrequently because, let's face it, good food and drink adds up quickly. Last weekend, with a couple birthdays to celebrate, some friends and I ventured to Honeypie as newcomers to their brunch menu. I've long loved the breakfast burrito at Comet, its sister Cafe, and decided to give "the contender," Honeypie's version of the burrito, a try. As it turns out, it's nothing like the Comet entree, and that's OK. Stuffed with sausage, cheese, sweet potatoes, bell peppers and topped with sour cream, salsa and cilantro, it's unlike any breakfast burrito I've tried. Added bonus? It's gigantic. It also comes with a side of perfectly seasoned breakfast potatoes for a total of $8. And vegans, it can be prepared just as deliciously your way, too. Final verdict: The contender emerges victorious ... and so does the consumer. --Julie Lawrence
Keurig single-cup coffee maker -- It took my husband about three years to convince me we should own one of these. I did not understand why a coffee maker that only makes one cup at a time would be a good idea for hardcore coffee drinkers like us. And now I get it. It only takes about 30 seconds for the machine to brew a cup of coffee that's 192 degrees, which is the perfect temperature and basically as hot as it can possibly be without burning your mouth. The machine uses "K-Cups," which are little plastic cups filled with one serving of coffee grounds (available from many large coffee producers), and this was originally one of the reasons why I didn't want the machine. However, once I found out you can use any ground coffee in this machine after buying a reusable K-Cup, I agreed to give it a try. Now, I'm hooked. I get a cup of Alterra coffee that's as rich and strong as a cup straight from the cafe for a fraction of the price and I only have to wait a half-minute for it. I may never come down from this caffeine high again. Check out Amazon.com for this product. --Molly Snyder Edler
Page 1 of 2 (view all on one page)
Next >>
Talkbacks
Blaine | Nov. 12, 2009 at 2:46 p.m. (report)
$120 ???? Dude, I hope that was a promo copy. Yeah, the Rock and Roll Hall of Fame is a pretty lame idea. But every once in a while there are gems. After George Harrison died they had a big jam (maan) on his tune While My Guitar Gently Weeps. Everybody gets to wank off Ooodley Doodley solos and for some reason they even let the guy from the Eurhythmics sing a verse. Might have been the ELO guy. Who knows, someday they might turn out to be the same dude. Meanwhile, Tom Petty is singing and sleeping at the same time. Then good old Prince, who has been relegated to the ghetto at the far side of the stage starts making some noise like hes Johnny Guitar Watson. He is not messing around. Petty tries to ignore him but P pulls his money shot falling backward into the audience who props him back up to the stage. Harrisons kid is all google-eyed and Petty just glares like its Selma all over again. As the song climaxes Prince throws his Tele straight up in the air and walks off the stage with out looking back.
LegallyBlonde | Nov. 12, 2009 at 1:20 p.m. (report)
Gotta love Koss -- Great Milwaukee company.
Facebook Comments
Disclaimer: Please note that Facebook comments are posted through Facebook and cannot be approved, edited or declined by OnMilwaukee.com. The opinions expressed in Facebook comments do not necessarily reflect those of OnMilwaukee.com or its staff.