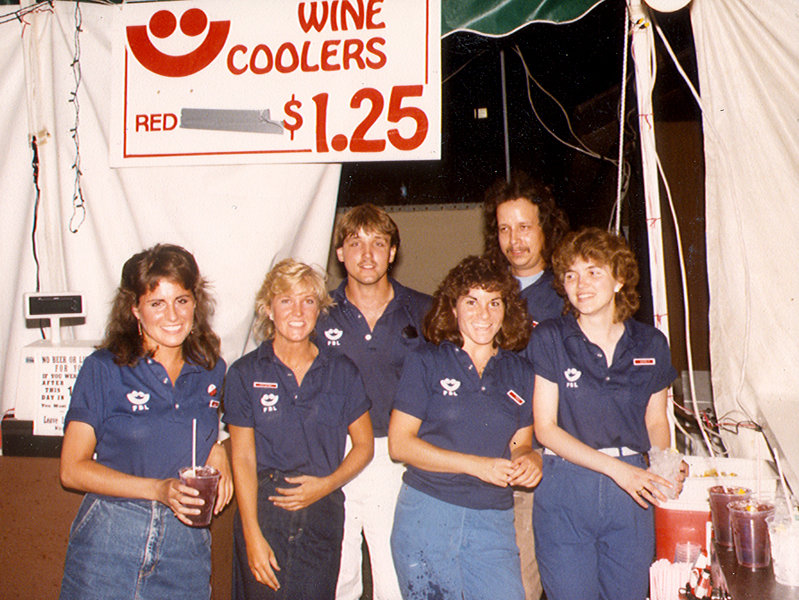 Summerfest wine coolers stay true to original improvised recipe
Even if your strongest memories of wine coolers are from those neon blue ones you consumed in college, you must admit: Summerfest's special mix of wine and soda is something special.
Everyone knows the Big Gig is a macrobeer connoisseur's Valhalla, but after days of downing suds on sizzling afternoons at Summerfest, the idea of a wine cooler sounds pretty good, doesn't it?
That's because Summerfest's wine coolers, offered in red and white, taste nothing like that sugary-sweet stuff you buy (or once bought) at the grocery store. What you get on the grounds is unique; so special that the ingredients are a closely-guarded secret.
Summerfest sold its first wine cooler in 1976, says Tracy Spoerl, director of concessions. "It was handmade at the bar, and it was a last-minute thought. We said, 'Let's try it.'"
Linda Pankau, Summerfest's assistant concessions director, also remembers the early days -- but she was just a kid helping out back then -- when the wine coolers were invented at the old comedy stage (which is now the Potawatomi stage).
"Early on, it was messy," says Pankau. "It was a lot of fun, but making them was time consuming."
Spoerl says just soda and wine made up the original concoction, but it sold surprisingly well. Soon, they added Welch's grape juice to sweeten up the recipe.
"We received such a high demand for them, that the next year, they couldn't keep up, so they made them in five gallon containers," she says.
For those first couple of attempts, the wine coolers were a little inconsistent: sweeter or stronger, depending on the batch that day.
"In the early years, quality control wasn't there."
Spoerl says the operation was "very rudimentary" in the beginning but got sophisticated very quickly. Her team worked with Pepsi to develop a machine that pumped full containers of Teem (a Pepsi brand white soda) into vats, where they could add the wine mix, then pump the product back into containers for serving.
Eventually, Summerfest found a way to replicate the taste of the original wine coolers -- but with consistency and at a much higher volume.
"We tried to find a wine product that had a high sugar content, and that turned out to be port," says Spoerl, who started working part-time at a Summerfest wine tent in 1977 and became full-time the next year. "We experimented until we found the right one."
Spoerl won't reveal the exact ingredients, but she says the red wine coolers still use port. That wine provides a good shelf life, as well as a unique taste: "Not too sweet, but popular."
"Only four or five of us know the secret," says Pankau. "Not even my children or husband. I had it written down and it had to be thrown away."
Summerfest also doesn't disclose total beverage sales, and Spoerl admits that their wine coolers make up a small percentage of alcohol purchases. Though she does believe that the Big Gig is the only festival in the country that produces its own wine coolers, "but there's no way to know that certain."
She will says that sales are split evenly between red and white wine varieties. "They pretty much go neck and neck," says Spoerl. "When temperatures go up, the sales go up. It's a more refreshing drink (to some, than beer)."
Currently, the wine coolers cost $5.50, while beer is $4.50 a cup.
And the Summerfest wine cooler remains special. For years, it was the only alcoholic alternative to beer. In 2000, the festival added champagne, and more recently, began serving straight wine.
Summerfest has contemplated selling its wine coolers in liquor stores, but it's an idea that hasn't been pursued.
"It's special because it's only available at Summerfest, and (selling in stores) could take away its allure," she says.
Pankau, who drinks one or two white wine coolers during the festival -- for tradition's sake -- agrees.
"We make it with tender-loving care, and it's a drink for 11 days ... then it's gone."
Talkbacks
OlderWiser | July 2, 2008 at 8:30 a.m. (report)
Although not a fan of the 'soda taste' of the wine cooler, I do appreciate the availability of straight wine and maybe an occasional glass of the sparkling wine. (Is it really champagne if it doesn't come from France?) What I did not like was the serving style of wine this year....the little plastic cups were like bathroom Dixie cups. Too small to carry without spilling and the wine got warm pretty quickly. Oh well, must be a 'green ' thing. I still love my annual two day visit to Summerfest. The weather was perfect and Lake Michigan is something we need to appreciate everyday.
Downtowner | July 1, 2008 at 12:19 p.m. (report)
The red ones are oddly tasty.
Facebook Comments
Disclaimer: Please note that Facebook comments are posted through Facebook and cannot be approved, edited or declined by OnMilwaukee.com. The opinions expressed in Facebook comments do not necessarily reflect those of OnMilwaukee.com or its staff.