Penelope's Restaurant of Elm Grove
[
edit
]
13425 Watertown Plank Rd.
Elm Grove, WI 53122
(262) 787-1977
(262) 787-1978 Fax
www.penelopeselmgrove.com
Celebrating its eighth anniversary in March, 2008, Penelope's offers comfort food in a comfortable setting. The menu and portions are sizable and the vibe is relaxed, family-friendly and smoke-free.
Interactive map
Recent articles about Penelope's Restaurant of Elm Grove
By Bobby Tanzilo - March 10, 2009
The closing of Heinemann's robbed us of one of our go-to weekend breakfast …
Read more...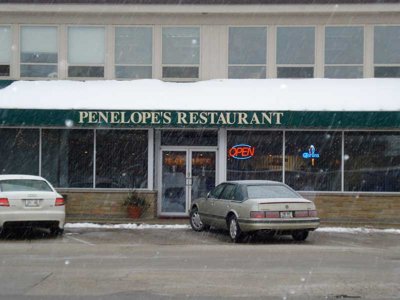 By Drew Olson - Feb. 15, 2008
For nearly eight years, Penelope and Louie Demakopoulos have treated customers …
Read more...