American Euros says it's filling the need for the great gyro. Their $4 gyros are topped with your choice of fries, gyro sauce, hot sauce, lettuce, tomato, onions or a combo of them all. Look for the cart with the LaSonic Ghetto Blaster and the white guys with the thin black ties around Water and Juneau, or hit up their bricks and mortar restaurant on the East Side.
[
edit
]
Interactive map
Recent articles about American Euros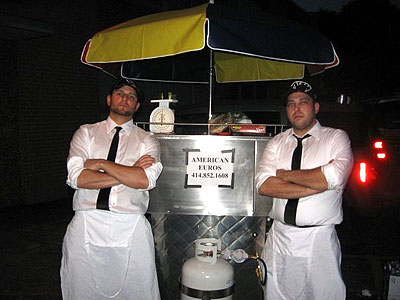 By Lori Fredrich - Dec. 21, 2012
The cleverly named American Euros cart hit the streets of Milwaukee in July 2009 …
Read more...