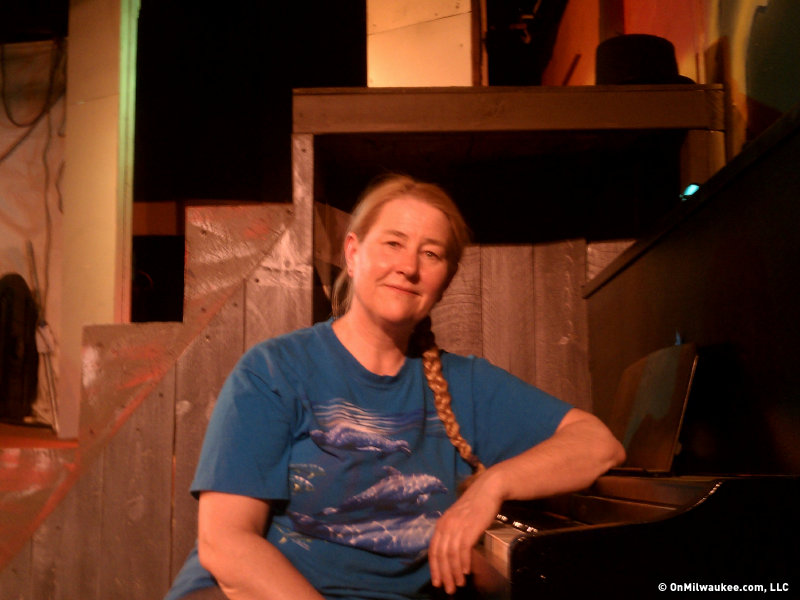 Milwaukee's most peripatetic music director
Pay attention to the woman at the piano when you go to see the obscure Tom Jones and Harvey Schmidt musical "Roadside" at Off the Wall Theatre. She has worked at a coal mine, been a practicing attorney, rides a motorcycle, plays video games and bicycles 37 miles on most days.
But Donna Kummer's defining identity is as Milwaukee's most peripatetic music director. She has filled that function at many of the city's smaller professional and larger community theater companies as well as at high schools, colleges and Plymouth Church UCC. She is also the conductor of the Wauwatosa Community Band.
In Tandem Theatre Company, the Boulevard Ensemble, Off the Wall Theatre, the Sunset Playhouse, the closed Cornerstone Theatre and the old Broadway Baby Dinner Theatre are on Kummer's resume. The show count exceeds 160.
"Broadway Baby was a tremendous experience," she says. "The rhythm of doing 10-week runs and being able to settle into a show was so much fun."
Not what you would expect from someone who grew up on a turkey farm in North Dakota, but then Kummer is a master of the unexpected. With a degree in flute performance and German from the University of North Dakota fresh in her hand, she took a job doing heavy equipment maintenance scheduling analysis at a coal mine in her home state. There is not a big call for German speaking flute players in the Dakotas.
Next came law school at Marquette, and after graduating in 1987, Kummer found a niche in personal injury and product liability law. She was a plaintiff's attorney specializing in asbestos and all-terrain vehicle cases.
Although the compensation was good, Kummer was restless. "Practicing law was not my passion," she explains. "I didn't hate it, but it was so all-consuming."
It was difficult for Kummer to work her other interests into her schedule, and she wanted more of a life. She was doing a little community theater acting and playing in pit orchestras.
Kummer left the legal profession and went to work for a music publishing company for a while. The financially uncertain world of a freelance musician followed.
The Plymouth Church and Tosa Community Band gigs, both part time positions, give Kummer a small economic base, and the rest of her income is cobbled together from music directing musical theater productions. "I make less money now than I did 20 years ago as an attorney," she said during a pre-rehearsal chat at Off the Wall Theatre. And she is happier.
Audiences see only one or two of a theatrical music director's responsibilities -- conducting the musicians during performances and playing, usually keyboards, if the ensemble is small. Sometimes the music director is the only accompanist.
The job involves much more, including teaching the show's music to the actors, collaborating with the choreographer for a smooth dance and music fit, procuring the musicians, and doing such technical things as tailoring the underscoring for the production's pace. The music director is engaged with the production budget, determining how big a musical ensemble a show can afford and what combination of instruments will work best.
For smaller companies, the music director may also get involved with sound design, creating sound effects.
"I love the fact that it (being musical director) is one of the few activities I've found where I feel I use much of my brain," Kummer said. "When I'm playing keyboard and conducting, I feel totally plugged in. It is a real kick to have to process all that information."
Like "The Fantasticks," the legendary show for which lyricist Jones and composer Schmidt are famous, "Roadside" is what the New York Times labeled "a pocket musical." Two arrangements are available – for a single piano or with a minimal ensemble. Kummer chose the ensemble and trimmed the group to squeeze it into the tiny Off the Wall space.
Calling the score's style contemporary-flavored country, she said, "I wasn't going to do it with just a piano. There is nothing like having a country fiddle.
"There is nothing like having a banjo. They give the music the necessary feel."
"Roadside" is set in the 1890's in the American West, and the plot involves a traveling theater company, a young woman and the outlaw who makes her heart flutter. "It has a beautiful Jones and Schmidt score, with deceptively simple songs, much like 'The Fantasticks,'" Off the Wall producer-director Dale Gutzman said.
The musical was first staged in 2001 after being in development for several decades.
"There is a sweetness to the Tom Jones and Harvey Schmidt shows, and this is no exception," Gutzman continued. "You sense the end of an era in this one.
"They talk about fences going up in the West. You can't roam freely anymore. It's about fantasy versus reality, and living in the real world."
"Roadside" opens May 24 and will run through June. 3.
Facebook Comments
Disclaimer: Please note that Facebook comments are posted through Facebook and cannot be approved, edited or declined by OnMilwaukee.com. The opinions expressed in Facebook comments do not necessarily reflect those of OnMilwaukee.com or its staff.