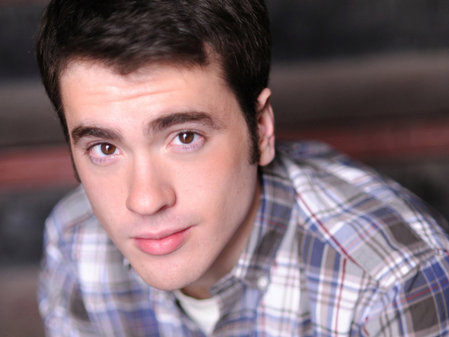 "Forever Plaid" star Lewellyn returns to show off his hometown stripes
It's currently a fun time for actor Nate Lewellyn, and it's not simply because he's starring in "Forever Plaid," a gleeful revue of those classic catchy '50s guy group barbershop tunes opening this weekend at the Milwaukee Rep. No, there's another, more sentimental reason for Lewellyn to be happy: He's back home again.
Lewellyn grew up in Milwaukee, where he started acting and learning about the craft when he was about 8 or 9 years old. Theater was always a big part of his childhood; his parents were strong supporters of the arts, and that passed down to his two sisters, who acted in school shows and First Stage Theater Academy. That love then passed down to Nate as well. However, there was no single moment or spark when he realized the theater was for him.
"I just enjoyed the sense of community and craft that I had experienced growing up doing acting," Lewellyn said. "I thought 'Hey, maybe I could do this for my career. That'd be pretty cool.'"
Lewellyn went on to do plays throughout his high school days at Marquette University High School before moving down to Chicago to attend college at Northwestern. It was there where he started perfecting his skills and realizing that his goal of an acting career was no longer a mere dream.
"It was always what I wanted to do," Lewellyn said. "I was asked to understudy a production of the show 'The Snow Queen' at Victory Gardens Theater, and it was my first real, professional acting gig as an adult. It was kind of an 'oh, this is how the business works, and this is what it means to be an actor in the real world.' And this is something I could totally see myself doing."
It's been a little more than seven years since Lewellyn left home for the Windy City. In that time, he's made a nice name for himself in the competitive Chicago theater scene. But now he's back working in his hometown, a far different experience than in Chicago, for better and worse.
"Here, it's certainly a smaller community, but it seems like everybody knows everyone, and it's very supportive and loving," Lewellyn said. "Chicago's theater community is also very supportive. It's just a whole lot bigger, and there's not a lot of cross-pollination. If you are a classical actor, you do the classical works. If you do more straight plays and TV, that's what you do. There's very little mixing in between, which can be frustrating at times."
He also arrives back into town older and therefore with a whole new side of the city available to discover.
"I've never really had a chance to explore Milwaukee as an adult," Lewellyn said. "All of my memories are from as a teenager, and there are certain limitations one has as a teenager. So it's certainly exciting, and I'm looking forward to exploring the city a little more."
Exploring, however, has taken a back seat to "Forever Plaid." When it's performed right, the show – about a quartet of rising stars who get killed in a car wreck with a bus of Catholic school kids and are given a reprieve from the afterlife in order to do one final big show – looks like a lot of easy, jubilant fun. According to Lewellyn – who plays Frankie, the leader of the crew – even with all of its fun and silliness, the show still has its fair share of challenges.
"It is very tight, very complicated four-part harmony, and that's true for every song in the show," Lewellyn said. "There aren't a lot of songs where we just get to sit back, and do backups, oohs and aahs. Pretty much, we are singing every lyric in tight, four-part harmony, and that's really, really difficult, especially since I'm a first tenor in the middle of the harmony, so it's been difficult to adjust my ear and get those crunchy harmonies correct."
In other cases in the show, the songs are the easy part. Lewellyn actually named the number "Crazy 'Bout Ya Baby" the hardest of the show right now because of its intricate choreography involving plungers instead of microphones.
Nate and the guys have only had about two weeks to learn these classic but deceptively complex arrangements, dance moves and perhaps most importantly, build a comfortable rapport with one another that makes the story work. It's a lot to get done in a limited amount of time, but for Lewellyn, it's worth it to take on such a spirited show.
"I had seen 'Forever Plaid' back in the late '90s or early '00s, and I had such a great time," he recalled. "It was such a goofy little show, and when I told people that I had been cast in the show, most people's responses were, 'You've done it before, right?' So I guess I'm just the type of person who fits with 'Plaid.' I'm glad that this is my first; I hope it's not my last."
Even more important to Nate, the cast and the crew, though, is to bring the show to a crowd that could desperately use some pure, untainted joy.
"On the first day of rehearsal, we had talked about the reasons why we do theater," Lewellyn recalled. "Our director JC (Clementz) said there's so much political turmoil in our country. So to be able to sit people a room and have them laugh at, appreciate and enjoy the same things, and in that moment, put their differences aside and just enjoy a night of theater, that is something I have been coming back to. Even though the show is really goofy and some could say light entertainment, there is a purpose for that, and there's something good about that."
"Forever Plaid" runs from Oct. 25 through Dec. 29 at the Stackner Cabaret in the Milwaukee Rep. For more information on times and tickets, visit their website.
Facebook Comments
Disclaimer: Please note that Facebook comments are posted through Facebook and cannot be approved, edited or declined by OnMilwaukee.com. The opinions expressed in Facebook comments do not necessarily reflect those of OnMilwaukee.com or its staff.