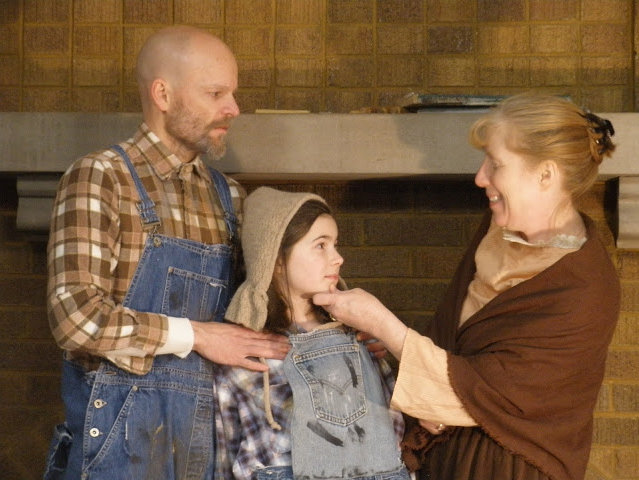 "Heaven Sent" is just what we ordered
It's important for any theater company, professional or otherwise, to know their audience. It's not necessarily just to sell tickets and keep the subscribers happy (although it doesn't hurt). Good theater compels an emotion or expands a horizon. Great theater does both.
A good artistic director will know which buttons to push with their audience. This is the case with Acacia Theatre Company, who opened their run of "Heaven Sent" at the Todd Wehr Auditorium in Mequon on Friday.
Rick Whelan's play is loosely based on the 1861 novel "Silas Marner" by George Eliot. Where "Marner" took place in England, Whelan's play is set in Depression-era Raveloe, Ky. It's a clever move, geographically and emotionally, but the plot hews pretty closely to Eliot's work, so most of the audience knew what to expect. In some ways it worked in the play's favor, but ultimately, it made originality a tall order.
Samuel Langley is a miserly recluse who lives deep in the woods with a fortune of gold hidden underneath his floorboards. The folks of Raveloe don't quite know what to make of him, even though well-meaning busybody Mrs. Winthrop never tires of trying to be friendly.
A healer, Langley works "black magic" with various and sundry weeds to make a living. In his free time, he strokes his gold coins and is haunted by the memory of his dead sister and the dark minister who cast them out of the fold as children.
Enter an adorable lost child. Hilarity and poignancy ensues.
The choice of Whelan's play is particularly timely – this was a Depression-era story played out before a Recessian-era audience. The parallel was not lost on any theater-goer. It's doubtful that any of us sitting there in the audience was going without food, but the weight of the sagging economy has given our modern culture an edge of anxiety and avarice.
We understood the desperation of Molly Stark, the town drunk with loose morals. We understood the maddening preoccupation with money that plagues local scion Del Cass, to the detriment of his personal relationships.
In recycling an old story that wasn't terribly original to begin with, you run a great risk. Will your message be too trite? Will you be able to achieve any freshness in the plot? Will anyone be surprised?
As a whole the characters are somewhat archetypal. The nosy neighbor. The selfish addict. The cantankerous old man wounded by the world. But there were some great actors in the company that gave a dimension to their characters, rounded them out.
David Sapiro, who plays Langley, deserves particular mention. He was absolutely sublime in the role. His body and his voice trembled at times, and you could tell that it was partly from the seizures that afflict Langley and partly from the profound bitterness with which he views his entire world. Without Sapiro's ability to embody the coinciding desperation and compassion of this character, Langley could have been a hillbilly Fred Sanford. Instead, he was simply amazing.
Sapiro also had adorable chemistry with Claire Zempel, who plays the young girl who wanders into his care. It was a cute relationship that everyone in the audience clearly enjoyed. Zempel held her own with the grown-ups, possessing an impressive stage presence.
The same has to be said of Dawn Kimsey Purpura, who played Mrs. Winthrop. She had an equally difficult task – if played by a lazy actress, Mrs. Winthrop ran the risk of being downright annoying. Instead, she was a delight. Purpura gave her all the ebullience and warmth of a mountain mama, right down to her flawless twang.
Two young actors, Jillian Pequet and Ian H. DeJong, delivered the comedic highlight of the performance as adult Eppie and Aaron Winthrop. Their awkward banter wasn't just sweet, it was really funny. They both possess fantastic comedic timing.
To answer my earlier question, no, there wasn't much that was surprising in the plot. But surprise wasn't the goal of the evening. It's not what the Acacia audience was coming for.
As I said, I think that good theater is about emotion. And there was an abundance of emotion going on around me Friday night. The people behind me were laughing out loud. The people in front of me gasped. The people next to me were visibly moved.
And in the end, I'll admit it – I got a little choked up, too.
Acacia knows their audience. As a theater company that produces work which inspires the discussion of Judeo-Christian values, they know their target. And I'd say they hit it. Most of the audience stayed for the talkback session after the performance, which was also attended by playwright Rick Whelan. There seemed to be a genuine passion for what had just happened.
For more information about "Heaven Sent," which runs through March 17, visit acaciatheatre.com.
Facebook Comments
Disclaimer: Please note that Facebook comments are posted through Facebook and cannot be approved, edited or declined by OnMilwaukee.com. The opinions expressed in Facebook comments do not necessarily reflect those of OnMilwaukee.com or its staff.