According to a Milwaukee Neighborhood News Service report, students at Milwaukee Environmental Sciences (MES) - an MPS charter school at 6600 W. Melvina St. - kicked off their Earth Day celebration with a first glimpse of their new, mobile greenhouse. Read more...
Editors' Pick
Milwaukee Public Schools Superintendent Dr. Darienne Driver is one of nearly a dozen leaders of urban school districts headed to the White House this morning to meet with President Barack Obama as part of the Council of the Great City Schools' three-day annual legislative/policy conference in Washington.
See more stories in Kids & Family …
Milwaukee Area Event Calendar
More Featured Articles
The Metropolitan Milwaukee Sewerage District has given Maryland Avenue Montessori its monthly Green Luminaries award for the rain garden that has greened a large chunk of the school's more than three-acre site.
See more stories in Kids & Family …
The heads of two successful charter schools in Milwaukee are questioning a recent proposal to allow high-performing charter schools to replicate without approval of an authorizing body, according to a report from Milwaukee Neighborhood News Service, arguing that the plan is not in the best interests of the city.
See more stories in Kids & Family …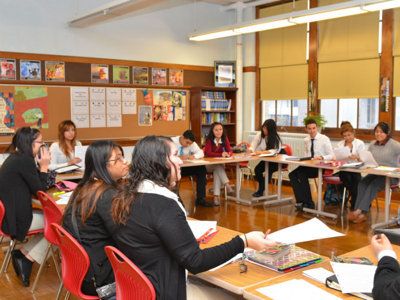 In some cultures, it's common for infants to have their ears pierced, but other families have a strict age as to when ear piercing is acceptable. If you are considering ear piercing for your child, here is a list of places in Milwaukee that will do it, and a couple of things to consider before you go.
See more stories in Kids & Family …
From Our Partners
Gov. Scott Walker's proposed cuts for the UW System have provoked opposition in the form of rallies and protests from the state Capitol to the University of Wisconsin-Milwaukee campus. However, there's one group on campus that likes the cuts: The College Republicans. While some students oppose Gov. Walker's plan, there are others who feel like [...] The post UW-Milwaukee College Republicans Weigh in on UW Budget Debate appeared first on Media Milwaukee.
See More Stories From mediamilwaukee.com …
Both of the Wisconsin men climbing Mount Everest survived the earthquake in Nepal. In the meantime, WISN 12 News spoke with one of the men's family.
See More Stories From wisn.com …
Looking to get into shape for your big day? The ladies at Pure Barre Whitefish Bay are offering a 3-month bridal special. The package includes three months of unlimited classes to help you lift, tone and burn your way to your big day.
See More Stories From wedinmilwaukee.com …
Coming Soon On OnMilwaukee.com…
King Drive Schuster's
Chief's long-awaited "II"
1970 confrontations
Potawatomi Derby