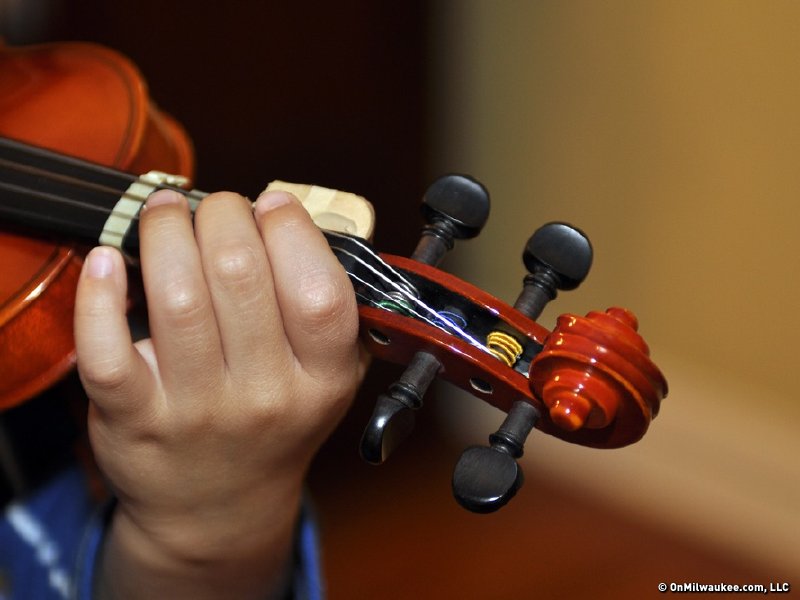 How and when to introduce kids to classical music
Although there is no proof that kids who listen to classical music are smarter, it's certainly possible that exposure to classical music inspires the imagination, promotes creative expression like singing or dancing and fosters a lifelong appreciation for a variety of music types.
Kids are unaware of the notion that classical music is pretentious or boring – they learn this from adults who believe it. Generally, all kids like to dance and clap to sounds, regardless of the genre.
Adults can learn from this. Some believe that, without knowing about the history of classical music, they can't enjoy it. Or they on some level expect that listening to classical music will make you more intelligent and therefore it falls into the category of eating vegetables or exercising – as something you might not necessarily enjoy at the time, but should do because it's good for you.
Karli Larsen is the director of education and community engagement for the Milwaukee Symphony Orchestra and she says people need to remember they can listen to classical music simply to enjoy it.
Larsen says people with a background in music and / or performance are more likely to appreciate classical music. In fact, she says that seven out of 10 adults in a symphony's audience were involved in band or choir programs as youths. But it's certainly not a prerequisite.
"I've had classical music and symphony in my life for a very long time," she says.
Larsen, a former middle school band teacher, started playing the flute in fourth grade and then switched to oboe in seventh grade. She continues to play with groups and give lessons to this day.
The most effective way to get kids to appreciate classical music, according to Larsen, is to expose them to it from a very young age. A combination of music lessons and listening experiences are ideal.
"Children who grow up with classical music are much less likely to develop a barrier and stigmatize it as boring or old fashioned," says Larsen. "I think it's really important to play it for them from a very young age."
Larsen's son, now 18 months old, was exposed to classical music – particularly the sounds of the oboe – since before he was born and therefore identifies the sound of the instrument with his mother.
Recently, Larsen played a Christmas service. Her son sat in a pew with her family and could not see his mom playing because she was behind them in the loft but as soon as he heard the oboe he started looking around for her.
Whether or not babies should watch television is a controversial topic; however, The HBO series "Classical Baby" is highly revered by many parents and critics. The show, which won two Emmy awards, features pieces of classical music played while images of clowns, animals and works of art are shown.
Larsen recommends the orchestral interlude "Flight of the Bumblebee," written by Nikolai Rimsky-Korsakov, as a good piece to introduce classical music to kids because it's fast and fun. Larsen suggests juxtaposing it with "The Elephant" by Camille Saint-Saens, a much slower piece, and kids can change their movements accordingly and identify verbally how the music is different.
"These might be fun pieces to listen to before going to the zoo. Kids usually love this music right away," she says.
"Peter and the Wolf," written in 1936 by Sergei Prokofiev, is an iconic symphony for children. More recently, Lemony Snicket's "The Composer Is Dead" offers older kids a humorous orchestral whodunnit.
The Milwaukee Symphony Orchestra will perform "The Composer Is Dead" on Sunday, April 14 at 2 p.m. at The Pabst Theater, 144 E. Wells St., as a part of its kinderkonzert series for families. There is an hour of pre-concert activities prior to the show.
Kinderkonzerts are during the day, are usually an hour or less and are a fun way to introduce kids who are at least 3 years old to classical music.
"This is a great way to bring the family to the orchestra," says Larsen.
Evening symphonies are usually longer and start around 8 p.m. They are usually recommended for older, more mature kids.
"The Nutcracker," performed every December by the Milwaukee Ballet, is another way to introduce kids to classical music. The visual of the stage performance and the usually familiar music adds extra enjoyable elements to the experience.
"'The Nutcracker' really holds kids' attention," says Larsen.
Classical music does not have to be a lifestyle – it can simply be added to playlists and mixed in with other music.
"People just need to think they can have fun with classical music and not that it's over their heads," says Larsen. "They can enjoy it and listen to it without knowing a whole lot about the orchestra."
Facebook Comments
Disclaimer: Please note that Facebook comments are posted through Facebook and cannot be approved, edited or declined by OnMilwaukee.com. The opinions expressed in Facebook comments do not necessarily reflect those of OnMilwaukee.com or its staff.