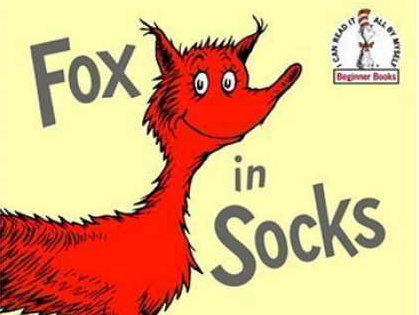 Our favorite kids' books
It's no surprise that as kids the editorial staff of OnMilwaukee.com were a bunch of book worms. Most of the staff had a difficult time narrowing down their favorite kids' books to one (or two, or three ...), but here are a few of their most cherished reads, from "A Wrinkle In Time" to "The Cat In The Hat."
And, as always, feel free to add your own favorite children's book via the Talkback feature.
Tim Cuprisin
Media columnist
Pick: "The Cat In The Hat" by Dr. Seuss
There's nothing more memorable to me than "The Cat in the Hat." My mom enrolled me in a childrens' book club when I was learning to read, and it was the first one I got in the mail. I remain amazed at Theodor Geisel's visual and verbal sense of humor, and I still recall being a bit unsettled by that darn cat.
Renee Lorenz
Reporter
"The Westing Game" by Ellen Raskin
When I was younger, I read "The Westing Game" by Ellen Raskin many times. Despite jumping all over the genre map, I had (and still have) a soft spot for mysteries. I've even tried writing them a couple of times, but I was never that smart. Thinking back on my elementary school years, this is the one book I remember most vividly. When I pictured stories in my head as a child I always imagined them occurring in places familiar to me, which is all the easier when it's true. Raskin, a Milwaukee native, set her story on the Wisconsin shores of Lake Michigan. The tale is complex, with a number of characters and interweaving plots, but it's easy to follow and just as engaging to read as an adult. Even though I added it to my home collection just a few months ago, it's easily the most read book on the shelves.
Bob Purvis
Staff writer
Pick: "A Wrinkle In Time" by Madeline L'Engle
My mother taught kindergarten at my elementary school which meant a lot of early mornings spent at the library, where the librarians were kind enough to let me hang out while they restocked the rows and rows of books. It was a really dusty old magical place, and when I close my eyes I can picture it more clearly than pretty much any one place in my life. Of all the books that I read there probably none held my attention like "A Wrinkle In Time" by Madeleine L'Engle. As an adult I have never really been a fan of the fantasy genre, but the story of the Murry children's epic struggle to chase their father across time and space captured my imagination completely. Engulfed in the battle of good versus evil and immersed in the world created by the book's cavalcade of quirky characters I found it impossible to leave the library and would often find some dark corner to hide and keep reading. Were it not for that book I may never discovered the two great joys that would carry me through to adulthood: reading books and skipping class.
Jeff Sherman
President
Pick: "Mike Mulligan and His Steam Shovel" by Virginia Lee Burton and "The Polar Express" by Chris Van Allsburg
First published in 1939, "Mike Mulligan and his Steam Shovel" a classic. Sure, it's a bit dated, but it's full of great messages of hard work, dedication and loyalty. Love the illustrations too. Maybe I still have Christmas on the brain, but I love "The Polar Express." It truly captures the spirit of Santa and "believing" and it's wonderfully written. Remember it next season.
Molly Snyder
Associate editor
Pick: "Frederick" by Leo Lionni
It's interesting to me that I was so smitten with this book as a child, long before I could fully comprehend the social commentary it makes. The story is simple: a gray mouse named Frederick lives in a community of mice that are focused on efficiency and a narrow definition of work. Because the other mice bust tail gathering nuts for the winter and Frederick doesn't participate, he is judged as lazy. However, it turns out that Frederick is mentally noting his surroundings and taking time to understand existence in an artistic way. When winter refuses to relent, and the nuts are long gone, the mice sit around and survive on the beauty and distraction of Frederick's poetry. Who's a slacker now?
Bobby Tanzilo
Managing editor
Pick: "Fox in Socks" by Dr. Seuss
This is a really hard choice to make, but knowing I had to narrow it down to just one, I chose Dr. Seuss' tongue-twisting "Fox in Socks," because I loved it as a kid and my kids and I love reading it together now. But I always loved most Seuss books, most Curious George books and loads more. Once I became a dad, I dove headfirst back into kids' books and someday I will make a list of all my favorites. I was filled with excitement last year when my kids got their first Scholastic book catalogs at school and day care. They look just like I remember them from when I ordered from them in elementary school. And the books? They still smell exactly the same! Right now we've moved on to chapter books thanks to my child's school teacher and we're reading our way through L. Frank Baum's Oz books, which -- despite the antiquated English -- are engaging, fun and full of wacky adventures and crazy creatures.
Andy Tarnoff
Publisher
Pick: "Moo, Baa, La La La!" by Sandra Boynton
As a kid, I loved Richard Scarry books and reading them now to my toddler brings back great memories. But my daughter is just a bit too young to follow along, so my new favorite children's books are her favorites: just about anything from Sandra Boyton. She's not old enough to explain which is her favorite, but I think it's "Moo, Baa, La La La!" which is all about animal sounds that she loves to re-enact. But the best part is the last page, which asks, "It's quiet now, what do you say?" Mara just smiles and says, "I love you." And my heart melts.
Andrew Wagner
Senior Staff Writer
Pick: "Scuffy the Tugboat"
Long before I learned to read a newspaper, subscribed to a magazine and PDAs and smartphones became all the rage, Scuffy kept me company during that "special part" of my formative years. Today, there is a Scuffy -- both the book and toy tugboat -- on a shelf in my "home office." Jokes aside, this tale of a little tugboat who dream of bigger and better, only to find out that the simplicity of his current life is all he needs is kind of reassuring, even in my 30s. We all ned a man in a polka dot tie to rescue us once in a while. I don't have kids, but I'll be honest, I hope I do someday if only so I can share this book (and the cool toy) with the little one (or ones, God help us all...).
Talkbacks
Midwest | Jan. 12, 2011 at 1:51 p.m. (report)
The Phantom Tollbooth by Norton Juster. Weird, wacky, trippy kid fun. (The Westing Game is a close second...well done Renee.)
Gomez | Jan. 12, 2011 at 12:35 p.m. (report)
So, in the end the poet mouse dies of starvation, right? I wouldn't give that lazy chump any of my nuts. Deeze nuts, Freddy.
Facebook Comments
Disclaimer: Please note that Facebook comments are posted through Facebook and cannot be approved, edited or declined by OnMilwaukee.com. The opinions expressed in Facebook comments do not necessarily reflect those of OnMilwaukee.com or its staff.