Fifty years after the 1965 Immigration and Nationality Act, Madison365 reports, nearly 59 million immigrants have arrived in the United States, pushing the country's foreign-born share to a near-record 14 percent says an in-depth report released Monday by the Pew Research Center. Read more...
Editors' Pick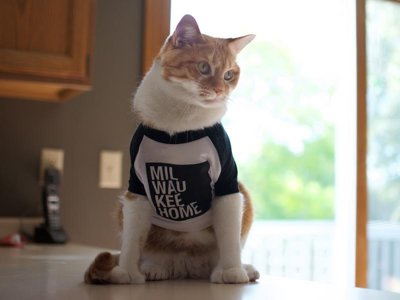 Daniel the cat lives in Muskego with his parents, Amy and Jason Rowell. When he's not being a philanthropist and advocate, Daniel likes to bring joy to memory-loss patients, star in Purina ads and wear his Milwaukee Home T-shirt. He also paints and grows catnip.
See more stories in Living …
Milwaukee Area Event Calendar
More Featured Articles
In this series, we peep into the private life of Elmo, a long-haired orange tabby cat who has a penchant for journaling.
See more stories in Living …
Vivian Frawley didn't grow up with cats, nor did she have them for the first part of adult life, because she was allergic to them. However, in 1986 some friends invited her over for dinner and instead of a doggie bag, she left with a kitten in her purse. Today, she has dedicated much of her life to cat welfare.
See more stories in Living …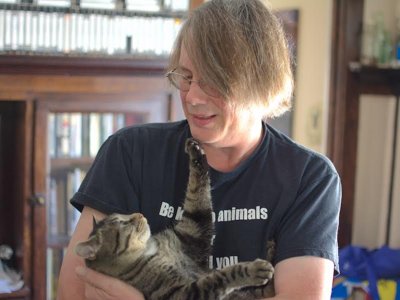 In the world of stereotypes, men's best friends are dogs and ladies are crazy for cats. However, many male celebrities remind us that there's nothing unmanly about expressing feline affection. Locally, we tracked down multiple men who really love cats and they shared their stories - and their photos - with us.
See more stories in Living …
Sponsored Content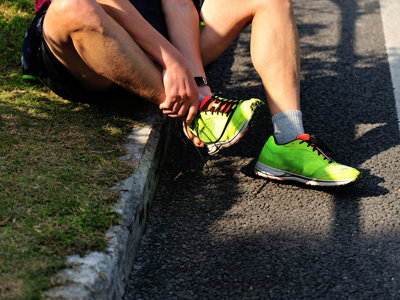 So you have joined a gym, and as a part of the paperwork you filled out, there was a `waiver of liability' that absolves the gym of any liability if you are injured. Sound familiar? Or perhaps you signed up for a local tour, club bike ride, a 5K run, or some other type of physical contest and you were hurt because the event host was careless. Can you still make a claim even though you signed the waiver?
From Our Partners
Students, protesters, Hillary supporters and non-students came together and voiced their opinions about Hillary Clinton in a colorful scene around the University of Wisconsin-Milwaukee campus. Matthew Campbell reports. The post Scenes from the Crowd: Hillary Clinton at UW-Milwaukee appeared first on Media Milwaukee.
See More Stories From Media Milwaukee …
The new Kesslers Diamonds store in Downtown Milwaukee opens Friday, Oct. 2, at 450 E. Mason St.  It's the first non-suburban store for the company, which operates five other diamond centers in Wisconsin, and also will open its first out-of-state store in metropolitan Grand Rapids, Mich., in November. The Downtown store occupies 2,200 square feet [...]
See More Stories From Wed In Milwaukee …
Milwaukee Public Schools is considering a "knowledge exchange" partnership between a charter school and one of the district's traditional public high schools. MPS has...
See More Stories From SchoolMattersMKE …
Coming Soon On OnMilwaukee.com…
Maraniss on Detroit
The Juice Kitchen
Cafe India Bar & Grill
The Winchester's menu