What do a premier chef's knife, a "Star Wars" toaster and cookies all have in common? They are all in this edition of the OnMilwaukee.com #WeWant! Read more...
Editors' Pick
Just a few years ago, all Katie Daly knew about candles is that they smelled nice, and she liked having them around the house. Her boyfriend, Cody Weiss, didn't disagree. But Daly, always a self-admitted "type-A antsy person" found herself bored and browsing Pinterest one day, when she saw a how-to guide to making soy candles in Mason jars. The corporate trainer melted some wax on the stove, adding some lavender oil - and found herself surprised when the candle actually burned.
See more stories in Marketplace …
Milwaukee Area Event Calendar
More Featured Articles
A little more than two years after announcing it was considering expansion into Wisconsin, Meijer has confirmed the opening date for its first two supercenters.
See more stories in Marketplace …
Once the warm weather hits we can't help but stay out of doors as long as possible. This edition of the OnMilwaukee.com #WeWant is filled with goodies to spruce up your outdoor life!
See more stories in Marketplace …
From Our Partners
  All across America on April 15th, people joined in protest, hoping to raise the federal minimum wage to 15 dollars per hour. Dozens of workers showed up to Milwaukee's #FIGHTFOR15 rally in UW-Milwaukee's union. Jaimie Anderson reports. The post UWM Students Rally for Higher Minimum Wage appeared first on Media Milwaukee.
See More Stories From mediamilwaukee.com …
In season 13, episode 24 of the TV show "King of the Hill," Hank Hill's neighbor, Kahn, is going through a depressive state. At the peak of the depressive state he groans while clutching an LP in his arms and says, "You know what I just realized?
See More Stories From www.radiomilwaukee.org …
So you're ready to start trying on dresses for the big day? Great! Here are some questions to consider asking before setting up your appointments so you feel prepared and confident before visiting bridal shops.
See More Stories From wedinmilwaukee.com …
Coming Soon On OnMilwaukee.com…
Fondy's Jennifer Casey
2015 guide
Buddha Lounge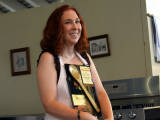 Recipe contest