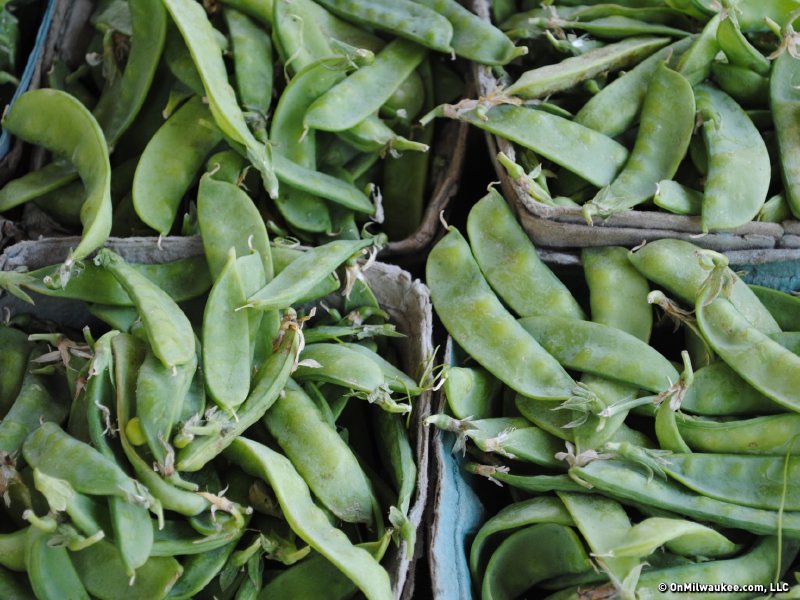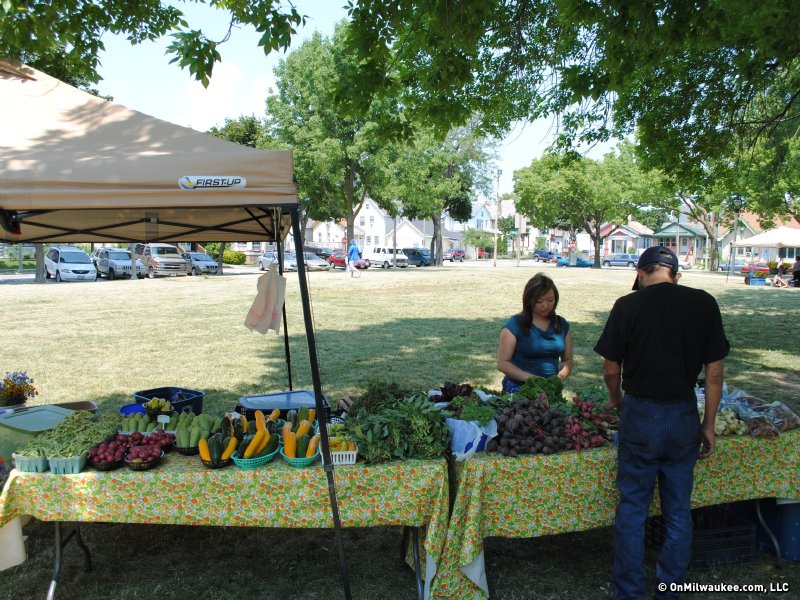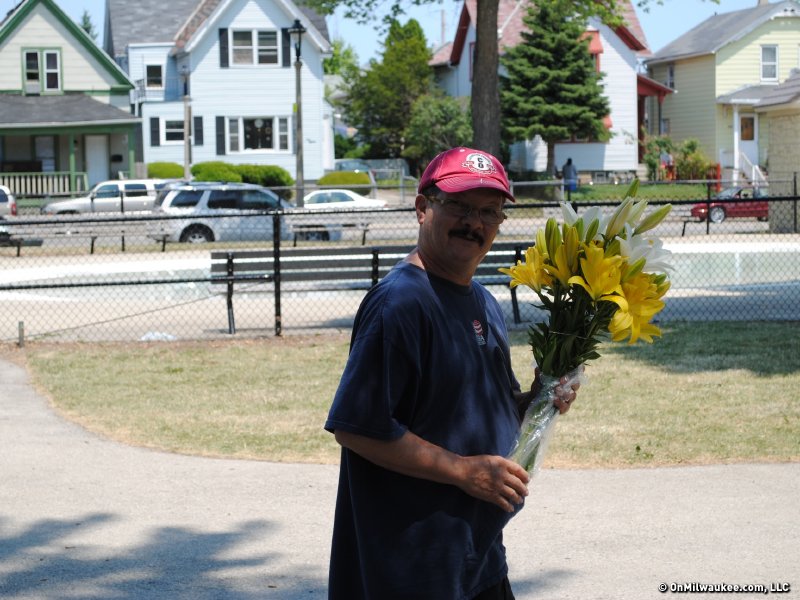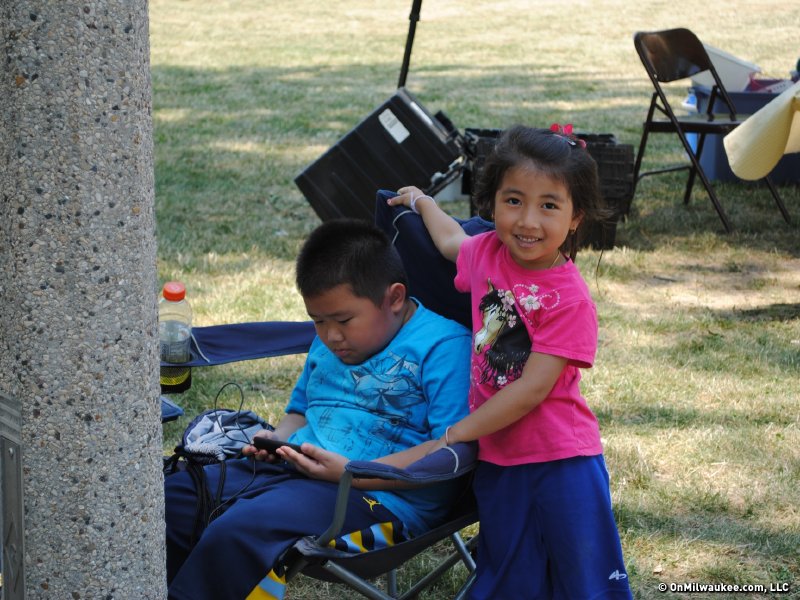 Farmers fight drought for Walker Square market
Is your lawn a little sun baked? Is that Summerfest beer tasting even better with all the hot weather? Well, the farmers at the Walker Square Farmers' Market are feeling the heat even more.
This is the second year for the 26 vendors in Walker Square, a city block-sized county park in the Walker's Point neighborhood bounded by South 9th and 10th Streets on the east and west, West Mineral and West Washington Streets on the north and south. It's right off the National Avenue exits from I-94.
The farmers' market, which usually runs from June 1 to Oct. 30, opened late this year because of the drought.
"It's been a tough year, compared to last year," says Mai Vue Yang, who has helped her mother on their four-acre New Berlin farm for the last three years.
Yang has a full-time job in addition to her work on the family farm. She and a younger brother start their farm chores at 5 a.m. every day in order to beat the heat.
Yang says the older generation of farmers want to keep themselves busy and often do not support themselves on farm income alone. Members of younger generations, like Yang and her seven siblings, may often work the farm but typically also have other employment.
Chava Lee agrees that it's an older generation doing most of the farming. Lee is the coordinator of the Walker Square Farmers' Market and works a two-acre farm in Caledonia with his wife, Sheng, but he is also a lecturer at Springfield College's School of Human Services in Downtown Milwaukee.
Lee's produce includes green beans, tomatoes, cilantro, onion and zucchini.
"You name it, we'll have it," says Lee. "We also grow a lot of flowers. Whatever the customer needs, we'll grow."
The farmers often get requests. Lee has some orders for pumpkins this year.
"We're often asked for corn," says Yang. "We take customers' numbers and call them once we've harvested; we even deliver. If the customer is no longer interested, we'll just sell those items at the market."
The Walker Square Farmers' Market is open Sunday, Tuesday and Thursday from 8 a.m. until 5 p.m. officially, but Lee says some vendors often stay until as late as 7 p.m.
The county building in Walker Square has public restrooms, there is a splash pad and playground and numerous tall trees shade most of the vendors.
On Sundays, an Asian food vendor joins the farmers in a shady spot near the county building, offering bubble tea, egg rolls, fried rice, sesame balls, slushies and fresh lemonade in addition to other food and drink.
The Walker Square farmers came together through word-of-mouth about eight years ago, and first had a market at Mitchell Street and Muskego Avenue for six years.
When the farmers learned that the lot they used at that location was going to be used for a permanent facility they started looking for another location.
Lee's nephew, who has a 16-acre farm in Caledonia, had originally scoped out Walker Square for a new market.
Jason Cleereman of Cleereman Law Office, 1039 S. 5th St., says the farmers tried to get something going in Walker Square in 2008, but it faltered. Backing promised by some early partners in the plan never materialized.
But Sheng Lee went to Cleereman's house in 2010 to see if they could get something going in Walker Square again.
"I crafted as much of a promotional campaign as I could without any resources. I used Facebook and (county) superintendent Peggy West had the parks department help us, too," says Cleereman.
The Walker Square vendors' farms average four to six acres and are located all around the city, from Kenosha, Racine and Caledonia to New Berlin, Brown Deer and Menomonee Falls.
All 26 of the current vendors came with the Lees from the previous location. Last year, their first in Walker Square, was very successful for all the farmers. Everyone had high hopes for the second year.
"We're starting a little slow this year, the lack of rain has been bad for the farmers and everyone's production is down," says Lee.
Lee expects things to pick up by the middle to the end of July. That is, if they get that much needed rain.
"My mother says if we don't get a good rain within two weeks that our plants will all die," says Yang.
In the meantime, the farmers all have a large selection of early-season crops, from onions and beets to small potatoes and a popular sour-tasting vegetable.
"It has a name, but I don't know what it is," says Yang, laughing. "The old-timers boil it with fish."
Yang says farming is a lot of work and that competing with local groceries can be a frustrating campaign based on perceptions.
"We use no fertilizers, no chemicals of any kind. So sometimes our vegetables look smaller, but in the end they're much better," says Yang.
Facebook Comments
Disclaimer: Please note that Facebook comments are posted through Facebook and cannot be approved, edited or declined by OnMilwaukee.com. The opinions expressed in Facebook comments do not necessarily reflect those of OnMilwaukee.com or its staff.