Milwaukee-based business Conteporary Pull celebrated a summer of successes. Read more...
Top Story In Festivals Guide
What began in 1975 as a small Walker's Point street festival celebrating Mexican Independence Day has developed into what is now the Midwest's largest paid-entrance Mexican Festival.
See More Stories In Festival Guide …
Milwaukee Area Event Calendar
More Featured Articles
I don't need to remind you that fall is coming. Hopefully, it's several weeks away but the nights are surely getting cooler so thoughts turn to longer sleeves. Thankfully, I have this 414 crew fleece from Too Much Metal in my closet.
See More Stories In Marketplace …
For me, Milwaukee is Milwaukee and we should be darn proud of it. But a comparison to Portland isn't bad and it's exactly what Richard Manning of OnEarth.org writes today on Salon.com.
See More Stories In Marketplace …
There's your favorite celebrity. What do you do? Ask for an autograph? Nope. You whip out your phone, if it's not already in hand and take a selfie with him or her. It's the way the world. But, is it the best financial move?
See More Stories In Marketplace …
From Our Partners
Required Viewing: James Bond (Primer Magazine) The James Bond Shower (Art of Manliness) How To Train Like James Bond (The Telegraph) The James Bond Guide To Ultimate Confidence (Dumb Little Man)  
See More Stories From sharpologist.com …
It's not every day that you get to play dress up. But that's exactly what happened when Melissa Bucci, owner of Bucci's Bridal, asked me to be a part of their style shoot at one of Milwaukee's newest wedding venues - Rustic Manor 1848.
See More Stories From wedinmilwaukee.com …
Today, more than 2,500 current and retired GE employees, plus about 150 other volunteers, are walking into 16 Milwaukee Public Schools and four Waukesha Public Schools (as well as Greenfield High School) to paint, clean, organize and landscape to help the schools plan for the first day of school on Tuesday, Sept. 2. From 8:30 [...]
See More Stories From schoolmattersmke.com …
Coming Soon On OnMilwaukee.com…
Thoughts on Harleys?
Your home's history
Women cigar smokers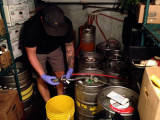 Beer line cleaning