OnMilwaukee.com Movie Guide
The Alexandrians are faced with a compromising situation after the watch tower collapses. Will everyone survive "The Walking Dead" mid-season finale? Read more...
Milwaukee Area Event Calendar
More Featured Articles
Google has found little ways to have fun with search - and not just by drawing its name in funny, entertaining ways based on the day. Its latest nifty secret comes from a galaxy far, far away.
See more stories in Movies & TV …
I've got chills; they're multiplying, thanks to my recent discovery of "Grease Live," a live musical and sure-to-be hate-watch event Fox is putting on next year starring Julianne Hough and Vanessa Hudgens.
See more stories in Movies & TV …
Editors' Pick
A brave community advocate, a post-apocalyptic kid hero in a world gone mad and two guys fighting over a severed foot. That's what's on deck in Day 7's edition of Three to see.
See more stories in Movies & TV …
Coming Soon On OnMilwaukee.com…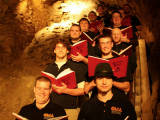 Caroling in the Cave