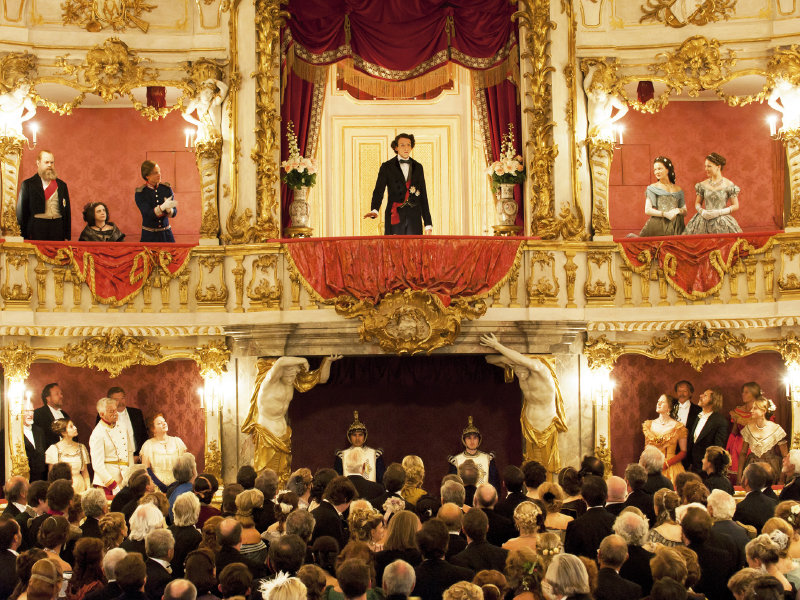 Milwaukee Film announces panel line-up for 2013 festival
The news from 2013's incarnation of the Milwaukee Film Festival keeps coming, as this morning the topics and speakers for its upcoming panels were announced.
There are four panel discussions this year, as well as a lecture focused on their Passport: Germany series of films. In addition, the festival will mark the Milwaukee debut of the Sundance Institute ShortsLab, an all-day workshop that goes into the world of short filmmaking, including how and why programmers select films and how filmmakers can make the transition from shorts to features.
The Milwaukee Film Festival runs Sept. 26-Oct. 10.
Details for each panel are listed below. For more information, visit mkefilm.org.
PANELS LINE-UP:

"Sundance Institute ShortsLab"
Saturday, Oct. 5, 10 a.m.-3:30 p.m., UWM Union
UWM students register for free
General public: $100
Join us as the Sundance Institute's acclaimed workshop comes to Milwaukee for the first time. Co-presented with the Production Club at UWM and the UWM Student Association, this all-day workshop will dig into the world of short filmmaking, including how and why programmers select films and how filmmakers transition from shorts to features.
Speakers scheduled to appear: David Lowery ("Ain't Them Bodies Saints"), Ry Russo-Young, Mike Plante, Calvin Lee Reeder
Register online at mkefilm.org/shortslab.

"Representing Race"
Saturday, Sept. 28, 3 p.m.
Join this panel discussing concerns and questions that arise when representing race issues on-screen in contemporary film.
Moderator: Dr. Donte McFadden, University of Wisconsin-Milwaukee
Panelists:
Eugene Kane, Milwaukee Journal Sentinel
Nathaniel Kohn, Producer; "Bayou Maharajah"
Grace Lee, Director; "American Revolutionary: The Evolution of Grace Lee Boggs"
T.J. McKay Martin, Director; "Undefeated" (MFF 2011), Academy Award Winner
"Passport: Germany"
Sunday, Sept. 29, 1 p.m.
As part of our Passport: Germany program, this lecture will discuss current trends and concerns in German cinema.
Speaker: Dr. Sara Hall, University of Illinois-Chicago
"MKE At Risk: Transgender Youth Awareness"
Sunday, Sept. 29, 4 p.m.
Following the matinee screening of "Valentine Road" at the Oriental Theatre, this panel will consider LGBT and transgender youth awareness and advocacy in Milwaukee.
Welcome: Paul Fairchild, Cream City Foundation
Moderator: Mitch Teich, WUWM's Lake Effect
Panelists:
Michael Munson & Loree Cook-Daniels, FORGE
Tina Owen, Alliance School
Syd Robinson, ACLU of Wisconsin
Additional panelists to be announced.
"Work-In-Progress Forum"
Sunday, Oct. 6, 2 p.m.
A lively and informative sneak peek at several in-progress films from Wisconsin filmmakers.
Moderator: Jeff Reichert, Director; "Remote Area Medical"; VP of Theatrical Marketing, Cinedigm, and editor; "Reverse Shot"

Panelists:
Pat Buckley and Manny Marquez, "Serenity Prayer"
Jeff Gendelman, "The Surface"
Cris Siqueira, "Monga*Ape Girl"
Chris James Thompson, "Guantánamo Lawyers"
Rubin Whitmore II and Xavier Ruffin, "Mad Black Men"

"Filmmaker, Meet Entrepreneur"
Sunday, Oct. 6, 4 p.m.
In recent years, Milwaukee has witnessed a more organized and energetic effort toward supporting local startups and the entrepreneurial spirit at large. We tasked three local filmmakers with interviewing three successful business professionals, to find out how film professionals can use the language of business to turn their artistic and technical successes into financial successes as well.
Welcome: David Sengkhammee
Filmmakers: Susan Kerns, Brad Lichtenstein, Kurt Raether
Entrepreneurs: Kelly Fitzsimmons, Andy Nunemaker, Michael Drescher
Facebook Comments
Disclaimer: Please note that Facebook comments are posted through Facebook and cannot be approved, edited or declined by OnMilwaukee.com. The opinions expressed in Facebook comments do not necessarily reflect those of OnMilwaukee.com or its staff.