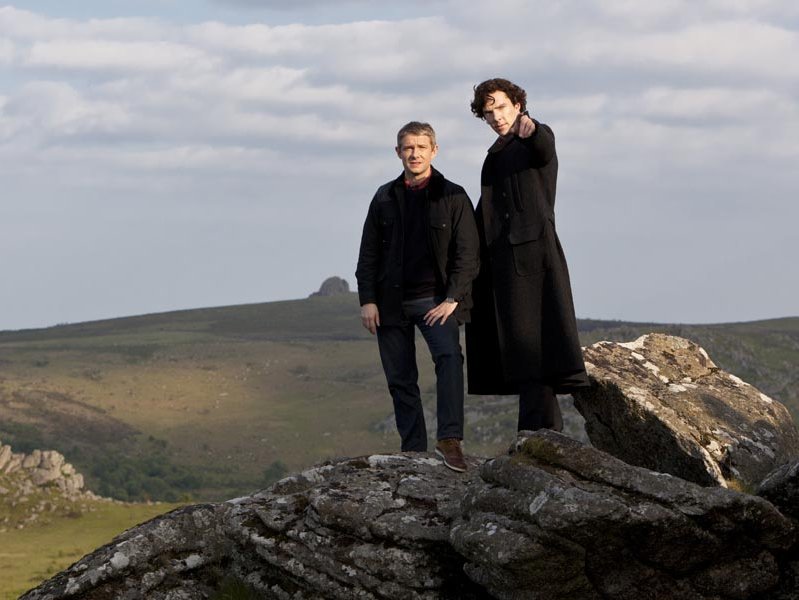 Cumberbatch's "Sherlock" hits PBS next month
One thing is certain, and the numbers prove this, that police and law shows do well on television.
One of the most classic characters, Sherlock Holmes, exists in a couple of formats in reboots. CBS has "Elementary," while Great Britain has "Sherlock." The program produced across the pond is presented in the U.S. on PBS through Masterpiece Theater. In a run up to the BBC program's third season in the U.S., PBS is airing a special "Unlocking Sherlock" on Sunday, Jan. 12, at 9 p.m.
The special will take a look behind the scenes of the show and feature interviews with Benedict Cumberbatch and Martin Freeman. Leading up to the long-awaited return of MASTERPIECE "Sherlock" series on Jan. 19 at 8:58 p.m., the one-hour special explores how writers Steven Moffat and Mark Gatiss created the hit television sensation.
"As excitement builds for the new season of 'Sherlock' on MASTERPIECE, we invite viewers to join us as we delve into the writers' inspiration for the modern-day Sherlock Holmes that has captivated fans nationwide," said Beth Hoppe, chief programming executive and GM of general audience programming for PBS.
"This special highlights the transformation of Sir Arthur Conan Doyle's most-portrayed character into a cultural phenomenon."
"Unlocking Sherlock" takes viewers on a voyage through the versions of Holmes that have served as inspirations for the series – the original stories, their factual origins, hundreds of film adaptations – to arrive at their thoroughly modern Sherlock, according to PBS.
Moffat and Gatiss explain the challenges they encountered adapting the original adventures, and Cumberbatch, Freeman and Lara Pulver, who talk about the reinvention of their fictional characters.
Moffat and Gatiss describe the evolution of Watson, Inspector Lestrade, Mycroft, Jim Moriarty and Irene Adler, as well as Holmes, from Conan Doyle's original characterizations, through numerous cinematic and televised versions to the contemporary "Sherlock."
The program is already available for streaming on PBS.org.
NEW YEAR'S: Fox News Channel will present a special New Year's Eve program, "All-American New Year" on Dec. 31 from 8 p.m. – 11:30 p.m. Co-hosts Elisabeth Hasselbeck and Bill Hemmer will ring in 2014 live from Times Square in New York City and will be joined by FNC's Kimberly Guilfoyle, Bob Beckel, Ainsley Earhardt and Rick Leventhal. FNC's Griff Jenkins will provide viewers with a look at the celebrations taking place in the city.
Originating from Time Square, the program will include an exclusive performance by country music singer Rodney Atkins and will also feature performances by rock band Blues Traveler and Scottish singer and finalist of "Britain's Got Talent," Susan Boyle.
Viewers will be encouraged to participate in the program by utilizing #foxnews2014 on Twitter, Instagram and Facebook. The Fox News Facebook page will also feature an album of the year's top feel-good stories and viewers will be able to vote on their favorite one, which will be announced during the program.
NEW SALES MANAGER: Sinclair Broadcast Group, Inc., announced earlier this week that Joe Arbogast has been named the Local Sales Manager for WCGV-TV My 24 and WVTV-TV CW 18.
Arbogast was the local sales manager for Time Warner Cable media sales from 2003 to 2013. Prior to that and from 2000, he was a network account executive at Fox Cable Networks. Before that, he served as a national account executive at ESPN regional television from 1998 to 2000.
Facebook Comments
Disclaimer: Please note that Facebook comments are posted through Facebook and cannot be approved, edited or declined by OnMilwaukee.com. The opinions expressed in Facebook comments do not necessarily reflect those of OnMilwaukee.com or its staff.