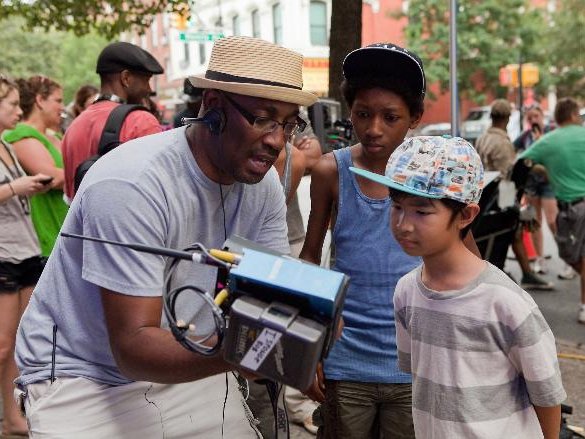 A chat with Milwaukee Film Festival honoree George Tillman Jr.
George Tillman Jr. is a rarity in Hollywood: He's a black director whose name isn't Spike Lee or Tyler Perry. It's sad but true. Of the 100 highest-grossing movies of this current year, eight of them had African-American directors. That may sound low, but it's twice as many as the four in last year's highest grossers – and two of those were by Mr. Perry.
Tillman Jr.'s career hasn't just been an exception; it's been exceptional, breaking out with "Soul Food" in 1997. After taking nearly a decade off to produce films and TV shows – including the very successful "Barbershop" franchise – with his production company State Street Pictures, Tillman Jr. returned to the director's chair in 2009 with the Notorious B.I.G. biopic "Notorious" and the following year with "Faster," an action/revenge flick starring Dwayne "The Rock" Johnson.
The Milwaukee native is bringing "Notorious" and his latest picture, the inner-city drama "The Inevitable Defeat of Mister and Pete," to the Milwaukee Film Festival Saturday. Before the lights go down this weekend, OnMilwaukee talked with Tillman Jr. about films new, old and inspirational.
OnMilwaukee.com: I'd love to start with "The Inevitable Defeat of Mister and Pete." Where did you find this script, and where did the motivation come from to do this particular film?
George Tillman Jr.: In 2009, I was just finishing up "Notorious," and one of my assistants told me to read this script. I read it, and I was completely blown away by it. I've never seen a script that really highlighted a subject that we don't normally see in movies. The idea from a kid's perspective, but it's an adult story ultimately about kids who realize life may throw different things in your direction, and sometimes you just gotta keep pushing.
The idea of survival in the projects in Brooklyn, I just thought it was a great story. Then I found out the writer (Michael Starrbury) was actually from Milwaukee, I was blown away. I just said I knew it was going to be a tough movie to get going in Hollywood, and a lot of people turned it down. But I felt like I wanted to push through it and make the film, and here we are.
OMC: Did you guys bond over Milwaukee at all when you first started talking about putting together the film?
GTJ: Yeah, I mean first we started talking about the film, and he comes from Milwaukee. I was just, like, shocked. He grew up in the Hillside housing projects in Downtown, and my grandmother lived in the projects right across the street from where he lived. I just thought it was a very unique story, and it felt very authentic and real because a lot of that was based off some of the things that he had seen and what he had learned. As a filmmaker, I think being from Milwaukee, it allowed for us to connect a lot easier because we were from the same area.
It's actually the second project I've done with a writer from Milwaukee. The other one was "Men of Honor," which I did in 2001 and 2000 with Scott Marshall Smith, who grew up on the East Side of Milwaukee. It's just kind of ironic that I've worked with two writers from Milwaukee in my career.
OMC: You were saying that you knew this was going to be a difficult movie to produce. How did the self-financing of the film come along?
GTJ: Well, I knew it was going to be tough because of the inspirational side of the movie and this kind of adventure side. The heart of the movie is about two kids who have to survive a hot summer without any electricity or food. They have to learn, or they'll be put into the system without their parents, who abandoned them.
There's this adventure side, and there are some tough moments, but there are some lighter moments as well because it's from a kid's perspective. So I thought it had a shot. I tried Fox Searchlight. I tried Sony. I tried some of the smaller studios as well. Nobody wanted to make it, and if they did, they were giving us nothing to make the film with because you're working with child actors who can only work eight hours a day.
Eventually, I said we gotta do it and make the money on our own. With the help of some producers out of New York and the help of Alicia Keys, she helped me find some places outside of Hollywood that we finally got the funds together. Eventually, the investors who put in the money were people who just really liked the story and just wanted the story out there. That really made it worthwhile and made everybody work really hard to make the movie.
OMC: You've said that "Cooley High" was a movie that inspired you to get into the world of film. What was it about that movie that inspired you?
GTJ: That movie made you laugh, made you cry, had you on the edge of your seat and had you reminiscing. It just had so many elements. I think once you can take an audience and show them all of those emotions in just one film or in one moment. I think that's when you're in the right frame of mind being a storyteller.
I think that film stuck out for me because that was the first movie I saw in a movie theater. I was on 48th and Capitol Drive, my church had a summer program. During the summer program, we'd go see a movie, and that was the first movie I remember seeing in a theater, with a screen that huge and seeing people crying when one of the lead characters passed away. That just did it for me, and I think that always stuck with me, that first film.
The second film that always got to me was "Taxi Driver," seeing that on VHS at home. I remember screening it at home to my dad, and my dad was like, "Don't ever bring a movie like this home again." (laughs) So "Taxi Driver" and "Cooley High," put those two movies together, and that was inspiring to me. And it was inspiring for me years later to work with them on "Men of Honor," with Glynn Turman and Robert De Niro all in the same movie. It was awesome.
OMC: You chose "Notorious" as the other film you're presenting at the film festival. Why that film?
GTJ: I chose that film because it was one of the toughest ones I had to do. In the other ones, I had De Niro and Cuba Gooding Jr. and a good budget, and "Soul Food" was a great first experience. I love that movie. But "Notorious" was the toughest one. There was never enough money to do the movie, and it was tough to do a biopic of an individual who a lot of people love. You're dealing with a genre that, at the time, hadn't had a movie in a long time. And how do you make a movie within that genre and be sophisticated with it.
Music-wise, editing-wise and visual-wise, I think I finally put the pieces together of how to make a movie from script, to acting, to editorial, to allowing a very difficult character to have likability. At the end of the day, that was the toughest movie I've ever made, and it became a favorite of mine just because I stuck through it. And after that film was done, "Mister and Pete" came to me right after, almost as a sign for me.
I felt it was more fitting as well since they both take place in Brooklyn, and it just felt fitting as a companion piece.
OMC: I always imagine it has to be tougher to do a biopic with real people to live up to.
GTJ: It's very difficult. Right now, I'm working on a Miles Davis biopic, and it's tough because you see a lot of them. You don't want to tell the same story or format because biopics have to present something new that you don't know about the person. With "Notorious," that came out OK, but Miles is a different beast. He lived five, six different lives, and he's loved by millions. He's a hard process, and it pushes you as a filmmaker to do the best that you can.
OMC: You stepped away from the director's chair for a while and worked on producing. What did you learn producing so many things in that almost ten-year period?
GTJ: What I learned was that I missed directing. (laughs) I learned seeing other people in that process of telling stories made me want to go back and tell stories. In those ten years, I was too precious in trying to find the perfect script, the perfect project, the perfect studio. And sometimes, it just doesn't line up that way. You just gotta sometimes take the bull by the horns and go with it.
With "Soul Food" and "Men of Honor," I was blessed with some great actors and the success of those films, and then you try to work and find the perfect material. Sometimes, you just have to find it and work with it. That's what happened in that ten-year period. I learned, seeing other directors, that I can always produce, but I am a director at heart.
Facebook Comments
Disclaimer: Please note that Facebook comments are posted through Facebook and cannot be approved, edited or declined by OnMilwaukee.com. The opinions expressed in Facebook comments do not necessarily reflect those of OnMilwaukee.com or its staff.