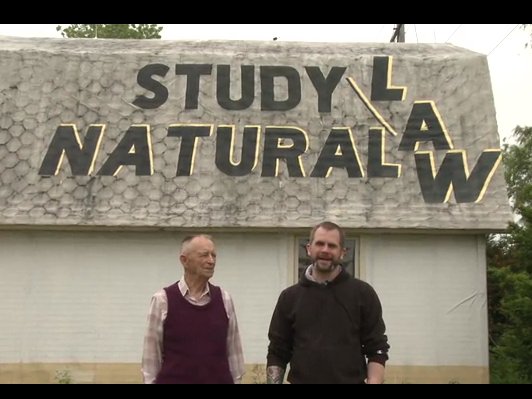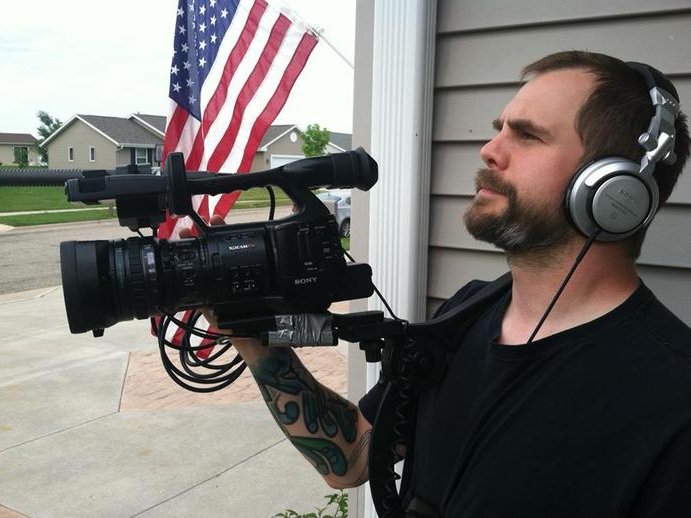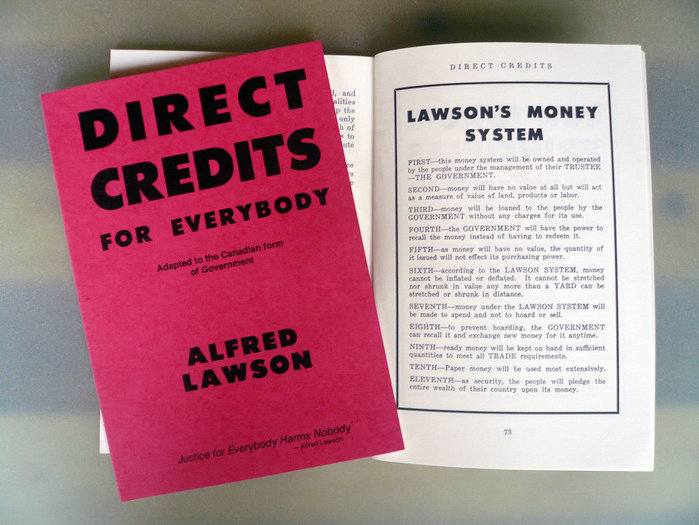 "The Last of the Lawsonomists" lives on
Most people have likely never heard of aviator, baseball player and economic philosopher Alfred Lawson and his religion Lawsonomy. There's a good chance, however, they've seen the University of Lawsonomy, a farm located on I-94 between Milwaukee and Chicago, emblazoned with the message "Study Natural Law."
The Racine farm is no longer technically owned by the Lawsonomist cause, and Lawsonomy's followers have dwindled from thousands to just one man. But this one man and his massive collection of Lawsonomy books and information refuse to let Lawson and his ideas become a forgotten footnote in the history books.
His name is Merle Hayden, an active 93-year-old devotee to Lawson's teachings, as well as the subject of "The Last of the Lawsonomists," a locally produced documentary from director Ryan Sarnowski and producer Susan Kerns.
Sarnowski, an educator and filmmaker for the doc|UWM program, was looking for an interesting topic for a new documentary he wanted to make on his own. As fate would have it, while on a trip down to Chicago, he was pulled over by the cops right by the famous Lawsonomy barn.
"As I was waiting for my ticket to be issued, I jotted it down as a possibility," Sarnowski recalled. "I thought there might be a story there. Over time, I kept going back to it."
Susan Kerns, also a teacher at UWM at the time, eventually hopped on board the project as a producer, and they began digging into the barn and Lawsonomy, the economic philosophy and eventually religion developed by Lawson during the Great Depression. Incorporated into his philosophy was the idea of "Direct Credits" – an argument for getting rid of financiers and banks and insisting upon direct payment – along with other beliefs about vegetarian dieting ("don't eat processed foods"), physics and behavior.
Their research eventually brought them to Merle Hayden, a long-time believer in Lawsonomy. Hayden's Racine apartment, filled wall-to-wall with books, newsletters and records about the cause, turned out to be a gold mine for the production.
"As people left the organization, they would hand over everything to (Merle), so we really learned about Alfred Lawson through Merle," Kerns said.
As the filmmakers got to know Hayden through their research, they began to realize that they may have found a new subject for their documentary.
"(Producer Terry Caddell) and I were convinced that Merle was a character who had a story and it was a story not only interesting to us but would probably be interesting to at least this part of the world," Sarnowski said.
"Everybody that knows that barn has always wondered what if and what about it. Occasionally stories pop up about it now and then that really just touch the surface. They don't really get down to where Merle has been and how he's lived this story for his whole life."
Hayden's life and dedication to Lawson's teachings ended up becoming even more fascinating than Sarnowski and Kerns could have expected. As a young man, Hayden left his hometown of Toledo, Ohio – as well as his heartbroken high school sweetheart – to join Lawson's organization, biking all the way to Omaha. Outside of a stint in the Pacific during World War II, he's never had a job other than Lawsonomy. By most modern standards, he's lived an impoverished life all while continuing to preach and discuss Lawsonomy, despite being the only believer left.
Even at 93, he attends the Experimental Aircraft Association (EAA) in Oshkosh alone every year to talk to others about Lawsonomy. He's done so for the past 37 years.
"His crusade has pretty much taken him across the United States," Sarnowski said. "He's seen America. He's seen the world. But he's seen it through his own eyes and in his own way."
Some people might consider Hayden's faith and obsession with Lawson's teachings crazy. Sarnowski noted that even Lawson, despite being a pioneer in the aircraft industry, is often portrayed in the history books as "a kook." The filmmakers note that their goal is not to embarrass or mock Lawson, Hayden or their passions.
"It'd be cheap and easy just to paint him off as just 'look this at this crazy, kooky guy,'" Sarnowski said. "I'm more interested in Merle and his dedication to someone who he truly believes. What does it mean to believe for so long and so hard while everyone else gives up, and suddenly you're the last soldier marching?"
In fact, the director believes that today's society could possibly even learn something from Hayden and his incredible, undying passion.
"In our culture, there's a lack of that hardcore, driven belief," Sarnowski said. "We tend to be creatures of fad nowadays. You have to think about your own life: What have you held onto for over 65 years?"
"The Last of the Lawsonomists" is currently done filming, and now Sarnowski, Kerns and the rest of their crew are heading into editing and post-production work. Late last month, they started a Kickstarter page in the hopes of crowd-sourcing funds to make the best documentary possible. With seven days left, they've already achieved their goal of $14,000.
"We've been eking it out with zero dollars," Sarnowski said. "Having $14,000, we suddenly feel rich."
People can still donate to the Kickstarter, as they have other goals in mind. The filmmakers would like to hire animators to bring "The Last of the Lawsonomists" to life and gain enough money to have a special preview screening in Milwaukee when the film is done, which is expected to be next summer. They hope that won't be too late for their star.
"As healthy as he looks – and you can see footage of him climbing around like a 20-year-old – the clock is ticking against us," Sarnowski said. "Merle's age is up there, and a lot of the artifacts and history are starting to decay. We gotta get this story out now, otherwise there won't be any story left to tell in some ways. Or at least it'll all be in the past."
Much like the Lawsonomists in their heyday, Sarnowski and Kerns hope to take the message on the road to festivals like Sundance and SXSW, spreading Hayden's passion and getting viewings to think about what they believe in. Perhaps Hayden will wrangle a few new believers along the way.
"Maybe we'll save the world with Lawsonomy," Sarnowski said.
For more information, click here to check out "The Last of the Lawsonomists" Kickstarter page.
Facebook Comments
Disclaimer: Please note that Facebook comments are posted through Facebook and cannot be approved, edited or declined by OnMilwaukee.com. The opinions expressed in Facebook comments do not necessarily reflect those of OnMilwaukee.com or its staff.