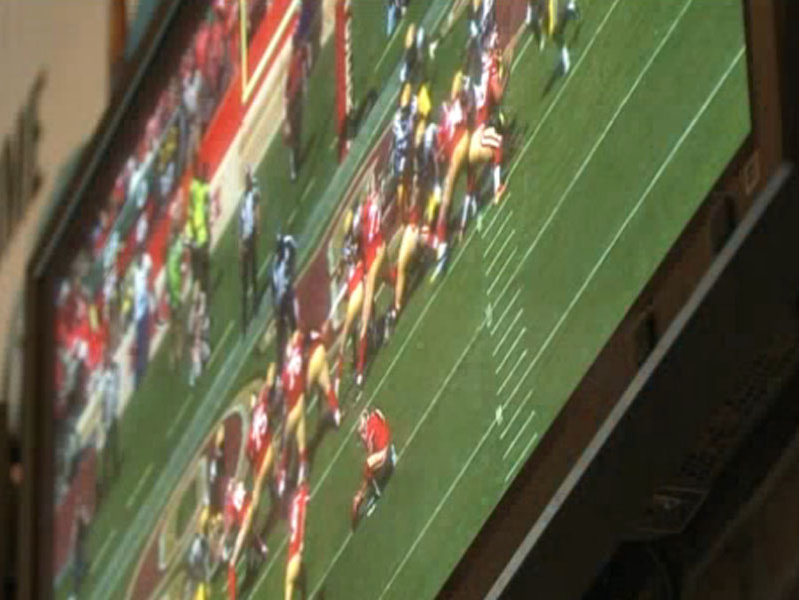 Packers opener breaks ratings records
If you have ever chatted with staff members at WITI-TV Fox 6, then you may have heard them say that it is "Super Bowl Sunday every week at Fox 6." With the Packers playing most if its regular season games on Fox, the local station benefits from the Green and Gold faithful tuning in.
The Green Bay Packers loss to the 49ers on Sunday had the highest household rating for an opener on Fox 6 in the past 20 years, according to the station.
The game scored a 50.8 rating. Compare that number to previous Super Bowl games ratings from the Milwaukee market, Sunday's total comes pretty close.
The 2013 Super Bowl game between Baltimore and San Francisco on WDJT-TV CBS 58 averaged a 53.2. The 2012 championship game with New England and the New York Giants aired on WTMJ-TV Ch. 4 with NBC. That game brought in a 52.3. And the 2011 game with the Packers and the Steelers had a 59.7 rating on WITI.
The Lions win over the Vikings that started at noon on Sunday had a 20.4 rating. In the Milwaukee market, each ratings point represents around 9,100 households.
STUDIO A: On Monday, WITI Fox 6 launched "Studio A." The new show that airs at 4 p.m. weekdays is hosted by Katrina Cravy and Ted Perry and features former WLUM-FM 102.1 morning host Brian Kramp as the entertainment reporter about town.
The first episode featured a one-on-one interview with former NBA player and now Milwaukee Bucks assistant coach Scott Williams, Hollywood insider Gino Salomone shared an interview with actor Matthew McConaughey and Kramp reported live from the "Les Paul: The Wizard of Waukesha" exhibit.
You can see some clips from the show on the "Studio A" page on Fox6Now.com.
DANCE: A male and female will be chosen the season champs on "So You Think You Can Dance" on WITI-TV Fox 6 tonight. If you are recording the finale, make the arrangements for the DVR to record multiple hours and even into the 9 p.m. newscast. The show will break away for President Obama's speech to the nation at 8 p.m. and come back after.
REMEMBRANCE: Most cable news channels plan to cover live events from New York on Wednesday to remember the terrorist attacks on Sept. 11, 2001.
Fox News Channel will present live coverage with Eric Shawn and Rick Leventhal reporting from Ground Zero in New York. The network will also air "9/11 As It Happened," a video compilation of footage taken that day. Coverage will begin with "Fox and Friends" from 5 to 8 a.m.
Foxnews.com will be live streaming all 9/11 memorial services in New York City and around the country.
SPEECH: Most channels have made plans to air President Obama's speech to the nation tonight. Expect to see the 8 p.m. address on networks ABC, CBS, Fox and NBC, and the news channels like CNN, Fox News, Fox Business Network and MSNBC.
NERDS: If you missed our advance story of the locally-made "The Nerd Show TV," and the airing at midnight on Saturday night … fret not.
The show's production staff posted the first episode on its website and through the magic of embedded YouTube video, you can see the half-hour production here:
Talkbacks
SteveKabelowsky | Sept. 11, 2013 at 11:35 a.m. (report)
Photodavie, you are right. Most times the obvious rings true. Coming next: "Cheese is good" ...
Photodavie | Sept. 11, 2013 at 8:24 a.m. (report)
SHOCKER: Wisconsonites like the Packers. NEXT ARTICLE: Miller sells a lot of beer in Wisconsin.
Facebook Comments
Disclaimer: Please note that Facebook comments are posted through Facebook and cannot be approved, edited or declined by OnMilwaukee.com. The opinions expressed in Facebook comments do not necessarily reflect those of OnMilwaukee.com or its staff.