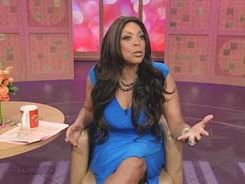 OnMedia: Unsolicited advice for Channel 6
Last week's announcement by Channel 6 that it's putting together a one-hour live program in the 9 a.m. weekday slot that's not going to be more news got me thinking.
What should a show like that look like?
Let's start with the assumption that it's going to be some sort of chat show with a cozy looking set. Because of the audience available at that time of the day, we'll also have to assume that the show generally targets women. Most of daytime TV targets women.
Given that set of assumptions, you have the making for a traditional, almost retro TV show. But thanks to the latest wave of technology you can rev things up a bit.
Think Twitter. Think Four-Square. Think Facebook.
Think "Ask Your Neighbor."
If you don't recall, that last one was a radio show that ran on WTMJ-AM (620) from 1961 to 1995, featured Gordon Hinkley on the phone with listeners on their land-lines who needed this or that, or had this or that to share.
As old-fashioned as that sounds, it was interactive. It was Craigslist before Craig was born. (That's an exaggeration for effect. Craig Newmark was actually born in 1952, but you get my point.)
It's something that's lacking in Milwaukee broadcast media. While we're over-served with political talk, and there's plenty of personality-driven morning radio, radio doesn't target the female audience as a community.
There are Internet models, such as MilwaukeeMoms, although its current incarnation doesn't have the personality it once did.
Channel 6's new offering will be up against Channel 4's "Morning Blend," a different model of morning show that mixes advertising with content. It's not a huge ratings magnet, but it's success is more directly tied to the advertisers who are guests on the show.
For all the talk about Channel 6's new show being "fun," it has to have a target. Milwaukee's Fox affiliate has been a leader in using Twitter and other new tools.
This new show is a perfect place to use them.
For the record, I talked about some of this with Bonnie North on "Lake Effect" last week on WUWM-FM (89.7). You can listen to the conversation here.
The fate of Wendy Williams: To answer one question that has been prompted by the announcement of Channel 6's new local hour: it will push Wendy Williams' talk show back an hour to the 10 a.m. time slot when it debuts later this year.
For now, you can watch Wendy Williams at 9 a.m. weekdays on Channel 6.
Peter Buffett's radio fundraiser: Composer-musician Peter Buffett hosts what's being dubbed a "concert & conversation" June 2 at The Pabst Theater to raise funds for WYMS-FM (88.9), the non-commercial radio station known to listeners as "88Nine RadioMilwaukee."
Buffett is one of the founders of the station.
The event, tied to the release of Buffett's new book, "Life is What You Make It," begins with a cocktail reception at 5 p.m., with the performance following at 6. A reception for patrons and sponsors starts at 7:30.
Tickets, which start at $25, are available at The Pabst Theater box office at 144 E. Wells St. or online.
On TV: TNT has ordered a third season of "Southland." The 10-episode season will start airing in January. The cop show had flopped on NBC, but found new life on cable.
The opening night of History Channel's "America: The Story of Us," averaged 5.7 million viewers, according to Nielsen Media Research numbers.
Current TV has turned the North Korean captivity of journalists Laura Ling and Euna Lee into a half-hour special. "Captive in North Korea" will air May 19.
Speaking of TV, I'll be on Chicago's WGN-AM (720) at midnight tonight talking television with Steve King and Johnnie Putman. And I'll be on WRIT-FM (95.7) in the 7 a.m. half-hour Wednesday, talking "American Idol" with Meg McKenzie and Dave Murphy.
An advance look at "Arts Digest": Last week, Milwaukee Public announced the details of its forthcoming "Arts Digest," which premieres next month.
Here's a preview of the show:
Facebook Comments
Disclaimer: Please note that Facebook comments are posted through Facebook and cannot be approved, edited or declined by OnMilwaukee.com. The opinions expressed in Facebook comments do not necessarily reflect those of OnMilwaukee.com or its staff.