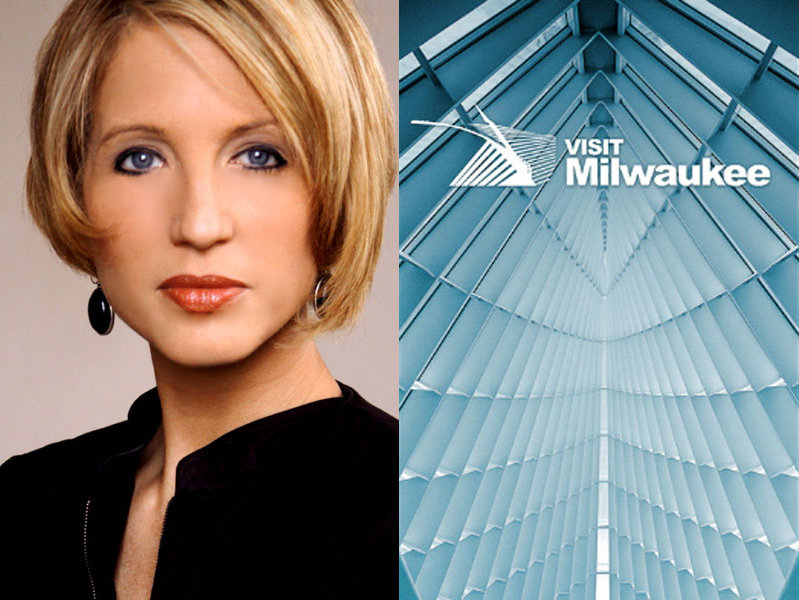 Strong takes on new role with VISIT Milwaukee
For Wendy Strong, her Milwaukee roots have always been firmly planted, shaping her career in communications and journalism.
"Our city is rich with passionate business owners, artists, entertainers and entrepreneurs and their journeys are what make Milwaukee great. I'm going to truly enjoy being part of the team that brings these amazing stories of raw talent and perseverance to the forefront," Strong said.
The new team she's joining is VISIT Milwaukee, the convention and visitors bureau working to make a positive economic impact on the greater Milwaukee area. The former Business Journal writer and television and multimedia reporter will be the new director of public relations.
"It's a perfect fit for me and I'm honored to be part of an organization that is putting Milwaukee on the map," said Strong, who many remember for her weekday TV reports for the Business Journal that aired on WITI-TV Fox 6.
In her new role, Strong will be helping tell the Milwaukee story in the region, as well as on a national and international stage. It's a story she's been a part of since childhood.
"When I was a kid, my Dad would take me to Commission Row on North Broadway early in the morning to buy produce for our family grocery store.
"That stretch between St. Paul Avenue and Buffalo Street, in what's now Milwaukee's Historic Third Ward, used to be home to Milwaukee's produce wholesalers and is now a hot spot for restaurants, clothing boutiques and artists," she said.
"The scenery has changed in that area, like many other parts of the city, but the hard work ethic and tenacity to chase a dream and build a business is still alive and thriving just as it was years ago when the produce merchants were in high gear at the break of dawn."
Strong, who assisted with event planning and programs with the Business Journal, also was a freelance producer with the NBA and spent worked as a producer with the Journal Broadcast Group.
Now, she will be able to bring that experience to VISIT Milwaukee's communication and outreach efforts.
"I have a lot of pride in saying I grew up in Milwaukee and that I've been a witness to its tremendous growth through the years," she said.
Strong will start in the new role on Oct. 14.
BOX OFFICE OPTIONS: Marcus Theatres recently released its Theatre Entertainment Network schedule for October. The program features comedy performances, classic films, concerts and other entertainment presentations.
I like highlighting these, because it goes deeper than the major movie releases. Find all the listings on www.marcustheatres.com.
Flick or Treat Horror Series
The Shining, Oct. 7-10: Adapted from the Stephen King novel of the same name, the Shining is a psychological horror movie telling the story of a man and his family struggling with demons, ghosts and insanity.
Army of Darkness, Oct. 14-17: After being pulled through a time portal to the year 1300 AD, an ordinary supermarket employee, Ash, must battle evil forces as he tries to return to his own time.
Night of the Living Dead 3D, Oct. 14 – 17: When two siblings arrive late to their aunts' funeral, they walk straight into a nightmare.
Friday the 13th, Oct. 21 – 24: Camp Crystal Lake has had its share of tragedies, but when the son of camp owner is determined to reopen the camp for the upcoming season, no one is safe.
Rosemary's Baby, Oct. 28 – 31: When Rosemary Woodhouse and her struggling actor husband move into an antiquated New York City apartment building with an ominous reputation, she starts to question the eccentric neighbors' motives.
Plan 9 from Outer Space 3D, Oct. 28 – 31: Directed by Ed Wood and starring Bela Lugosi in his final role, this 1959 sci-fi fiction thriller tells the tale of a pair of aliens who resurrect the dead in an attempt to build an army of ghouls to stop humans from creating a doomsday weapon that would destroy the entire universe.
Indie Series
The Lesser Blessed, Oct. 7 – 10: Nominated for Best Adapted Screenplay at the 2013 Canadian Screen Awards, this film chronicles the life of Larry Sole, a Native American teenager living in a small, remote community in Canada.
This is Martin Bonner, Oct. 21 – 24: Martin Bonner is struggling to make a new life in Reno. A volunteer coordinator for a non-profit group that assists prisoners with the transition from incarceration to freedom, he strikes up an unlikely friendship with a recently released prisoner.
Searching for Sugar Man, Oct. 21 – 24: This 2013 Academy Award winner for Best Documentary Feature tells the true story of the greatest 1970's icon that never was. Detroit folksinger Sixto Rodriguez had high hopes of becoming an American icon.
Comedy Series
Conan O'Brien Can't Stop, Oct. 28 –31: This documentary highlights the hysterical antics that followed Conan O'Brien's turbulent 2010 departure from NBC. Focusing on "The Legally Prohibited from Being Funny on Television Tour," Conan explains how the idea came to him when thinking of things he could do during the 6 months he was legally prohibited from appearing on TV.
Participating Theatres in Wisconsin
Appleton East Cinema, W3091 Van Roy Road, Appleton
Bay Park Cinema, 755 Willard Drive, Ashwaubenon
Marcus La Crosse Cinema, 2032 Ward Avenue, LaCrosse
Majestic Cinema of Brookfield, 770 N Springdale Road, Brookfield
Marcus Menomonee Falls Cinema, W180 N9393 Premier Lane, Menomonee Falls
North Shore Cinema, 11700 North Port Washington Road, Mequon
Ridge Cinema, 5200 S Moorland Road, New Berlin
Point Cinema, 7825 Big Sky Drive, Madison
Renaissance Cinema, 10411 Washington Avenue, Sturtevant
South Shore Cinema, 7261 South 13th Street, Oak Creek
Marcus Oshkosh Cinema, 340 South Koeller Road, Oshkosh
Eastgate Cinema, 5202 High Crossing Boulevard, Madison
Marcus Sheboygan Cinema, 3226 Kohler Memorial Drive, Sheboygan
Facebook Comments
Disclaimer: Please note that Facebook comments are posted through Facebook and cannot be approved, edited or declined by OnMilwaukee.com. The opinions expressed in Facebook comments do not necessarily reflect those of OnMilwaukee.com or its staff.