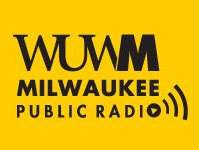 OnMedia: "What about WUWM?"
Tuesday's column listing five reasons why Milwaukee's radio dial isn't getting an all-news station got a reaction from Dave Edwards, the top guy over at WUWM-FM (89.7).
He specifically objected to my line:
"The closest we have to a 'news' station is WTMJ during the morning and afternoon drive-time hours, when it's neither a conservative talker nor a sports station"

"What about WUWM?" Edwards asked me in an email.
Well, I don't think WUWM, as newsy as it may be, fits the bill for an all-news station, and doesn't come as close to the mark as WTMJ, which focuses locally, rather than globally in the way the NPR affiliate does.
But Edwards has a bit of cachet in the all-news radio business. After all, he's a veteran of Milwaukee's last (failed) attempt at all-news radio on the old WRIT-AM.
So let's listen to Edwards' argument:
"Last year WUWM was recognized as 'best news operation of the year' by the Wisconsin Broadcasters Association and 'best radio station of the year' by the Milwaukee Press Club.

"WUWM has a 3.4 percent share in morning drive (11th most listened to station in Milwaukee) ... 2.4 percent share overall ... NPR + the largest radio only news operation in Milwaukee. ... News/informational programming 20 hours each weekday."
Edwards concluded: "While I agree with your analysis of commercial radio prospects, it seems clear that many listeners in Southeastern Wisconsin get their news fix from WUWM."
While I don't see WUWM as being in the same format as the all-news stations in Chicago, the reason I raised the issue, it does provide a bounty of national and international news, along with its daily local "Lake Effect" magazine show (which I'll have to say I have appeared on pretty regularly to talk about media issues).
I should have at least mentioned it in Tuesday's column.
A fair bit of live TV: Channel 4 weathercaster Jesse Ritka was doing some on-camera munching at the Wisconsin State Fair and tried the deep fried butter and was caught off guard when the butter squirted all over reporting partner Steve Chamraz.
Said Ritka, "That was pretty good if you like butter. I'm a big fan of butter."
On TV: The break between the Muscular Dystrophy Association and Jerry Lewis is apparently complete. Here's the statement from MDA chairman R. Rodney Howell: "We will not be replacing him as MDA national chairman, and he will not be appearing on the Telethon."
AdWeek.com reports that talks are in high gear for Time Warner Cable finally to pick up the NFL Network, with the goal of getting it in place by the start of the football season. These talks are happening at the national level.
Sarah Michelle Gellar is making a one-day return to her old job at ABC's soon-to-disappear "All My Children." She says she won't be playing her old role of Kendall Hart. She was on the show from 1993 to 1995.
Hulu is hosting its first Web-only series, "A Day in the Life," a documentary series from Morgan Spurlock.
Maria Menounos is moving from "Access Hollywood" to "Extra," where she'll co-host with Mario Lopez.
Former CNN anchor Rick Sanchez tells TV Newser that cable news is "a knife fight in an alley, and you don't walk away from a knife fight without a lot of blood on you." He was fired last year for what was perceived as anti-Semitic remarks about Jon Stewart in a radio interview.
The CW Network will launch its fall season on Sept. 12 with Lady Gaga being interviewed by designer Jean Paul Gaultier.
The return of Doctor Who: The second half of "Doctor Who" starts Aug. 27 both across the pond and on BBC America, and here's the BBC One trailer:
Talkbacks
cuprisin | Sept. 1, 2011 at 5:20 p.m. (report)
Public and non-commercial radio stations generally do not subscribe to the Arbitron ratings, and, thus, are not measured. These stations don't use ratings to determine their success, since they're not selling commercial time.
dmd93 | Aug. 27, 2011 at 10:30 p.m. (report)
Tim,you said WUWM was the 11th most listened to station in the morning.Why aren't the ratings of public stations regularly reported when ratings come out?I would specifically like to know what the ratings of WYMS and WMSE are.Are there any places that show this?
Facebook Comments
Disclaimer: Please note that Facebook comments are posted through Facebook and cannot be approved, edited or declined by OnMilwaukee.com. The opinions expressed in Facebook comments do not necessarily reflect those of OnMilwaukee.com or its staff.