The dynamic duo is returning to its home away from home next weekend, with a show on Friday, Sept. 5 at The Pabst Theater (moved from its original location at the Cactus Club after it sold out). And they're coming back with gallons of deservedly good press, an appearance on "The Tonight Show with Jimmy Fallon" and the deafening buzz of a band obviously on the rise. Read more...
Top Story In Festivals Guide
The signature sound of rumbling Harley-Davidson V-twin engines signifies the start of this year's Milwaukee Rally - the Midwest's largest free motorcycle rally, featuring events at several venues across the city.
See More Stories In Festival Guide …
Milwaukee Area Event Calendar
More Featured Articles
For some reason most people think that artists read from a completely different rule book: You're not a "real' artist" unless you are in a constant state of purgatory. The only way to really enhance your credentials as a musical trailblazer is to jump off the nearest cliff! But I reject that completely. I am nobody's martyr!
See More Stories In Music …
Young country star Hunter Hayes will bring his Tattoo Your Name Tour to the BMO Harris Bradley Center on Thursday, Nov. 13.
See More Stories In Music …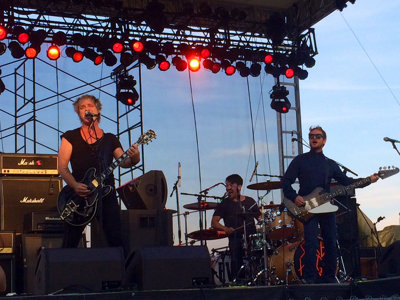 Thinking about this blog got me revisiting some of the times I came to Milwaukee with my band, Spacehog -- the countless times we played Summerfest, our appearance at Shank Hall, and random visits to the state to play places like Oshkosh and Sturtevant. The warmth of your average Midwesterner is noteworthy; I knew because I had tended bar with a couple back in New York, none other than Spoon's Rob Pope and The Hold Steady's Bobby Drake.
See More Stories In Music …
From Our Partners
Like many of those already on Sharpologist, I've made a regular routine of wet shaving to maintain my appearance. I first took the plunge into this wide, wonderful world last year when I bought a vintage 1930's Schick injector razor. I've since upgraded to a Parker 22R DE razor, and, although my setup is quite humble compared with many others that I've seen (shoutout to /r/wicked_edge!), I find that my shaving experience is still profoundly greater than it ever was while using cartridge razors.  I decided to use a 3D printer to create a shaving stand for my shaving gear....
See More Stories From sharpologist.com …
Milwaukee Neighborhood News Service asked Wisconsin legislators to share their views on legalization of marijuana and criminal penalties related to possession of the drug.
See More Stories From milwaukeenns.org …
Autumn is such a great time of year! It gives us all a sense of relief and a moment to catch our breath after the busy, warm summer months. What a perfect season to have a wedding! Not only does this fresh season bring a crisp breeze, but it magically changes the colors of our world from the bright pastel shades to the rich, deep and subtle warm hues of fall. With the gradual change of colors and a vast variety of color palettes, brides have so many options for their custom wedding flowers.
See More Stories From wedinmilwaukee.com …
Taking something of a page from the book of the district's successful public Montessori schools, all MPS schools this year will use a staggered start to help introduce primary-aged children to their schools. In the past, the Montessori schools -- whose K3, K4 and K5 kids share classrooms -- welcomed K5 students on the first [...]
See More Stories From schoolmattersmke.com …
Coming Soon On OnMilwaukee.com…
Railway Exchange Building
Stuart Rojstaczer
Westown edition
The Modjeska Theater