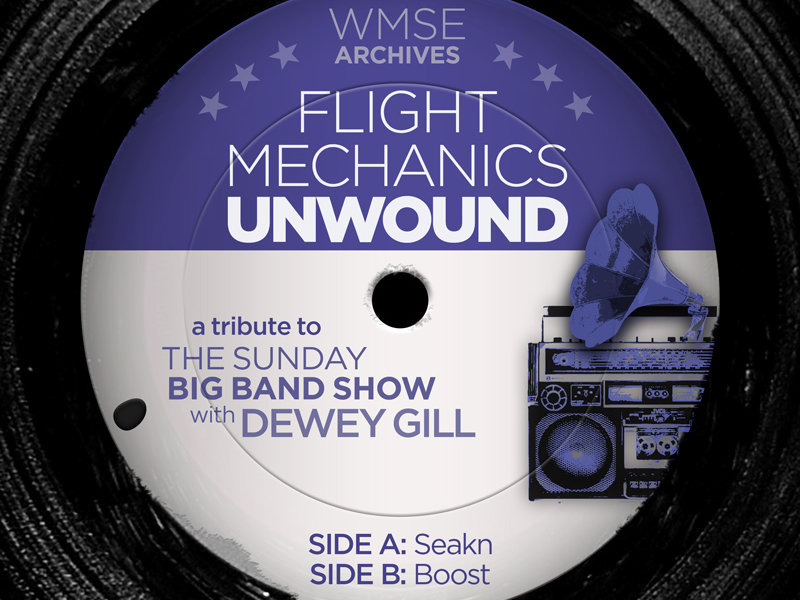 Flight Mechanics steer big band into a collision with hip-hop, IDM
When most of us are flipping through local radio stations, we're merely hoping to find a good station with a good run of catchy songs to help make the ride through traffic a bit more tolerable.
When Sean Behling – more commonly known as the hip-hop/intelligent dance music (IDM) artist Seakn – was flipping through stations back in 2005 when he moved to Milwaukee, he happened to find the inspiration for a whole album.
"I came across WMSE, and it was amazing," Behling said. "One of the shows that popped off as an amazing standout was the Sunday Big Band Show with Dewey Gill from, like, 9 to noon.
"Some of those pop songs from the '20s and '30s are just so quirky, yet are done with such a musical reference coming out of the jazz and classical and everything that was coming out around that time. There's a sophistication to it that you don't see a lot, at least in today's music. Not that we did that necessarily a lot of justice since we were chopping it up and disassembling it."
Behling passed on his stewing inspiration to Paul Duquesnoy (aka Boost), his partner in the IDM duo Flight Mechanics. The two had previously been in the group 1881 before they collaborated on the four-track 2011 experimental IDM EP "Formed Light."
"I think we were both surprised how awesome that EP was," Duquesnoy said. "That was our first project. I think the success of that – not the commercial success, but just how much we loved doing it – made us say let's do this again sometime. And then Sean found the WMSE archives of big band music online."
The result was "Unwound," the Milwaukee duo's recently released 43-track album of IDM and big band-infused instrumental hip-hop. Both Behling and Duquesnoy created individual 30-minute mixes, separated into side A and side B. The album is available to download for free on the band's SoundCloud page, as either a single mix on a giant mp3 file or split into 43 individual bite-sized tracks.
On paper, the idea of mixing classic big band music and the popular tunes of the early half of the last century with the kinetic sound, style and structure of hip-hop infused intelligent dance music (IDM) sounds like a risky proposition. However, the collaboration of two distinctly different brands of music was exciting new evolution for Flight Mechanics.
"'Formed Light' and this are such different animals," Duquesnoy said. "Maybe that's the growth is what a sidestep it was, in a good way. The first being very abstract and collaborative and instrumental and original, and this one playing off of an era and pulling it into a new era is such a different way of thinking."
"Unwound" didn't just involve a different mindset. Duquesnoy and Behling tried a new method of putting together their mixes. On their previous EP, which involved much less sampling, the two passed their files back and forth, remixing and tweaking each other's ideas and work until it became a product of continuous collaboration. For "Unwound," the duo searched together through WMSE's online big band archives for intriguing samples but still created the mixes independently of one another.
"As soon as we got to a point where we both had a lot of elements lined up and ready to turn into songs, we kind of took more ownership of it," Duquesnoy said.
"I think we each independently had such an vision for what we had prepared that we wanted to see them through. I was still very satisfied with the collaboration of working together to find the samples and sharing them as we found them. As we each went 'Here's track one' or 'Here's what I'm thinking for this track' or emailing each other back and forth, it was very inspiring. Whenever he'd do something, I'd try to talk back to it with my own song and impress each other."
Though satisfying, the process ended up taking much longer than Behling or Duquesnoy expected. What Behling originally predicted to take about month ended up taking about a year, intricately scouring the big band archives for good samples, storing them, writing out the music and piecing together the rapidfire tracks.
"When you're sampling, you're always looking for breaks or stand-out pieces," Behling said. "You're looking for things you can manipulate and rework. In the modern context, you can get a lot more granular and microscopic with how you pull things out.
"We put together a Google drive that was shared, and on source material alone, we were well over a gig. And in terms of samples, when you're talking little pieces that are maybe two seconds – on the long side, maybe a minute – that is a lot of sound. That's hundreds of samples."
With their massive library of sound, the duo arranged their individual mixes and tracks with a process of creative trial and error. The final product is fascinating, the borderline-ADD style of IDM/instrumental hip-hop mixing with the classic big band sound with each getting their due. Not only does Flight Mechanics attempt to blend the two eras together, but also the two DJs' distinct styles.
"They're complimentary but different," Behling said. "I'll just take the approach of throwing a ton of stuff against the wall and seeing what sticks. It starts out with a cacophony of sound and then start peeling away and trying to work around that."
"Mine was precision strike for sure," Duquesnoy added. "I knew exactly what I wanted every time."
For an IDM/instrumental hip-hop noobie (admittedly like myself), it can be hard to find the nuances of the hectic, quick-on-its-feet and fairly young genre of music. For "Unwound," however, Flight Mechanics tried to make something accessible and even just on the borders of IDM.
"The IDM element for me is how compressed everything is," Behling said. "You're going to get 16 bars of a taste, and then it's probably going to fall apart and change into something else in the next 16 bars."
And considering there are 43 tracks on "Unwound," that's a lot of different tastes from eras apart for a listener to sample.
Facebook Comments
Disclaimer: Please note that Facebook comments are posted through Facebook and cannot be approved, edited or declined by OnMilwaukee.com. The opinions expressed in Facebook comments do not necessarily reflect those of OnMilwaukee.com or its staff.