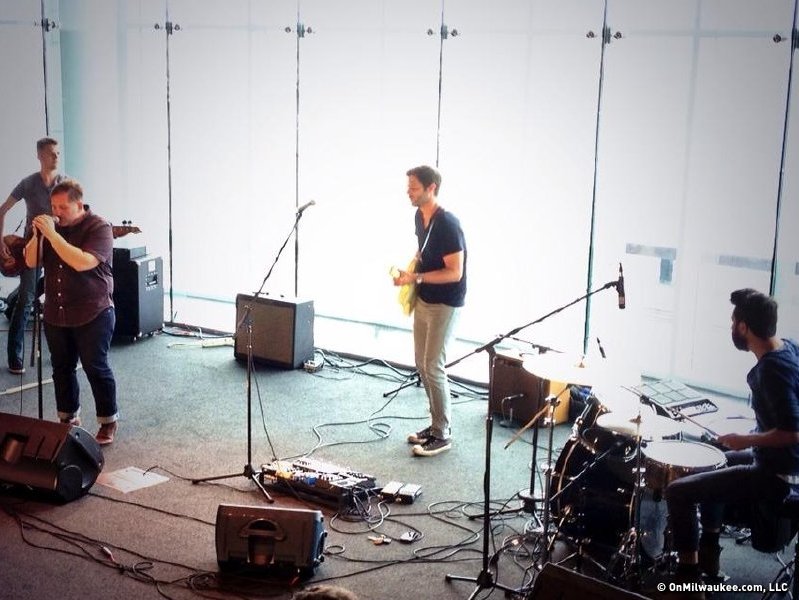 Big Leagues: Hot Nashville band makes third Milwaukee stop
Though no band really comes out of nowhere, it certainly seemed like the case for Nashville's Leagues, the rare non-country act to emerge from that town into full-blown success.
With an eponymous 2011 EP, the band – singer Thad Cockrell, guitarist Tyler Burkum and drummer Jeremy Lutito – was already on the radar and by the dawn of 2013, a full-length, "You Belong Here," had arrived.
The record is packed with catchy alt-rock that has Strokes-y guitar riffs, inventive drum patterns, Cockrell's plaintive voice and an ethereal, epic sound. Though the band's biggest hit to date has been the opener, "Spotlight," jump to "Haunted" to hear all these traits wrapped perfectly into an addictive pop song.
Leagues has been to Milwaukee three times already this year, which testifies to its devotion to the road and getting the word out. We caught up with drummer Lutito in advance of the band's Friday, Oct. 11 gig here at Club Garibaldi...
OnMilwaukee.com: I know you've all had success before in other bands/settings/situations, but has this Leagues phenomenon been a surprise, in how quickly it's ramped up?
Jeremy Lutito: Well, we are certainly thrilled with the momentum. But maybe we're too on the inside to feel like it's a fast ramp up. We've been building this since 2010 and it's nothing short of a miracle that we're still here and still at it. It feels great to finally have a record out and working it one day at a time.
OMC: You guys have been on the road so much lately, how are you getting along? In terms of each other, but also at home.
JL: We are getting along great. We've all done this in some capacity before forming Leagues. But no matter how many situations we've been in, a band is still a band. It's a marriage. We are like brothers and we have each others back. But our families come first. That is what will keep things going.
OMC: Has it been hard to be away so much?
JL: We're finding the balance. At the end of the day if our well being is not intact and sustained because of the road, it's time to take a break.
OMC: Are you able to be productive in terms of writing new material, too, while you're on the road so much, or are you not really pushing that part right now?
JL: We are starting to feel the creative nudge. It's definitely difficult to write while on the road. But we have quite a few irons in fire and are looking forward to cooking up some new songs this winter. We are partial to a remote cabin on a lake.
OMC: This is your third time in Milwaukee in just a few months, isn't it? How have the shows here been?
JL: Yes it is! The Midwest has been very good to us. We've enjoyed the shows. Hoping this next one will take the cake!
OMC: The Radio Milwaukee gig at Discovery World was short but sweet. Did you guys have fun doing that?
JL: Very much so. It's always great to perform in a more intimate setting like that. We've done it enough to feel comfortable. Even though we're a rock band we still feel like we can be enough of gentlemen to play in a living room, a symphony hall, or a radio station.
OMCL During that performance the interviewer talked about Thad Cockrell's brief stint singing with The Mavericks, which was maybe a little unexpected, based on the band's sound, but even more unexpected for me was seeing Chuck Mangione on the album's credits. Can you explain the connection?
JL: (Laughs) Well, you happened to catch something that we hold close to the chest. I will tell you that although we've never met Chuck, we consider him, in a very round-about way to have had a small part in directing the bands path.
Facebook Comments
Disclaimer: Please note that Facebook comments are posted through Facebook and cannot be approved, edited or declined by OnMilwaukee.com. The opinions expressed in Facebook comments do not necessarily reflect those of OnMilwaukee.com or its staff.