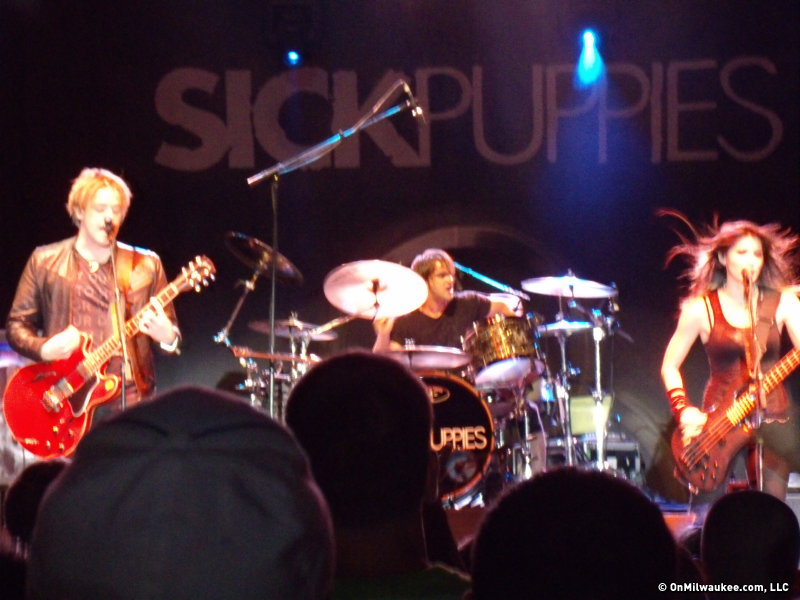 Being unfamiliar with Sick Puppies going into their Wednesday night concert, I wasn't expecting much when a group of friends invited me to go see the show. I knew they were crazy about Sick Puppies, having seen them almost every time the band has been in the area, and the crowd was warned by the 95 WIIL Rock introduction crew that the show would be "face-melting."
And face-melting it was. Metaphorically, of course. The 16-song set (including encore) spanned the entirety of the band's career and didn't much favor any particular album.
The show opened with "Odd One," but the Summerfest Rock Stage really got going with the third and fourth songs, "Shoulda Known Better" and "My World." The one-song encore was fan favorite "You're Going Down."
The pace didn't slow for most of the rest of the show as lead singer/guitarist Shimon Moore kept the crowd chanting and bouncing on command. At times it seemed Moore was just as interested in interacting with the crowd as he was with the music the band played during their hour-and-fifteen minute set.
After the show, the band even stayed at the merchandise tent to shake hands and thank every person in attendance that wanted to wait in line, which was a substantial commitment from both band and concert-goer considering the line stretched from the tent across to the restrooms and then turned north all the way to the north gate.
Sick Puppies also played a couple of notable covers, the first of which was Rise Against the Machine's "Killing in the Name." Tom Morello he is not, but Moore did a good job with a song that certainly doesn't appear easy to play. The big surprise, even to the Sick Puppies fans I was with, was the cover of Cee-Lo Green's "F*ck You." The crowd ate it up and even sang most of the song's chorus, but once the novelty wore off, the song lost a lot of its funky charm when it was converted to a hard rock song and suffered as a result. Still, it's fun to hear songs cross genres like Sick Puppies did and the reward almost always outweighs the risk of doing something like that.
Experiencing the dedication to their crowd and the pure enjoyment they have in performing makes Sick Puppies a must-see show for any hard rocking folks.
Facebook comments
Disclaimer: Please note that Facebook comments are posted through Facebook and cannot be approved, edited or declined by OnMilwaukee.com. The opinions expressed in Facebook comments do not necessarily reflect those of OnMilwaukee.com or its staff.
Recent Articles & Blogs by Alex Wendland