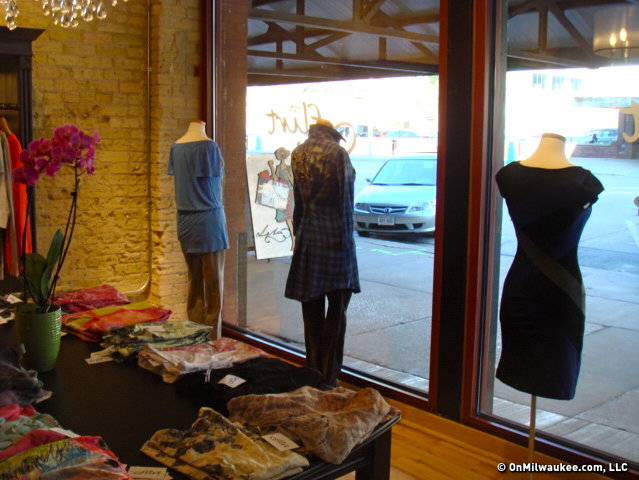 Consider the opening of Flirt a sign. Literally.
Owner Jenny Gehl, previously a co-owner of Gossip in Mequon, moved to the Third Ward after her previous store was literally struck by lightning, and opened the new boutique just a few weeks ago at 317 N. Broadway.
"This is such a great part of town," says Gehl. "My real passion is working with and interacting with the people in the shop, and the people in this neighborhood are really friendly."
The shop is fashioned with periwinkle clothing chests, twinkling chandeliers and iconic Cream City brick. Gehl's clothes encircle the room, organized by item style, so it's effortless to find what you're looking for, but the quantity is not overwhelming as can be the case in many stores.
The Third Ward has definitely become a home to many new shops in the past several years, but it's not just the locals that stop by for retail therapy. The proximity to Downtown, hotels and several of the tourist attractions the city has to offer means many out-of-towners visit the Third Ward for shopping and dining, says Gehl. She says she regularly has customers from Chicago and even a handful from other countries.
From formal cocktail dresses and blouses, to jeans and comfy sweaters, Flirt offers a bit of everything in all price ranges. Gehl says she wanted to have on hand a little of something for everyone and she keeps styles fresh and limited by only buying a select number of items -- and she buys them only once.
"I might buy things in another color, but I never want to have my customers see themselves coming and going," says Gehl.
Flirt is open Mondays through Fridays, 10 a.m. to 7 p.m., Saturdays from 10 a.m. to 6 p.m., and Sundays from noon to 5 p.m.
Facebook comments
Disclaimer: Please note that Facebook comments are posted through Facebook and cannot be approved, edited or declined by OnMilwaukee.com. The opinions expressed in Facebook comments do not necessarily reflect those of OnMilwaukee.com or its staff.
Recent Articles & Blogs by Alissa Lawton