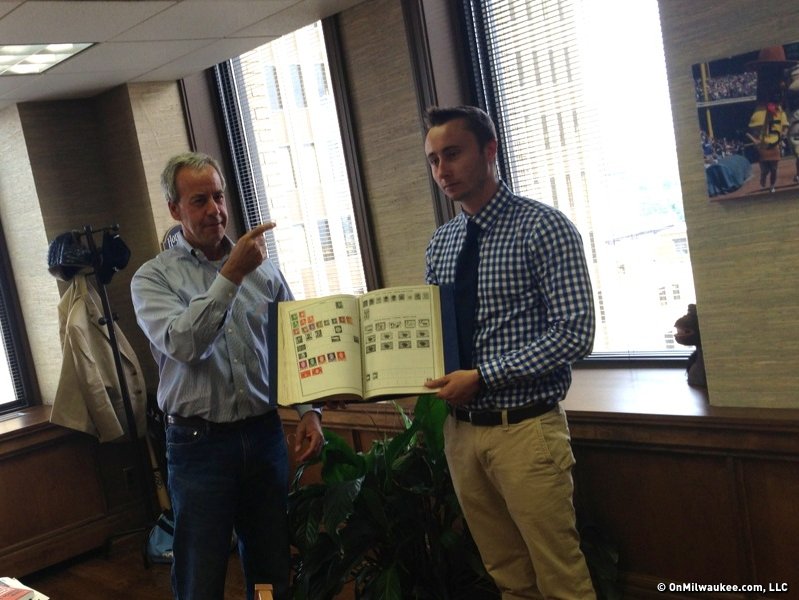 One of the cooler parts of having our office in a Downtown high-rise it that we now have some interesting neighbors. Directly to our east is our broker, in fact, Cresa Milwaukee, run by our friend Steve Palec.
We all visit Steve a lot. He has a lot of stories to share, plus he keeps Twinkies in the "coffee shop" he built in the corner of the space. He's even constructed a nap room that we can borrow when needed.
Well, Steve didn't build it. He had his employees paint it and furnish it. Steve asks his employees to do a lot of weird stuff, actually, and they happily comply. And maybe it's time I took a lesson.
Look, I'm the first to admit that I'm not a great boss – and my employees would maybe be the second through the 15th to agree with that – but not because of what you might think. I actually try to treat the people who I employ as co-workers rather than minions. Over the years, I've gotten a little better at backing off the micromanaging and learning how to delegate. Still, I've never asked someone to transcribe an interview for me or pick up my dry cleaning or buy my wife an anniversary present.
Maybe I should be a little more like Steve.
The other day, I found out that Steve actually sent two of his employees to a stamp collecting show to see if his childhood stamp collection was worth any money. In Steve's defense, he offered his employees a cut of the action.
"Part of me hoped that there was a rare stamp from a country that is now nonexistent, and that stamp is worth $75,000," explained Steve. "But how would I ever know?"
He found out by sending his people.
"I would never have the patience to actually research it and I certainly wouldn't put myself into a room full of stamp collectors that would make a comic convention look like the AVN Awards in Vegas. So when I saw a postcard delivered to me that said there is an actual stamp show in Milwaukee at The Wisconsin Center today – it is free – and they have dealers buying, well obviously, I put aside those prejudiced trepidations – and sent Ben."
See, I'd have trouble sending our salaried employees on such errands, but maybe Steve has a point. I'm pretty sure Steve Jobs wasn't fixing his own typos or answering his phone or getting his own stamps appraised. He probably had several personal assistants. And, if you look at the dozens of voicemails sitting on my phone, or worse, the hundreds of unread emails in my inbox, you can tell I don't have a single one.
Maybe Steve is a better boss than me because he can focus on more important tasks like running his business, while sending his young employees on those "character building" exercises like I went on when I was first entering the workforce. While I never hoofed it to a stamp show for my first boss, I certainly found myself on other silly errands I didn't understand at the time.
Or maybe not. Maybe the trick to being a good boss is to never forget where you came from, to still do the work you expect others to do. Maybe if I was a better boss I'd know the answer to this question, too.
Now, who wants to wash my car?
Facebook comments
Disclaimer: Please note that Facebook comments are posted through Facebook and cannot be approved, edited or declined by OnMilwaukee.com. The opinions expressed in Facebook comments do not necessarily reflect those of OnMilwaukee.com or its staff.
Recent Articles & Blogs by Andy Tarnoff