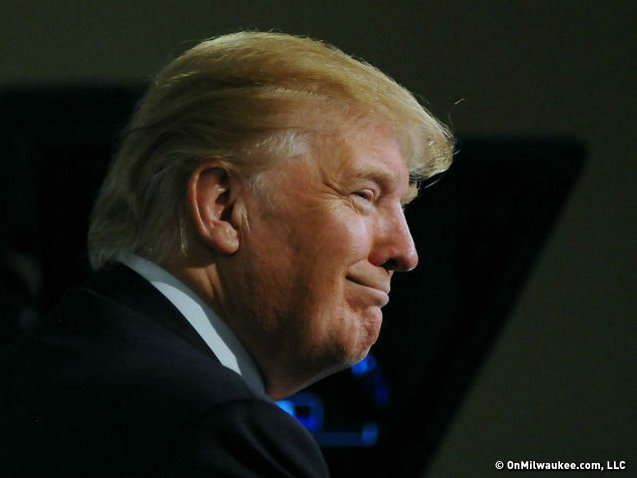 Let's get this right out of the way: The GOP will lose the 2016 Presidential election. It's a done deal, just like in 2004 when Democrats fielded John Kerry as its nominee. The Democratic Party knew that then, and the RNC knows that now. It's a tough pill to swallow, but there's another chance in only four years.
This piece isn't about Hillary Clinton, however. Losing to her is, by far, the least of the Republicans' problems. If the RNC finds itself in a position supporting the certifiably insane Donald Trump, it may spell the end of the Grand Old Party as we know it.
Here's the predicament: After Mitt Romney lost to Barack Obama in 2012, GOP insiders wisely realized the party needed to reach out to disenfranchised minorities if they hoped to take back the White House in 2016. Minorities count, and they tend to vote for Democrats. Remember, the popular vote is less important than the Electoral College, but in certain swing states, they can make the difference.
Trump's fascist talk drives all minorities from GOP.

— Jim Gilmore (@gov_gilmore) December 8, 2015
And yet, Donald Trump has managed to insult every minority he can think of, and he doesn't seem to be done yet. Subtract women, Hispanics, Asians, African Americans, Muslims and Jews from the voting electorate, and you can't win anything. The right-wing, billionaire white male demographic isn't enough to carry a state, despite what FOX News will tell you.
Well, that's not exactly true. Trump could actually win a few southern states, maybe, but given how the Electoral College works, a Clinton-Trump contest would be a blowout of historic proportions. Think Reagan-Mondale, but worse.
Unless, of course you're a neo-Nazi blogger like Andrew Anglin, who wrote a post called "Glorious Leader Calls For Complete Ban on All Moslems." On his site, Daily Stormer, he said of Trump, "Finally: someone speaks sense. Make America White Again!"
Don't think this stuff is making the Republican …
Read more...