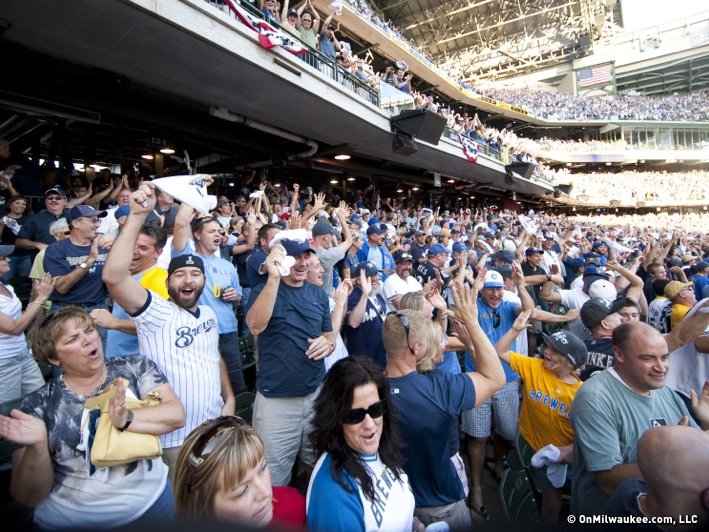 Entering play tonight, the Brewers are 1.5 games out of the playoff picture. Right now, all of Milwaukee should be very excited about the Brewers, starting with me.
Yet, for some reason, we're not.
This was a team that, even as it sat alone in first place for most of the season, we expected it to come crashing back to Earth. Something seemed fishy as it raced to 50 wins. As it slowly fell apart, culminating with a 10-game losing streak, we all smugly and vindictively said, "We told you so."
Still, the Brewers are very much in the hunt, and winning the division isn't even out of the question.
So what's wrong with us? Well, I can't speak for you, but I'll tell you how I feel.
It's not that I've become used to success. When I really got into the Crew in 1994, the team was was bad, and for most of the seasons since then, I've supported the Brewers during these very lean years.
I think – at least what I'm telling myself – is that this year's Brewers just aren't great, and if they sneak into the playoffs, they'll quickly be exposed and beaten. It will be like 2008's postseason again; except we won't have the excitement of getting there for the first time in 26 years. I tweeted that very idea a week ago, and more than a few people told me they had the same sinking feeling.
Maybe the team isn't the likable group of overachieving, excitable players it used to be. Don't get me wrong: Carlos Gomez is everything we could ask for, but Ryan Braun is an always-injured fallen angel, who has turned into a .273 singles hitter. Jonathan Lucroy remains a fan favorite, but gone are characters like Nyjer Morgan and John Axford. I still love Lyle Overbay, but who gets excited over Matt Clark or Gerrardo Parra? Even Aramis Ramirez acts and plays like he's 50 years old.
Or maybe I just don't believe the team is really that good. Yes, K-Rod has an incredible 41 saves, and Mike Fiers has been lights-out, but this team has only one player (Lucroy) …
Read more...