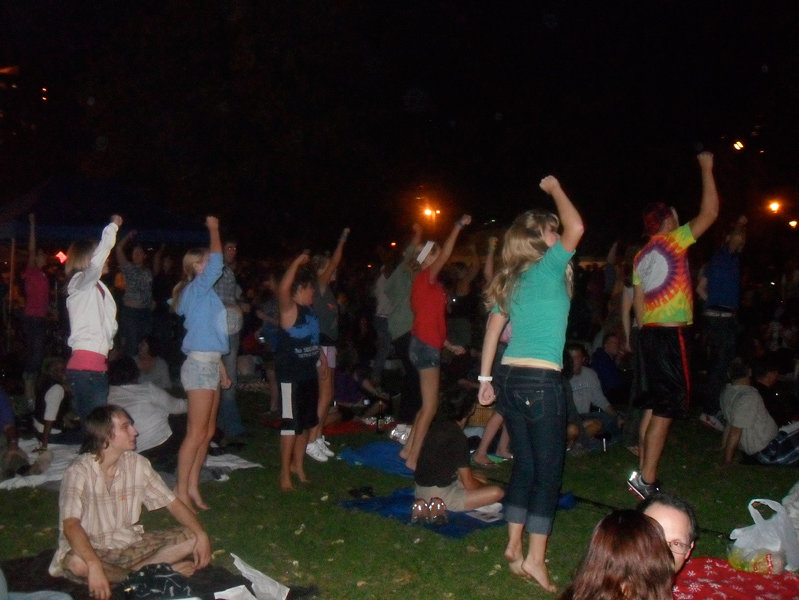 It's an ordinary Jazz in the Park. By 6 p.m., Cathedral Square Park is brimming with people huddled around blankets. Older couples sit comfortably in reclining lawn chairs with matching picnic-sized tables and children swing on the park's playground set. Wine and beer flows continuously from the various tents surrounding the square.
Onstage, the lead singer mentions that it is now officially fall and this will be the very last Jazz in the Park for 2010. The crowd collectively moans and simultaneously vows to do as the announcer suggests: make the most of this one.
The Tempters play Motown classics; every member of the band is clad in a purple polyester suit. Some of the event attendees dance, some spread cheese on crackers, but mostly the crowd relishes in the fact that is the 23 of September and 81 degrees outside.
Then as the intermission begins and the masses return from the dance floor to their spots on the lawn, the P.A. system streams "Get Ready" by The Temptations.
An attractive blonde couple stands in the sea of seated observers and begins to dance. Seconds later, several other individuals hop up and join in the same motions. Before another verse has passed, 20 people dispersed throughout the crowd are now dancing in sync with the original couple. Parts of the crowd seem to understand that what is unfolding before them is premeditated; others sit with jaws dropped in awe.
Throughout the grass of the square, over 100 dancers, young and old, join forces and shimmy in synchronized dance moves. And then, like all flash mobs -- the song fades and life resumes as normal, a minor applause abated by the lack of bowing or recognition requested by the dancers.
A flash mob is a group of people who assemble in a public place, perform an unusual and unexpected dance for a short time period and then immediately scatter. This type of activity has become popular of late due to several virally spread commercials as well as efforts coordinated by Oprah in the fall of 2009, where 20,000 dancers took over the Magnificent Mile in Chicago as the kick off to the 24th season of her show.
Milwaukee dance instructor Eddie Molenda choreographed the routine, and Stephanie Sanchez coordinated the event through their affiliations with the local dance community as well as their own social media networks.
Facebook comments
Disclaimer: Please note that Facebook comments are posted through Facebook and cannot be approved, edited or declined by OnMilwaukee.com. The opinions expressed in Facebook comments do not necessarily reflect those of OnMilwaukee.com or its staff.
Recent Articles & Blogs by Angela Damiani