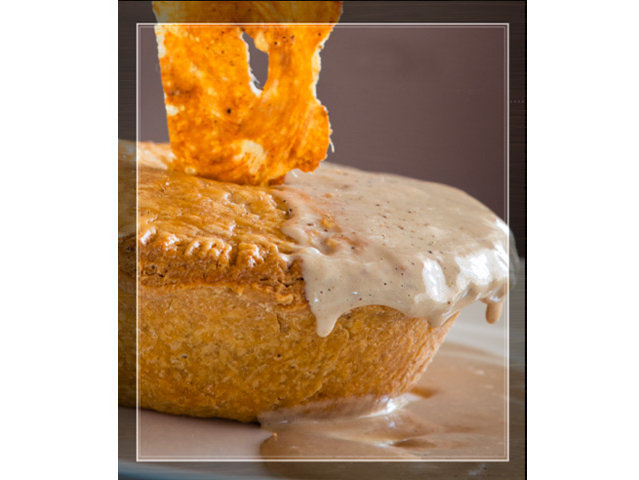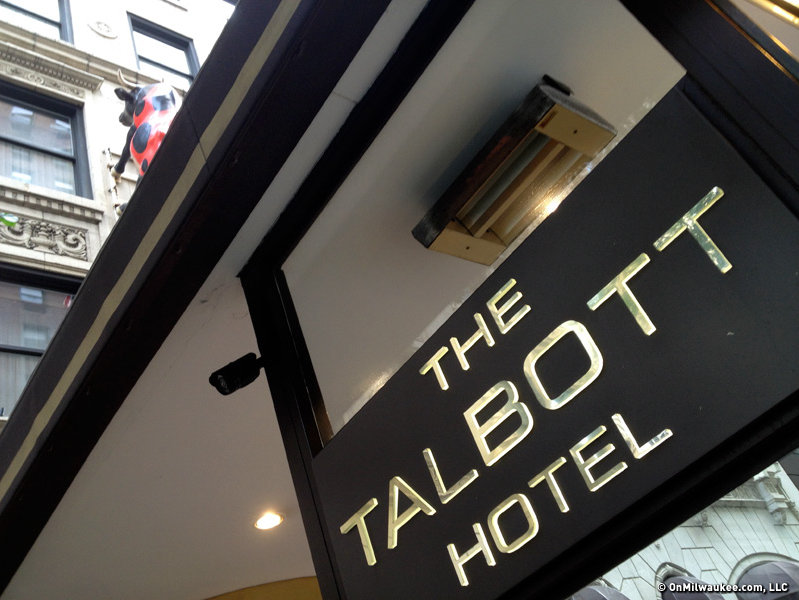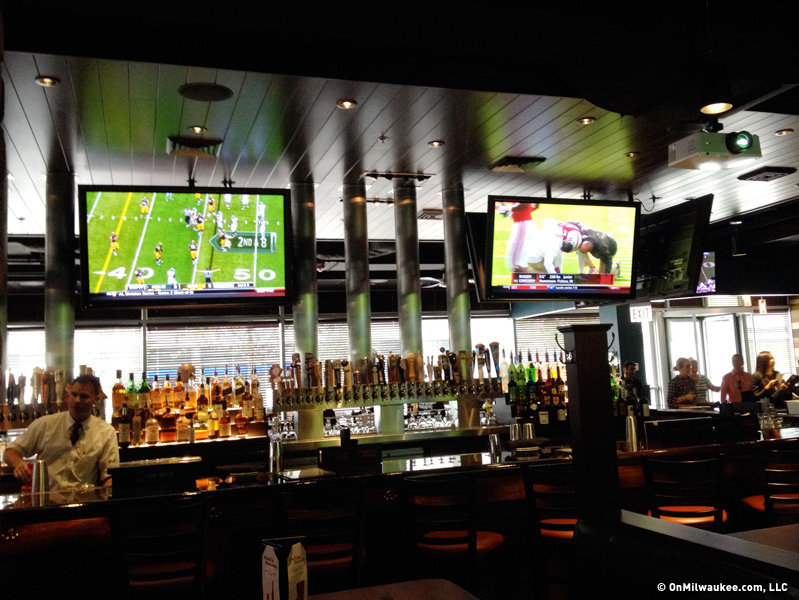 For the seventh straight year, October is Dining Month on OnMilwaukee.com, presented by the restaurants of Potawatomi. All month, we're stuffed with restaurant reviews, delectable features, chef profiles and unique articles on everything food, as well as the winners of our "Best of Dining 2013."
This weekend I took a little Dining Month detour to the Windy City and packed in a variety of culinary experiences over two days.
We arrived on Friday and set up camp at The Talbott Hotel, 20 E. Delware Pl., a block from the Hancock Center and Water Tower Place. It's right in the thick of things but is a quiet and friendly refuge from the bustle of the Gold Coast shopping and dining scene.
A regular in Trip Advisor's top five hotels, The Talbott, which got a full makeover about 8 years ago and is readying for a freshening up that will bring in all new furniture and other tweaks, has a classic English vibe.
There is dark wood everywhere and small but comfortable lobby spaces with paintings of the eponymous pooches. There is also Chef Ryan Poli's The Little Market American Brasserie, a full-service restaurant and bar in the lobby that has gotten good reviews.
We were a block from our first destination, which was Bar Toma, 110 E. Pearson St., the hit eatery opened by Kenosha's Beard Award-winning chef Tony Mantuano (Spiaggia, Mangia Trattoria, Terzo Piano). We'd been there before so we knew to expect incredible pizzas – some of the best on this side of the Atlantic, in fact, thanks to a super-hot wood-fired oven and fresh ingredients – but this time we ventured into the sea a bit more and left raving about the octopus appetizer, too.
Like some of the dishes – like the gamberi pizza, with its red pepper-laced shrimp – the octopus packed a bit of spicy heat thanks to a dose of jalapeno.
The place was rockin' on a Friday evening, but we had no trouble getting a reservation via the website the day before.
The next morning we grabbed some muffins and parfaits from The Goddess and Grocer, 25 E. Delaware Pl., across from The Talbott – which has a range of baked goods and breakfast dishes for takeaway – knowing we'd be dining big the rest of the day.
To the delight of our little ones – did I mention that we brought our well-behaved (whew) kids to all these places? – we took a different kind of taxi from The Talbott to lunch at the Blackfinn Ameripub. This one had four wheels, but powered by four equine legs. I never realized how many passersby wave at and take photographs of Chicago's ubiquitous horse-drawn carriages. It was a blast and luckily, the weather held out for us.
Chicago's new Blackfinn, 65 W. Kinzie St. – is one of a small chain that also has locations in Austin, Texas, and Merrifield, Va. – and it's a sprawling place with lots of staff and even more TVs showing sports. The menu is equally large.
We devoured the Ying-Yang shrimp appetizer with a half-pound of crispy shrimp atop a bed of shredded lettuce doused in a sweet and spicy sauce and garnished with a ring of Sriracha around the circumference of the plate.
I'd also recommend the lump crab cakes – available as an appetizer, a sandwich or, during weekday lunch service, as sliders – which were crispy and thick and served with a remoulade.
The beer selection is pretty impressive, too, and I enjoyed a super creamy and sweet milk stout, from Colorado's Left Hand Brewing.
The kids especially enjoyed their meals here. Nothing fancy, but yummy, just like most kids – well, at least my kids – like it. While the grilled cheese on the kids menu at Bar Toma – with its artisan bread and tomato slices – looked alluring to me, my eldest merely picked at it selectively. But at Blackfinn, where a simpler, more traditional approach reigns, only a bit of crust remained.
That evening, we dined at The Tortoise Club, 350 N. State St., where we had lunch this summer. Open for about a year, I love The Tortoise Club for a few reasons.
On our previous visit, while sitting at the bar discussing bullshots, the bartender, overhearing us, came over and asked about this savory cocktail, which has become pretty hard to find. Later, after we'd been seated for lunch, the bartender arrived at our table with a glass.
He'd found a bullshot recipe and gone into the kitchen to try and find the ingredients to make it. And, of course, he didn't charge us for sampling his experiment. Now, that's service.
Of course, what I also love is the food. For dinner, I had a roasted beet salad with quinoa that was out of this world. A variety of beets was plated with a "cake" of quinoa topped with greens. The beets were firm and flavorful and with the quinoa and greens, the dish was delightfully balanced.
Then, I dove in and got one of the restaurant's signature dishes: the pheasant pie. The pie is completely encased in pastry (not just topped with it), that was simply perfection: tasty and structurally sound, holding tight to its stuffed interior of grilled pheasant, vegetables and gravy (some of which also garnished the dish, along with a crispy shard of skin).
This diner rarely has trouble cleaning his plate but the pheasant pie won round one on Saturday night.
For a fancy-ish, white tablecloth place like The Tortoise Club, the kids were made to feel completely welcome. Though there is no specific kids menu, the waitstaff was eager to find something that would make them happy and do it in a timely fashion to guarantee the parents a relaxing dinner.
Finally, I really like The Tortoise Club's retro classy vibe, which makes me feel like I'm in an atmosphere like what I imagine New York and Chicago restaurants had in the 1940s and '50s.
For our final meal of the trip on Sunday, brunch, we were joined by two other family members. Seated alongside my youngest at the American Girl Café, 835 N. Michigan Ave., were her Bitty Baby and American Girl dolls, in seats that attached to the table. When my eldest felt a little lonesome without doll company – or maybe just a tad jealous – the waitress got us not one, not even two, but three "loaner" American Girls (one was actually an American Boy) to slip into chairs, too.
Our party included two of only three males (not counting the American Boy) I spotted in the dining room at the 9:30 a.m. seating, but I don't think any of us minded a bit.
With a great view of the Museum of Contemporary Art and the fabulous playground across the street from it (which we enjoyed afterward), we dined on pancakes, eggs benedict, mini cinnamon rolls and, of course, frou frou desserts served in what appeared to be mini flower pots.
Despite the fact that pancakes and syrup are my kids' favorite meal, they barely touched their food, though the adults were pleased with the quality of the food. At first we rued spending $19 per person on food the kids didn't eat. But, really, we paid for the experience as much as the food and this morning in the car on the way to school when I asked the kids to name their favorite part of our Chicago weekend, both responded: "breakfast at American Girl."
And that's a good reminder that as key as the quality of the food is to a diner's restaurant visit, the overall experience and the memories can be just as important.
Facebook comments
Disclaimer: Please note that Facebook comments are posted through Facebook and cannot be approved, edited or declined by OnMilwaukee.com. The opinions expressed in Facebook comments do not necessarily reflect those of OnMilwaukee.com or its staff.
Recent Articles & Blogs by Bobby Tanzilo