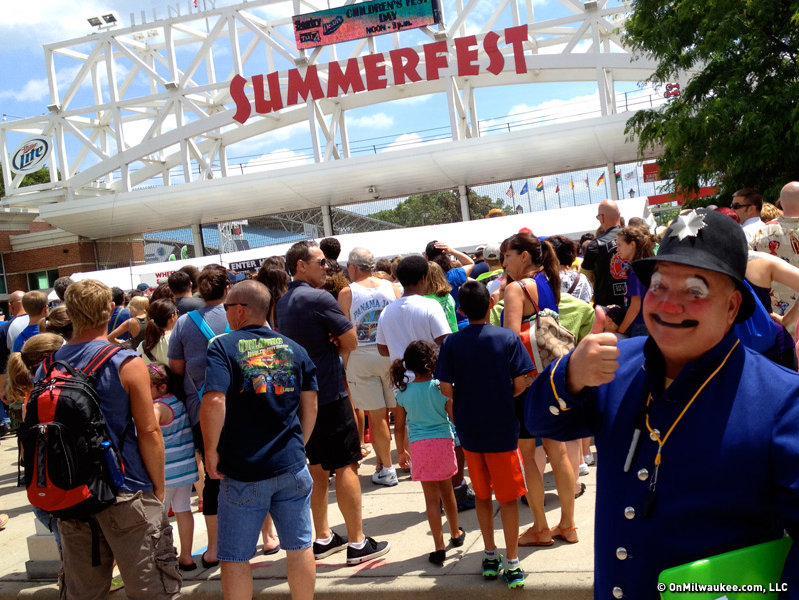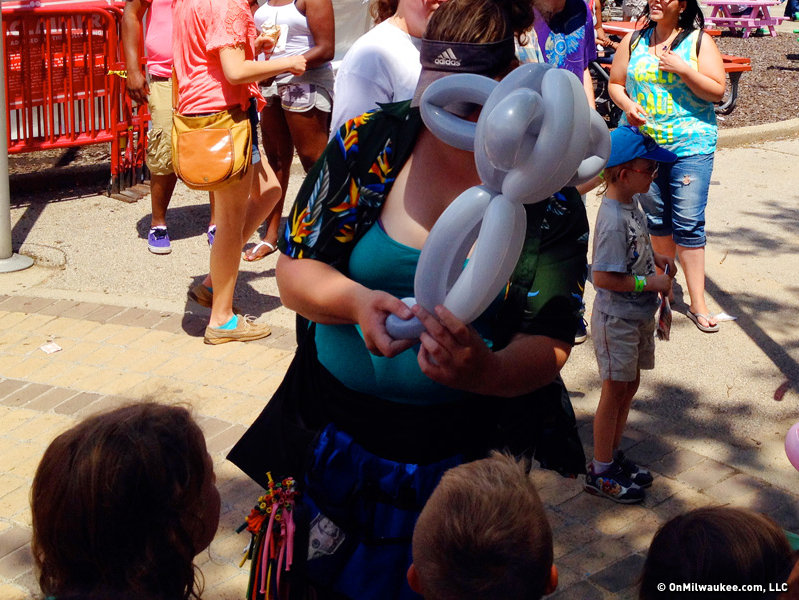 After a night of storms, Summerfest was warm and dry for kids day on Tuesday. Admission was free until 3 p.m. and big crowds were on hand to enjoy the Big Gig, and perhaps nab a good position for the fireworks that are slated for tonight after having been postponed twice last week.
A few grounds crew workers could be seen clearing some standing water off the paths, but otherwise, a warm and sunny morning and early afternoon did a good job of wicking away the moisture. In fact, the 91-degree temperature and humidity created an entirely different kind of moisture as long lines formed at the gates awaiting the fest's opening.
When the clock struck noon and the families and kids -- many in groups from day cares and summer camps -- entered the grounds, they were met by giant insects on stilts, singers and dancers paying tribute to the music of the Beatles, and a host of costumed characters, including one shaggy carpet of a thing that delighted some kids and terrorized others.
Interestingly, across from the play area, a band performing on the Miller Lite Oasis struck up a cover of AC/DC's "Dirty Deeds Done Dirt Cheap," but the kids just ignored it -- as did most adults, it seems -- and ate their bag lunches at tables near the Playzone, had their faces painted, got balloons folded and slid down the playset slides.
Nearby, on the lakefront path, a group of kids from the Boys & Girls Club CLC at 81st Street School tried their hands at African drumming. Of course, others romped in the fountain.
A capacity crowd filled the seating area at the children's theater to see Milwaukee Community Circus, which offered a range of fun amusements -- hat tossers/jugglers, buff hand-standers, multi-hula-hoopers -- to the soundtrack of a live gypsy jazz/vaudeville band fronted by Sir Pinkerton Xyloma of Dead Man's Carnival.
And when the kids got their giant ice cream cones for merely a buck-fifty, the little ones and their parents were all smiles.
Facebook comments
Disclaimer: Please note that Facebook comments are posted through Facebook and cannot be approved, edited or declined by OnMilwaukee.com. The opinions expressed in Facebook comments do not necessarily reflect those of OnMilwaukee.com or its staff.
Recent Articles & Blogs by Bobby Tanzilo